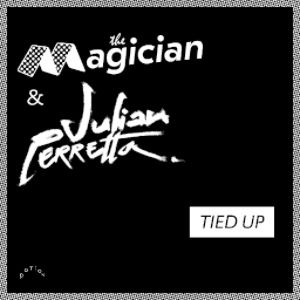 The Magician and Julian Perretta - Tied Up (Kideko bootleg)
KIDEKO stamps his sound on his own remodel of The Magician's latest release 'Tied Up' ft Julian Perretta adding an intense electro build, giving the track an energetic overhaul.
The Magician and Julian Perretta's collaboration on 'Tied Up' is an exciting moment for both artists; showcasing the best of both their talents, the single looks set to build upon the broad fanbase that both share.
Julian Perretta is a platinum-selling singer-songwriter – his single 'Miracle' hit #1 in thirteen countries – who has previously performed alongside Amy Winehouse, Marc Ronson and Beyoncé. After the success of his debut album 'Stitch Me Up' and single 'Wonder Why', Julian began to explore pairing his vocals and songwriting with electronic production, releasing tracks alongside Dimitri Vegas & Like Mike and Lost Frequencies.
As a DJ, The Magician has played at a diverse range of clubs; Pacha, Space, Ushuaia and Amnesia in Ibiza, Coachella, Output New York, The Warehouse Project and Amsterdam's widely respected now-defunct Trouw to name a few. Since launching Potion, he's brought the event series to Ministry of Sound, Showcase Paris, Exchange LA, Electric Brixton, New York's Webster Hall and more.
The Magician is an artist whose commercial success goes hand in hand with years of experience in the underground side of the electronic scene launching his first EP, 'I Don't Know What To Do' in 2011.
Available now, 'Tied Up' marks The Magician's first release after signing with B1 Recordings, Ministry of Sound and Ultra for a worldwide deal with Sony Music.
For more information on The Magician, please visit
https://www.facebook.com/themagicianmusic/
https://twitter.com/themagician
https://soundcloud.com/themagician
For more information on Julian Perretta, please visit
https://www.facebook.com/julianperretta/
https://twitter.com/julianperretta
https://www.instagram.com/julianperretta/