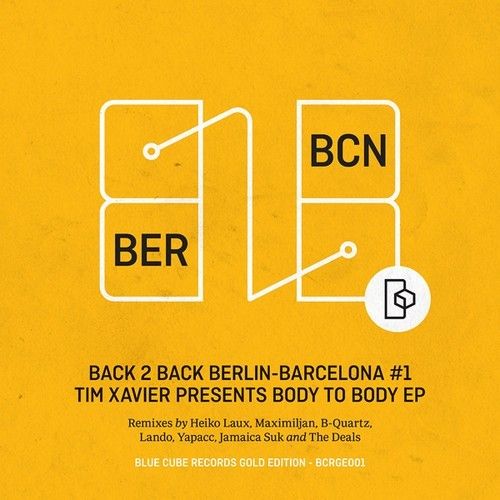 Tim Xavier – Body To Body EP
An American techno Dj/Producer, Berlin transplant who is also the mastering engineer of his own mastering company, Manmade Mastering, Tim Xavier is well respected in the world of techno. With a history as a once-hard techno Dj turned minimal trendsetter, his style touches on all points of electronic music, with an undeniable talent and technical skill. An appropriate name to begin BlueCube's newest vinyl off shoot called BlueCube Records Gold Edition. Back 2 Back Berlin-Barcelona #1 Tim Xavier Presents Body to body EP is filled to the brim with his thumping style that is easy to dance to, but is also graced by some of the best of today's techno scene. Heiko Laux, Maximilijan, B-Quartz, Lando, Yapacc, Jamacia Suk and The Deals all lay their hand to Xavier's masterpieces adding their own unique style to the already danceable work.
Wasting no time, Body to body prepares the way for what the listener can expect dipping into the package. Right from the go, the track presents a deep and dark atmosphere with minimal elements of other world percussion and notes. A rolling bassline gives this one a real techno feel right at home with what's next. A more playful and bouncy beat, Remember when plays on house feel accompanied with Tim's loud and minimal percussion style giving the over all raw feel a tech boost. Sharp and stabbing chords bring in the rave vibe as the demanding drums drop over and over again. Last but not least, the final original track from Xavier before handing it over to the more than qualified remixers; The cohenshi drip dips once again into the late night atmospheric tones of his sound. Large spaced-out chords and pounding bass and kick relations give this one a big room feel with plenty of delays and triply effects.
What's next to come is only a Dj's dream come true, seven mixes all unique in their own right allowing for versatility and powerful ammo in the club. Heiko Laux brings the first mix to the title track Body to body. With work on Rejected, Soma and Kanzleramt he turns the original into an even darker rendition. Packing in low bass and minimal frequencies, the subtle rises and falls are as dynamic as they are intricate. Another German talent, Maximilijan who has been a steady name over the past years, ever-evolving his sound and techniques to keep himself constantly fresh is next up. Remixing Remember when, he brings along his tasteful analog sound with whisky and snapping percussion. 808 percs give this one an old school stamp with new school analog treatment.
The label's own B-Quartz hits it on his mix for Body to body. Rocking with plenty of funky drum rhythms and startling moments of tension and Spanish flair. Known for representing the Spanish tech sound, B-Quartz represent's the home team of the Barcelona based imprint. Known for deep and moody dance bass lines, her jazz background and audio knowledge makes Jamaica Suk a force to be reckoned with. Taking Remember when and transforming it into an insanely huge bit of satisfying techno, pure to the core. With ever level filled in her arrange adding sophistication to mixing and depth, her mix is one that will fill the floor in an instant.
Known as a Tresor regular Dj and one of courageous Berlin techno, Lando takes The cohenshi drip to new heights. Simple beat yet complex rhythm patterns and loops create another punch with darker chord hits touching on both low and high frequencies. Another Berlin name adds to the steamy pot of tasty German techno, Yapacc, a well seasoned and sophisticated name is the next to remix The cohenshi drip. Arpeggiated loops and pumping kick make this one for the Ibiza floors. Proper for the Space Terrace or the after, after hours, his remix really exaggerates the atmosphere and free fall feel of the original.
Closing out the EP again comes another artist from Barcelona and a friend of BlueCube, The Deals. Closing the gap of Back to back Berlin – Barcelona, they drop their jacking mix of Remember when. With clattering claps and minimal groove, its roller coaster style arrange takes the listener for one wild ride. Representing the playful sound of Spanish techno, they present a track with grace, style and attitude. The debut venture but surely not the last, BlueCube Records Gold Edition has a big act to follow for their upcoming wax releases. With more special works to release as the seasons follow, one can only dream of where the label will transport their ears to next. Whether it is Barcelona, Berlin or beyond, we can only expect more of the same talent and sound that has enabled the imprint to specialize in world class techno from the beginning.