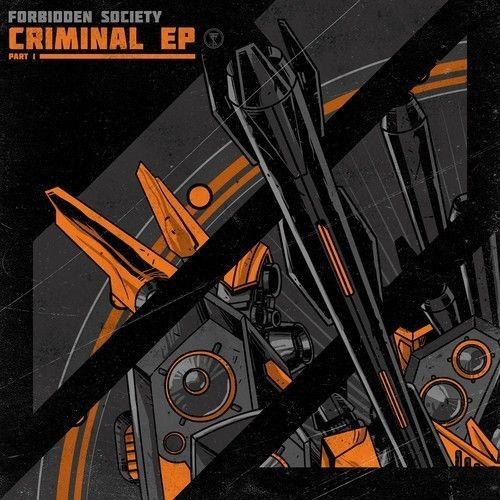 Forbidden Society – Criminal EP Pt 1
From his hardcore roots right through to the ongoing development of his label and events, Forbidden Society has continued to forge his own brutal path. As he builds up towards his long-awaited third album, 'Thronecrusher', the 'Criminal' EP series comprises two massive four-track samplers. And it starts right here…
'Criminal' is a murderously savage tear-up that ignites with a swaggering halfstep before hurling you deep into a sea of distorted bass. An intricate weave of textures and FX follows as we hurtle into the darkness with turbocharged menace.
Next up: 'Monger'. Don't be fooled by the icy intro… Those crisp pads and snake-like percussive elements are just a way of teasing you for the outrageously sharp drop when it arrives. Pure galvanised sheet metal sonics, edited so sharply they could shave your whiskers from fifty paces, 'Monger' will screw every face in the club. Even unsuspecting folk wandering past on the street outside.
'Stress' sees FS team up with good friend Receptor. Kindred spirits with the same gritty game plan, the pair explore the endless creative opportunities between noisecore and drum & bass to score a truly futuristic, and ultimately annihilating soundtrack to the post-apocalyptic narrative of your nightmares.
Finally Donny looks back to Forbidden Society's 2012 album 'To The Threshold' to deliver a roaring remix that growls with metallic menace. Timeless vibes abound as the punctuated steppy dynamics provide room for the array of precision Virus style basses… Donny has delivered once again!
And this is only the start of it: stay locked as we rough up your inbox with part two very, very soon!
Forbidden Society
1: Criminal 2: Monger 3: Stress (Featuring Receptor) 4: Heavy Metal Tank (Donny Remix)
Date: 19th May 2014 Cat: FSREC010SAMP1