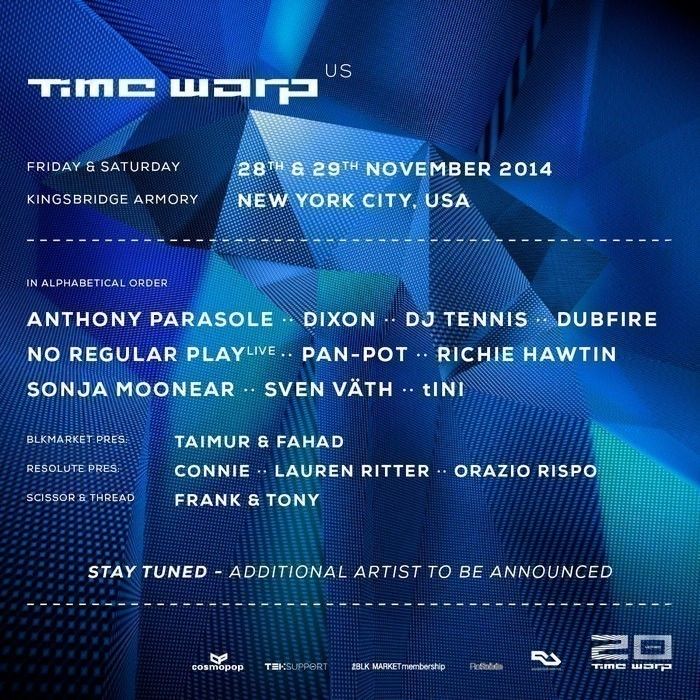 Time Warp US Announces Lineup
The world's longest running underground techno festival is heading to NYC this Thanksgiving weekend with a mega line-up to celebrate its North American debut on November 28 and 29 at The Kingsbridge Armory in The Bronx.

The lineup for the US edition is stacked with true techno pioneers and artists that have a strong pulse on today's global scene. Many are Time Warp ambassadors who have been devoted supporters of Time Warp and its long history, along with top international talent, and representatives from the New York City techno communities that have been longtime pillars of the underground dance music scene.

Time Warp US Lineup:
Anthony Parasole
Dixon
DJ Tennis
Dubfire
No Regular Play (Live)
Pan-Pot
Richie Hawtin
Sonja Moonear
Sven Väth
tINI

BlkMarket Membership presents Taimur & Fahad
Resolute presents Connie, Lauren Ritter, Orazio Rispo
Scissor & Thread presents Frank & Tony

Additional artists to be announced!

Time Warp US is part of leading Germany promoter cosmopop's festival portfolio and will be presented with local partner Teksupport WW. For two incredibly memorable nights, Time Warp is bringing their signature, elaborate stage designs across two stages, with unparalleled production, and state-of-the-art video, lighting and laser technology. The anticipation for the '20 Years Tour' continues to build as Time Warp makes its way to the US and is named one of the "15 awesome American festivals still to come in 2014" (inthemix). Be sure not to miss this historic inaugural event and become a part of techno history!

General Admission and VIP 2-Day Passes available, while supplies last! Buy advance tickets now. Time Warp US is a 21 and over festival.


About Time Warp
Time Warp is the world's leading indoor festival for electronic dance music. Since 1994, Time Warp attracts the most important international stars of the club culture. Originating in Mannheim, Germany, Time Warp has successfully expanded in Europe and became a truly international dance brand with editions in Italy (since 2011), Holland (since 2008), Vienna (2006), and Prague (2005). In 2014, Time Warp celebrates 20 years and as part of the anniversary celebrations, Time Warp's 20 Year Tour had its first non-European destination with a debut in South America – Buenos Aires, May 30 & 31, to be followed by its North America two-day debut in New York, November 28 and 29, 2014.

For more information, please go to: www.time-warp.de/usa.
Be sure to follow Time Warp on social media for breaking news & line-up announcements:
Facebook.com/TimeWarpOfficial
Twitter.com/Time_Warp
Youtube.com/user/TimeWarpVideos
Soundcloud.com/twsounds
Instagram/Time_Warp_Official