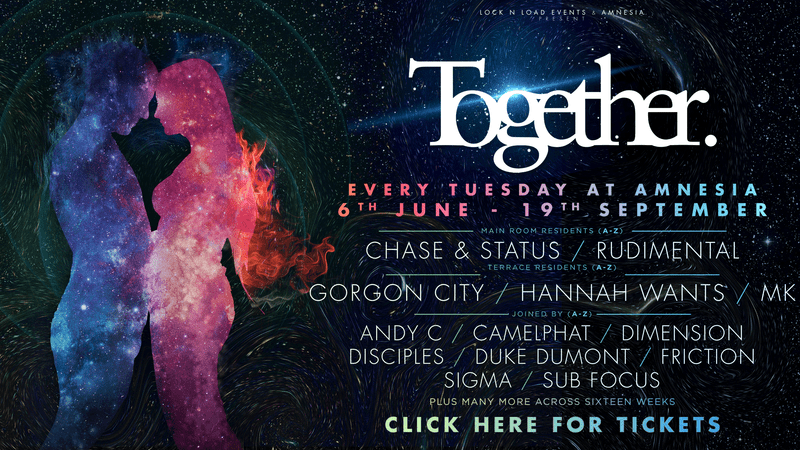 Together Ibiza announce full 16 week line ups for Amnesia
After blasting to fame in 2012 with his sensational track "Afterglow", the London-born producer has been responsible for some of the most popular releases in modern day dance music. His uncompromising and enthralling DJ sets do the business in the world's best clubs and his exhilarating LIVE shows has seen the leading man blow away festival crowds from the UK to the USA. With hype for his new album 'Hypnotic' beginning to swell, his UK Tour about to kick off and an already sold out show at The Roundhouse in the bag, we can't wait for Wilkinson to absolutely tear the roof off in the mammoth main room of Amnesia!
Having re-defined the concept of an electronic music album with 'Hold Your Colour' in 2005, this seminal release assured Pendulum their place in the dance music hall of fame. Six years later they headlined SW4 to critical acclaim, becoming the first drum and bass act to do so at a major London festival. Their regular appearances at Together have made them firm favourites with the guys absolutely smashing it to pieces every time they take the helm in the majestic main room. We can't wait to host the guys again for what's set to be four storming dates!
A sensational talent, 27-year old Netsky is an absolute genius. Adored by his fans worldwide, his talents know no limits. From his humble beginnings to selling out stadiums in his native country, Boris AKA Netsky has become a firm favourite across the globe. Recently announcing his own stage at the mammoth Tomorrowland and selling out a series of tours with his live and DJ shows, the man from Antwerp has never been more in demand. He effortlessly moves through the gears as he hypnotizes any audience he is put in front of the and the crowd in the white isle will be no different. Bring it on!
JUST ANNOUNCED: TERRACE RESIDENT
Returning to Together for another year, the mysterious enigma that is Claptone is getting ready for another assault on the common. His remix of Greg Porter's "Liquid Spirit" shot into the dance music stratosphere and was subsequently labeled one of the year's mega anthems. Since then Claptone has gone on to sell out London's illustrious Electric Brixton, regularly perform at the world's leading clubs Ministry of Sound and Amnesia and pack out venues venue from New York to Barcelona with his Masquerade concept.
ALSO JUST ANNOUNCED PERFORMING ACROSS 16 WEEKS (a-z)
CAMO & KROOKED – CHRIS LORENZO – HECTOR COUTO – HIGH CONTRAST – HYPE & HAZARD – MAK & PASTEMAN – MISTAJAM – MY NU LENG – REDLIGHT
Wizards of the Drum & Bass Camo & Krooked are one of the most prolific artists in one of the most competitive and ever-evolving scene in electronic music. Their latest album has received rave reviews from far and wide and the duo are showing no signs of stopping. They tore the dance floor to pieces last year and are set to do the same this year as they return to the majestic main room for some electrifying drum & bass!
Fresh off the back of critical acclaim from his brand new album, Chris Lorenzo is red hot! There's only a few artists who can hold their own when they are dropped into a huge 5000 capacity room which is the Terrace but Lorenzo does it with grace! His raw and energetic sound keeps the dance floor moving from start to finish and his heavy bass lines leave nothing to imagination.
Hector Couto is one of the most respected artists around and is his sound is regularly described as being the perfect blend of Chicago house and old-school techno. His groove-thickened DJ sets have seen him throw it down at some of the biggest clubs and festivals in the world, while his prolific work in the studio has landed him successful releases on labels such as Hot Creations. A true master on the decks, we can't wait for his appearance at Together.
Modern Drum & Bass hero and industry figurehead High Contrast has been making waves in the drum & bass world since he signed to Hospitality Records in 2002. His obsession with manipulating synthesized sounds to create the soft reverberating beats and soulful melodies he loves have manifested in an extraordinary career. Dedication, limitless depths of talent and technically floorless production abilities honed through years of repetition have taken Lincoln to the top of his game. His laundry list of chart topping records released through Hospitality and his own label, The Contrast, have cemented his reputation as a dance music legend.
Known by many to be an absolute wizard on the decks, DJ Hype is one of the most respected drum and bass DJs to ever step foot on this planet. His all-domineering Playaz label has gone from strength to strength each year with standout and sell out events at the world-famous Fabric. His jump-up style regularly leaves the crowd gasping for breath and his world-class mixing leaves fans breathless at the same time. Joining the main man will be the protégé himself, Hazard! In a few short years Hazard has knocked out an abundance of anthems and proven himself as an outstanding producer and ultimate force to be reckoned with. An Ibiza exclusive, we are hugely delighted to debut both of these acts at Amnesia this summer!
Through their collective influences, Mak & Pasteman have crafted a sound that sits between House & Techno but is thoroughly rooted in the UK. Since the duo's inception they have released on various imprints, Redlight's Lobster Boy, Shy FX's Digital Soundboy, Breach's Naked Naked & Most Recently DJ Haus' Unknown To The Unknown. The duo continue to expand their discography with new music coming on their own Materials imprint, delving deeper in analog synthesis & texture to create the raw sound they're known for. We can't wait for them to take over the decks at Together for the first ever time!
Tastemaker, DJ, broadcaster and producer are amongst the qualities MistaJam is known for. Jam has become THE voice of breaking brand new music and artists in the last decade and things are certainly continuing in that fashion. The London-man has become a household name and has been responsible for pushing all genres of music in this country from grime to house to hip-hop via his outstanding BBC Radio 1 show. We cannot wait to welcome the man with the jams to our Together show.
My Nu Leng may be relative newcomers in the game but are now considered one of the leaders of their scene. Their second-to-none production skills and totally different and incomparable sound have earned them regular plays on BBC Radio 1 and 1Xtra and enabled them to tour the world and play the greatest festivals on the planet.
Lobster Boy records head honcho Redlight has become a Together favourite in the short space of a few years. His groovy energy keeps the terrace dancing all night long and his closing sets on the terrace have become something of folklore. Stand out appearances at our London residency at the legendary Ministry of Sound have made him a favourite with the London crowd as well with the London-based man going from strength to strength. We are counting down the days until he returns to the white isle!
LINE UPS ACROSS ALL 16 WEEKS – EVERY TUESDAY
6TH JUNE (OPENING PARTY)
MAIN ROOM
CHASE & STATUS
ANDY C
PENDULUM
FRICTION
TERRACE
GORGON CITY
HANNAH WANTS
CLAPTONE
VERY SPECIAL GUEST: TBC
13TH JUNE
MAIN ROOM
RUDIMENTAL
SIGMA
WILKINSON
MY NU LENG
TERRACE
HANNAH WANTS
DISCIPLES
VERY SPECIAL GUEST: MK
20TH JUNE
MAIN ROOM
SIGMA
WILKINSON
HIGH CONTRAST
VERY SPECIAL GUEST: HYPE & HAZARD
TERRACE
RUDIMENTAL B2B GORGON CITY – WORLD EXCLUSIVE!
DISCIPLES
CAMELPHAT
HECTOR COUTO
27TH JUNE
MAIN ROOM
CHASE & STATUS
ANDY C
NETSKY
TBC
TERRACE
GORGON CITY
CLAPTONE
MISTAJAM
VERY SPECIAL GUEST: MK
4TH JULY
MAIN ROOM
CHASE & STATUS
SUB FOCUS
PENDULUM
TERRACE
DUKE DUMONT
DISCIPLES
CHRIS LORENZO
VERY SPECIAL GUEST: CLAPTONE
11TH JULY
MAIN ROOM
RUDIMENTAL
ANDY C
PENDULUM
TBC
TERRACE
HANNAH WANTS
DISCIPLES
CAMELPHAT
VERY SPECIAL GUEST: DUKE DUMONT
18TH JULY
MAIN ROOM
RUDIMENTAL
SUB FOCUS
MAK & PASTEMAN
TERRACE
MK
DUKE DUMONT
CHRIS LORENZO
TBC
25TH JULY
MAIN ROOM
CHASE & STATUS
SUB FOCUS
DIMENSION
TBC
TERRACE
HANNAH WANTS
TBC
TBC
VERY SPECIAL GUEST: DUKE DUMONT
1ST AUGUST
MAIN ROOM
RUDIMENTAL
WILKINSON
FRICTION
TERRACE
GORGON CITY
HANNAH WANTS
HECTOR COUTO
VERY SPECIAL GUEST: CLAPTONE
8TH AUGUST
MAIN ROOM
CHASE & STATUS
SIGMA
NETSKY
DIMENSION
TERRACE
MK
DUKE DUMONT
TBC
VERY SPECIAL GUEST: DISCIPLES
15TH AUGUST
MAIN ROOM
CHASE & STATUS
SUB FOCUS
PENDULUM
TERRACE
GORGON CITY
HANNAH WANTS
CAMELPHAT
VERY SPECIAL GUEST: MK
22ND AUGUST
MAIN ROOM
CHASE & STATUS
SIGMA
DIMENSION
TBC
TERRACE
GORGON CITY
CLAPTONE
MISTAJAM
VERY SPECIAL GUEST: DUKE DUMONT
29TH AUGUST – (Together Turns Seven)
MAIN ROOM
CHASE & STATUS
SUB FOCUS
TBC
TBC
TERRACE
GORGON CITY
HANNAH WANTS
HECTOR COUTO
VERY SPECIAL GUEST: TBC
5TH SEPTEMBER
MAIN ROOM
CHASE & STATUS
ANDY C
PENDULUM
FRICTION
TERRACE
HANNAH WANTS
DISCIPLES
MISTAJAM
VERY SPECIAL GUEST: MK
12TH SEPTEMBER
MAIN ROOM
RUDIMENTAL
SIGMA
WILKINSON
MY NU LENG
TERRACE
GORGON CITY
TBC
CAMELPHAT
REDLIGHT
19TH SEPTEMBER
MAIN ROOM
CHASE & STATUS
ANDY C
SUB FOCUS
DIMENSION
TERRACE
HANNAH WANTS
DISCIPLES
HECTOR COUTO
VERY SPECIAL GUEST: MK
LIMITED €40 EARLY BIRD TICKETS NOW ON SALE FOR ALL 16 EVENTS
WWW.TOGETHER-CLUB.CO.UK