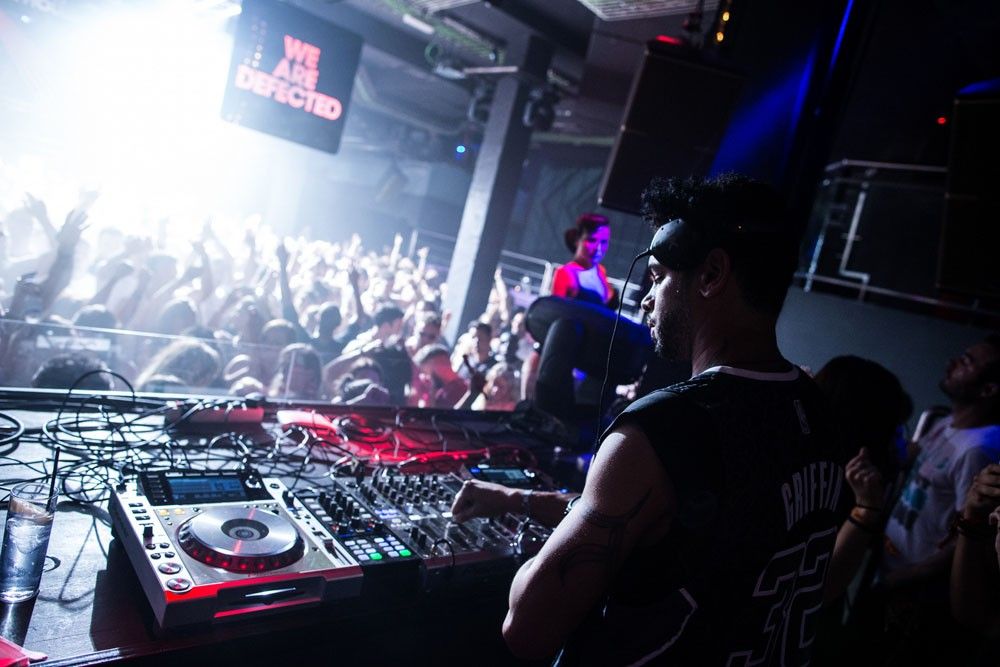 Together Ibiza & Defected final line ups
Having already announced that some of the most exciting and forward thinking artists will take centre stage on Tuesday nights at Amnesia, you can be assured that the legendary Ibizan nightclub will be popping off like never before. From festival headliners to the freshest talent in the scene, Together is delighted to present a series of lineups that can only be considered world class. With Defected In The House taking control of the terrace for an unmissable sixteen-date residency, this summer will see Amnesia bring to Ibiza a true festival atmosphere, with Together representing the definitive Tuesday night on the White Isle.
The opening party on 9th June is already shaping up to be one of the stand-out dates of the coming season with residents Chase & Status and GotSome joined by UK drum & bass superstars Sigma and Andy C in the Main Room, whilst the Terrace will see MK return under the Defected In The House banner, joined by Oliver Dollar, Noir, Sam Divine, Sonny Fodera, Franky Rizardo and Simon Dunmore.
The remaining line-ups for Defected In The House have been revealed for the events on 4 August, where Noir will be joined by Riva Starr, DJ SKT (with a live PA feat. Rae), Hector Couto, Cristoph, and Sam Divine; 8 September welcomes Oliver Dollar, Noir, Jesse Rose, Hector Couto, and Cristoph; on 15 September Defected teams up with esteemed Berlin imprint Get Physical with Groove Armada joining a bill featuring MANDY, DJ T, Juan Maclean, Eddie "Flashin'" Fowlkes, Simon Dunmore, and Luke Solomon. The closing party on 22 September will see the Terrace graced by MK, Shadow Child, Dantiez Saunderson, Sonny Fodera, and Sam Divine.
The summer of 2015 will witness the mighty Chase & Status return to Together for nine incredible dates. Another stellar year has seen the duo bring their 'Rebel Sound' project to the live market and deliver countless electrifying performances to sold out crowds worldwide. Joining them across the season will be drum and bass superstars Andy C, Sigma, Sub Focus and Wilkinson, all of which are currently enjoying the most successful streak of their careers.
The succession of hugely in-demand acts come thick and fast to Together with Rudimental confirmed for two very special appearances in the main room, in addition to OWSLA boss Skrillex, who will be making his exclusive appearance on the Island. Example + DJ Wire, DJ EZ, Netsky and Pendulum all return for our Tuesdays night sessions, making them true Together favourites.
With the Together ethos of continually evolving and pushing boundaries, there will be a number of artists making their debut this summer. Amine Edge & Dance, Chris Lorenzo, Disciples, Jaguar Skills, Preditah & Toyboy & Robin will all feature across the summer, whilst GotSome join us on eight occasions. They will look to make the main room their own come the early hours of Wednesday morning. Finally further additions of Shy FX, Mistajam and My Nu Leng conclude the main room artist line ups for 2015…
This year's Defected In The House Ibiza line-ups confirm exactly why they've enjoyed 15 years of sold-out parties across the island. The brand's benchmark of international luminaries and rising stars looms large over an exceptional array of talent, raising an already high-bar for Defected.
The full line-up features MK, Gorgon City, Hannah Wants, Julio Bashmore, Groove Armada, Hot Since 82, Deetron, Pete Tong, Dennis Ferrer, MANDY, Kevin Saunderson, Guti, Juan Maclean, Shadow Child, Detroit Swindle, Oliver Dollar, Noir, Riva Starr, AndHim, Jesse Rose, DJ T, Eddie "Flashin'" Fowlkes, Disciples, Waze & Odyssey, Tube & Berger, Hector Couto, DJ SKT, Dantiez Saunderson, Sam Divine, Franky Rizardo, Sonny Fodera, Cristoph, Rae, Butler & Bontan, Luke Solomon, and Simon Dunmore.
Mixed by Defected's founder Simon Dunmore and spread over three flawlessly mixed and deeply dug CDs, Defected In The House Ibiza 2015 features cuts from the world's greatest producers, including Guti, Reboot, Session Victim, Chez Damier, Sonny Fodera, Louie Vega, Damian Lazarus and many more. Defected In The House Ibiza 2015 is out 17 May (3CD / Digital) on Defected Records
Amnesia Ibiza, Ctra. Ibiza a San Antonio, Km 5, 07816 San Rafael, Ibiza
Open from 23.59 – 07.00
For more information and tickets:
www.amnesia.es
www.together-club.co.uk
www.defected.com
Tickets now on sale via www.amnesia.es
TOGETHER AT AMNESIA 2015 LISTINGS:
TUESDAY 9th JUNE
OPENING PARTY
Main Room
Chase & Status
Sigma
Andy C
GotSome
Terrace: Hosted by Defected In The House
MK
Oliver Dollar
Noir
Franky Rizardo
Sonny Fodera
Sam Divine
Simon Dunmore
TUESDAY 16th JUNE
Main Room
Chase & Status
Sub Focus
Shy FX
MistaJam
Terrace: Hosted by Defected In The House
Julio Bashmore
Dennis Ferrer
Deetron
Hector Couto
TUESDAY 23RD JUNE
Main Room
Example + DJ Wire
Pendulum (DJ SET)
Wilkinson
Gotsome
Terrace: Hosted by Defected In The House
Gorgon City
Hannah Wants
Sonny Fodera
Franky Rizardo
TUESDAY 30th JUNE
Main Room
Chase & Status
Amine Edge & Dance
Netsky
Chris Lorenzo
Terrace: Hosted by Defected In The House
Julio Bashmore
Deetron
Guti
Jesse Rose
Hector Couto
TUESDAY 7th JULY
Main Room
Rudimental
Wilkinson
Redlight
GotSome
Terrace: Hosted by Defected In The House
Julio Bashmore
Dennis Ferrer
Shadow Child
Sam Divine
TUESDAY 14th JULY
Main Room
Chase & Status
Pendulum (DJ SET)
Andy C
Toyboy & Robin
Terrace: Hosted by Defected In The House
VERY SPECIAL GUEST TBA
Hannah Wants
Waze & Odyssey
DJ SKT
Sonny Fodera
TUESDAY 21st JULY
Main Room
Sub Focus
Sigma
Wilkinson
Jaguar Skills
MistaJam
Terrace: Hosted by Defected In The House
Pete Tong
Hot Since 82
Andhim
Disciples
TUESDAY 28th JULY
Main Room
Chase & Status
Sub Focus
Netsky
GotSome
Terrace: Hosted by Defected In The House
Gorgon City
Butler & Bontan
Tube & Berger
Sonny Fodera
Sam Divine
TUESDAY 4th AUGUST
Main Room
Rudimental
Andy C
Mistajam
Terrace: Hosted by Defected In The House
Noir
Riva Starr
DJ SKT feat. RAE (Live PA)
Hector Couto
Cristoph
Sam Divine
TUESDAY 11th AUGUST
Main Room
Chase & Status
Sub Focus
Netsky
GotSome
Terrace: Hosted by Defected In The House
Hannah Wants
Waze & Odyssey
Sonny Fodera
Franky Rizardo
Sam Divine
TUESDAY 18th AUGUST
Main Room
Example + DJ Wire
Nero
Pendulum (DJ Set)
Disciples
Terrace: Hosted by Defected In The House
Groove Armada
Julio Bashmore
Detroit Swindle
Hector Couto
TUESDAY 25th AUGUST
Main Room
Chase & Status
Preditah
GotSome
+ Very special guest TBA
Terrace: Hosted by Defected In The House
Oliver Dollar
Kevin Saunderson
Riva Starr
Juan MacLean
TUESDAY 1st SEPTEMBER
Main Room
Skrillex
Rudimental
My Nu Leng
Terrace: Hosted by Defected In The House
Gorgon City
Hannah Wants
DJ SKT
Sam Divine
TUESDAY 8th SEPTEMBER
Main Room
Chase & Status
Andy C
DJ EZ
GotSome
Terrace: Hosted by Defected In The House
Oliver $
Noir
Jesse Rose
Hector Couto
Cristoph
TUESDAY 15th SEPTEMBER
Main Room
Example + DJ Wire
Pendulum ( DJ SET)
Sub Focus
MistaJam
Terrace: Hosted by Defected In The House
Groove Aramada
M.A.N.D.Y
DJ T
Juan MacLean
Eddie "Flashin'" Fowlkes
Simon Dunmore
Luke Solomon
TUESDAY 22nd SEPTEMBER
CLOSING PARTY
Main Room
Chase & Status B2B SHY FX
Sigma
Wilkinson
GotSome
Terrace: Hosted by Defected In The House
MK
Shadowchild
Dantiez Saunderson
Sonny Fodera
Sam Divine