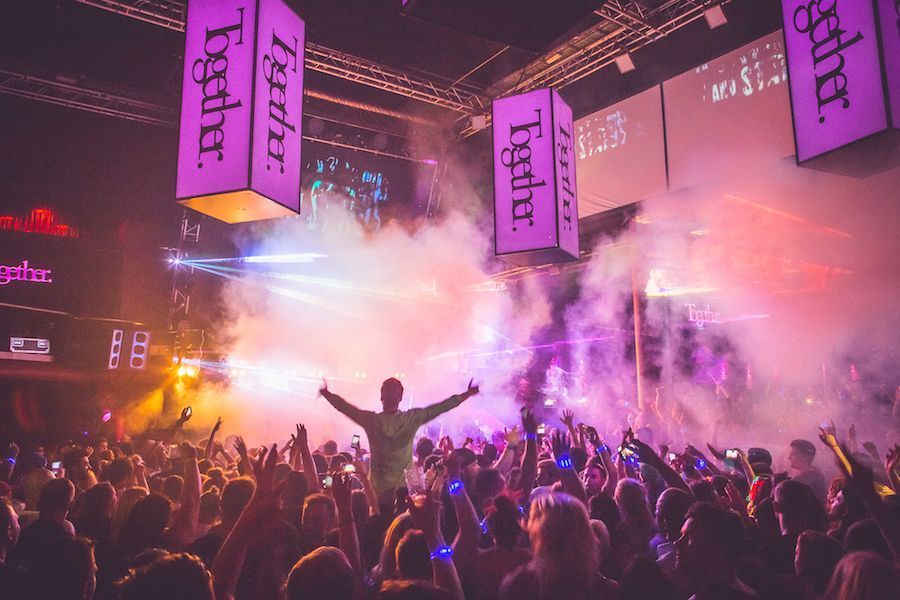 Together Ibiza drop huge lineup announcement…
After the announcement of our main residents, we're delighted to reveal the second phase of artists who will be joining us across our sixteen-date residency at Together, every Tuesday at Amnesia Ibiza.

With mammoth names such as Chase & Status, Rudimental, Gorgon City and Hannah Wants all committing their Ibiza plans to our Tuesday night party, things are starting to heat up as further acts are revealed to appear across the summer. A mix of established heavyweights to future superstars, you can expect some of the most prolific and in-demand artists to pledge their allegiance to Together, Ibiza's weekly festival.

With early bird tickets now on sale and selling fast, this next announcement is sure to further demonstrate that we mean business. Feast your eyes on the below…

JUST ANNOUNCED

26th June, 19th July, 26th July, 30th August, 6th September
Words cannot describe just how much of a figurehead this man is. Since the 90's there's no party that hasn't hosted Marc Kinchen. As a DJ or through his productions, the LA based MK is deeply ingrained into dance music heritage. With his new track 'Piece of Me' already making waves and new album incoming under his re-launched label Area 10, he's set to rule Ibiza once again. At the opening party of Together's last season MK dropped his remix of Lana Del Rey and Storm Queen and the crowd absolutely lost it. The summer of 2016 will witness Marc join us for five very special dates as he looks to take firm control of the decks on the legendary Terrace.

June 7th, July 12th, Aug 23rd, Sept 6, Sep 20th

Only a few artists in recent history have managed what Andy C has. From back to back sold out Brixton Academy shows to conquering the globe with his electrifying style, this man simply knows no limits. His DJ sets have gone down in electronic music folklore with thousands taking the plunge with him on nights where he showcases his unparalleled ability and technical genius. Every single time he steps through the legendary Amnesia doors, you can be sure that he'll lay down a fantastic set leaving the crowd wanting for more.

JUNE 14TH, JULY 26TH, AUG 16TH , SEP 13TH
A true giant in the electronic music sphere, Sub Focus is preparing himself for his 5th consecutive residency at Amnesia. The London raised DJ and producer is no stranger to the UK charts having left his mark with formidable singles such as 'Rock It / Follow the Light' and 'Tidal Wave'. This innovative producer has released memorable remixes of the likes of The Prodigy, Dizzee Rascal and Deadmau5. Whatever experimental project Sub Focus undertakes next one thing is assured, he will be bringing the heat at Amnesia this summer.

June 14th, July 28th, August 9th, September 13th

Childhood friends Amine Edge & Dance have rapidly taken over our stereos as their label Cuff is taking over Europe as a whole. Their unique G-Funk sound and powerful performances have set them apart from the rest of the pack in recent years. After a couple of summers cutting their teeth at Sankeys, this year's residency at Together is expected to be more carefully crafted than ever. Expect expertly blended house and hip-hop lined with bass heavy enough to shake Big Ben.

7th June (opening), 21st June, 19th July, 2nd August, 23rd August, 20th September (closing)
These three tore up last year's opening party at Together and are now ready to take things to the next level at their debut residency this summer. Their performance was so good we snatched all that we could – their remixes for MK and Lana Del Rey hopped straight into our daily radio playlist .The British trio are signed to Pete Tong's label FFRR, home to the likes of Hot Natured and KANT which tells you all you need to know about these guys potential. The London club-kids truly outdid themselves in 2015 and were nominated for a BRIT award for arguably the biggest track of the year, 'How Deep Is Your Love'. Expect big things from these guys in 2016.

19 July , 09 August, 23 August 2016
From Leeds University to topping the UK singles' chart (not once or twice, but three times), SIGMA are hot property. After 4 electrifying sets at last season's Together parties, we really can't wait to hear Sigma's brand new debut album "Life" played over Ibiza's pumped up crowd. The drum and bass duo have drawn previous inspiration from hip-hop heavyweights like Kanye West to grime artists like Skepta, diverse doesn't even cover it. In particular 'Coming Home' ft. Rita Ora is tipped to be a massive summer hit – we can't wait.

JUNE 21ST) – AUG 9TH – AUG 30TH

Fresh off the back of his 'Netsky & Chill' tour out in North America, Netsky's announced his plans for a third album set for release later this year. Collaborators so far include Emeli Sande and Jodie Abacus, with more special features to be revealed soon. Netsky himself has publicized the new album, called 'Thunder' to be full of positive, high-energy bangers. This diverse electronic whiz kid took the drum n bass world by storm with Hospital Records back in 2008, it's now his time to go global. We're expecting a huge performance at Amnesia from an artist at his very peak.

21ST JUNE, 5th JULY, 2ND AUGUST, 20TH SEPTEMBER
The past two years have seen this star rise from strength to strength. From selling out his first headline show in London in April 2015, playing sell out shows across the globe, not to mention appearing on countless festival line ups, Mark Wilkinson has definitely made his mark on the electronic music scene. His high-energy productions and for 4-date residency at the world famous Amnesia Ibiza has further cemented this artist's place amongst the dance music elite!

28th June, 23rd August, 13th September

Fresh from an incredible 2014 where he topped Beatport charts with a string of hugely successful releases on Germany's influential 'Exploited' label, it seems the mysterious figure that is Claptone just can't stop giving. With an assortment of new music coming including a highly anticipated debut album being dropped in 2015, there is simply no better opportunity to witness one of electronic music's most enigmatic figures than this.
Oliver Dollar
26 July & 13 September

Since producing the highly acclaimed 'Doing Ya Thing' in 2011 (which reached #1 in the Beatports top 100) the artist, formerly known as Oliver S hasn't looked back. Over the years his production has received constant play from artists as big as Nic Fanciulli, Heidi, and DJ Sneak. More recently his smooth refix of the legendary St. Germain's 'Real Blues' deserves special mention, he's also gone on to start his own record label 'Industry Standard', which is undoubtedly going to sprout into a force to be reckoned with.

SHADOW CHILD
14th June, 5th July, 9th August, 6th September

The last few years has seen the steady rise of Shadow Child within the dance music. His undeniable great track selection and pumping productions make this man stand out. His first release was an immediate house classic released on Claude Vonstroke's Dirtybird imprint, and supported by the likes of Eats Everything and Annie Mac. He's since carved out a huge new status in the new era of house music, developing a sound that brings together the roots of his years in the scene – early rave, house and drum n bass – with the current wave of house.

Further line up announcements will be made over the coming weeks… and trust us, they will be special. Watch this space.

AMNESIA
Ctra. Ibiza a San Antonio,
Km 5, 07816 San Rafael, Illes Balears, Spain

TOGETHER AT AMNESIA 2016 LISTINGS:

TUESDAY 7th JUNE
OPENING PARTY
Main Room
Chase & Status
Andy C
+ MORE TBA

Terrace
Gorgon City
Hannah Wants
Disciples
+ MORE TBA

TUESDAY 14th JUNE
Main Room
Chase & Status
Sub Focus
+ MORE TBA

Terrace
Amine Edge & Dance
Shadow Child
+ MORE TBA

TUESDAY 21st JUNE
Main Room
Rudimental
Wilkinson
+ MORE TBA

Terrace
Gorgon City
Disciples
+ MORE TBA


TUESDAY 28th JUNE
Main Room
Chase & Status
+ MORE TBA

Terrace
MK
Claptone
+ MORE TBA

TUESDAY 5th July
Main Room
Chase & Status
Wilkinson

Terrace
Gorgon City
Shadow Child
+ MORE TBA

TUESDAY 12th JULY
Main Room
Chase & Status
Andy C

Terrace
Gorgon City
+ MORE TBA

TUESDAY 19th JULY
Main Room
Rudimental (DJ SET)
Sigma
+ MORE TBA

Terrace
MK
Gorgon City
Disciples
+ MORE TBA

TUESDAY 26th JULY
Main Room
Chase & Status
Sub Focus
+ MORE TBA

Terrace
MK
+ MORE TBA

TUESDAY 2nd AUGUST
Main Room
Chase & Status
Wilkinson
+ MORE TBA

Terrace
Gorgon City
Disciples
+ MORE TBA

TUESDAY 9th AUGUST
Main Room
Chase & Status
Sigma
+ MORE TBA

Terrace
Amine Edge & Dance
Shadowchild
+ MORE TBA

TUESDAY 16th AUGUST
Main Room
Rudimental (DJ SET)
Sub Focus
+ MORE TBA

Terrace
Gorgon City
Hannah Wants
+ MORE TBA

TUESDAY 23rd AUGUST
Main Room
Chase & Status
Andy C
Sigma
+ MORE TBA

Terrace
Claptone
Disciples
+ MORE TBA

TUESDAY 30th August
Main Room
Rudimental
+ MORE TBA

Terrace
Very Special Guest: MK
Gorgon City
Hannah Wants
+ MORE TBA

TUESDA 6th SEPTEMBER
Main Room
Chase & Status
+ MORE TBA

Terrace
MK
Hannah Wants
+ MORE TBA

TUESDAY 13th SEPTEMBER
Main Room
Rudimental
Sub Focus
+ MORE TBA

Terrace
Gorgon City
Amine Edge & Dance
Claptone
+ MORE TBA

TUESDAY 20th SEPTEMBER
CLOSING PARTY
Main Room
Chase & Status
Andy C
Wilkinson
+ MORE TBA

Terrace:
Hannah Wants
Disciples
+ MORE TBA