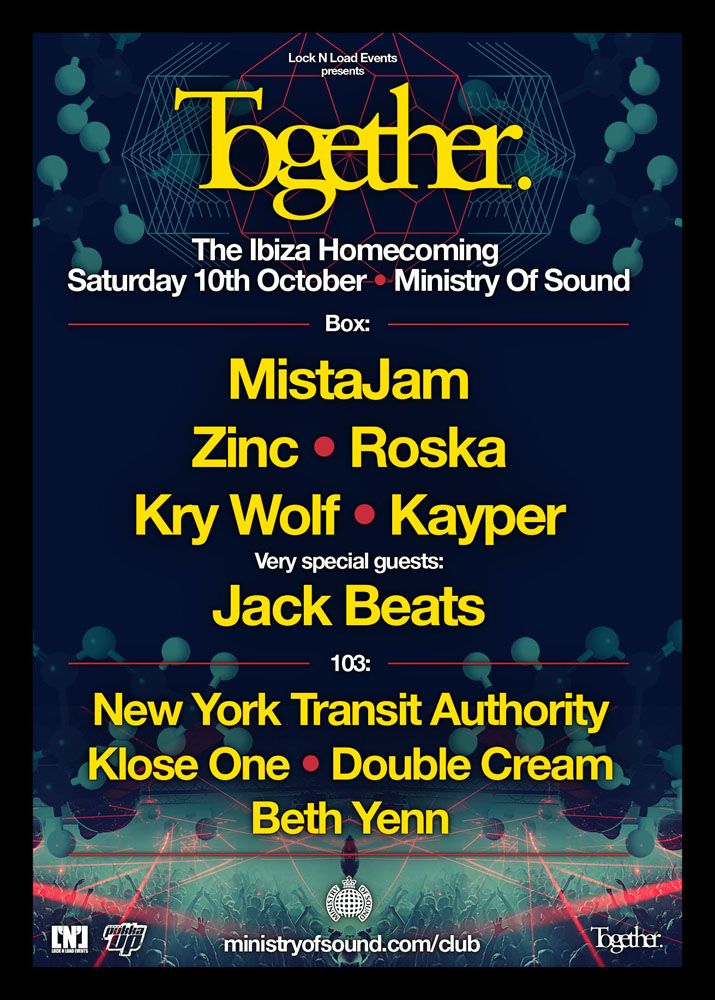 Together Ibiza Homecoming
After a fifth consecutive year looking after Tuesday nights at world famous Ibiza superclub Amnesia, Summer 2015 has been one of the most exciting seasons for Together. With festival-sized line-ups in the Main Room and a recent collaboration with Defected Records taking over the iconic Amnesia Terrace, Together has continued to offer something truly unique on the island.

Together celebrates the end of another spectacular Ibiza season with Together Ibiza Homecoming on Saturday 10th October at Ministry of Sound. The very special party features a sensational line up of Together favourites inlcuding Mistajam, Zinc, Roska Kry Wolf, Kayer, New York Transit Authority, Klose One and very special guests Jackbeat.
Heading up the bill is Together resident and BBC R1Xtra key player MistaJam. Jam is regarded as one of the most influential tastemakers in the UK right now and currently hosts 6 weekly radio shows on BBC Radio 1 and 1Xtra networks. His ear for finding the best in electronic music has led Mistajam to start up label Speakerbox and the imprint boasts releases from Chris Lorenzo and Second City's UK #1 'I Wanna Feel'. As well as being a highly regarded broadcaster, his skills as a DJ are second to none, managing to transition seamlessly from house to garage and drum and bass, perfectly encapsulating what Together is all about musically.
Next up is UK music legend, Zinc, famed for his drum and bass productions which include the iconic remix of Fugee's, 'Ready or Not'. Today Zinc is focused on his house sound and most recently offered up an excellent remix of Shadow Child's '23' and original track 'Show Me'.
Also appearing on the night is Rinse key player Roska. The DJ/producer has risen to success after securing a weekly radio show in 2009 and releasing original music on the station's imprint. Originating from a background of grime and UK funky, Roska's productions now focus on the more bass heavy end of the house spectrum. This year has seen him release two EPs, 'Frst & Frmst' and 'This May Take a While' on his very own Kicks and Snares label. Tracks from both these releases have been championed by the likes of Monki on BBC R1.
They will be backed up by Kry Wolf, the Brighton duo who over the past few years have made a name for themselves on the UK underground scene. With releases like 'Nightmode' and 'DNA', Kry Wolf have gained support from the likes of A-Trak, Mosca and Sub Focus. Since 2012 they have also ran label Food Music with Shadow Child. The imprint has a reputation for having an output of some of the best house music the UK has to offer, boasting a roster containing the likes of Hannah Wants and Bodhi.
Over the past decade Kayper has developed a reputation as an experienced and talented DJ, playing festivals and events all over the world and she now returns to her hometown of London to play Together. Kayper has also proved herself as an accomplished producer, known for a distinctive house sound with r&b influences. From releases on Eton Messy and Spinnin' Records to praise coming from esteemed sources like Pitchfork, her career is going from strength to strength.
Very special guests for this event will be Jack Beats. After almost seven years on the scene and numerous appearances at Together Ibiza, the duo has become a firm favourite of the Together crowd. Their unique style of electro house is unmistakable and they are known for huge bass lines and a 'cut copy' style of production. After their recent Fabric Live mix compilation and a huge string of festival dates in the US and Australia this year including an appearance at EDC Festival in Vegas, they have strengthened their status worldwide.
Headlining our second room on the night will be Bristol's New York Transit Authority. With a sound steeped in influences from the UK underground, this DJ/producer has had releases on Food Music and Redlight's Lobster Boy label. His huge 2014 track 'Swarm' proved to be a festival favourite and was a staple in sets amongst DJs like Brodinski and Gesaffelstein. As well as proving his talents in production, NYTA also manages to hold down a regular radio show with UK institution Rinse FM and play sets at festivals and clubs all over Europe.
With a career that started from playing on some of London's best-known pirate radio stations Klose One is another artist on this bill who features heavily on Rinse FM. Frequently hosting the Swamp 81 show, the DJ is a key member of the label. Cited by acts such as Dusky and Gorgon City for his skill as a DJ, Klose One's sets are diverse and showcase his unique style of mixing and selection.
Representing Big Room house on the night are Welsh duo are Double Cream. After previously warming up for acts like Laidback Luke and Dada Life and several successful seasons in Ibiza they bring their trademark high energy sound to Ministry of Sound. Also appearing in second room is Beth Yen. Hailing from Australia, Beth is now living in Ibiza and is a regular for Pukka Up's weekly boat parties. She also produces her own material, releasing on Freemaison Recordings.
With so many incredible acts set to take to this iconic venue, this is set to be an unmissable date in the London clubbing calendar.