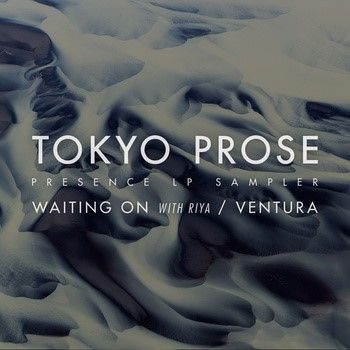 Tokyo Prose – Waiting On / Ventura
As we come closer to releasing 'Presence', the debut LP from Tokyo Prose we present two tracks to get proceedings underway. 'Waiting On' features a dream collaboration with Riya who adds her distinctive, accomplished writing and amazing tone to a trademark Tokyo Prose piano led roller. 'Ventura' steps heavier with a dancefloor slant that has seen widespread support across a wide selection of the scene's DJ's including Friction, London Elektricity, Lenzman, John B, Skeptical and many more.

Check out the first offering from the EP 'Ventura' which premiered today on UKF:
'Presence' will be released on 04.08.14 and features further collaborations with Lenzman, Synkro, LSB, DRS, Fox and more. Pre order the album here: https://samuraimusic.bandcamp.com/album/waiting-on-with-riya-ventura

Samurai Music has proved itself as one of the most consistent and versatile labels in Drum and Bass with essential releases from exciting new producers as well as the top tier of seasoned veterans.

London-based New Zealander Sam Reed was first snapped up by Samurai Music back in 2008, when Tokyo Prose were still a duo. Three years later came a breakthrough double-pack called Introducing Tokyo Prose.

Since signing to Samurai Music, Tokyo Prose has released music across all 3 Samurai Music Group labels, as well as Hospital Records and Sun & Bass Recordings. Each one of these releases has been a musical stepping stone leading to this – his debut album 'Presence'.

'Presence' perfectly encapsulates the soulful, emotive vibrancy of the Tokyo Prose sound, now fully formed and refined. It is a sound that has captivated people across the globe since the 'Introducing Tokyo Prose' EP in 2011 and one that has left them clamouring for more with each release since.

The Tokyo Prose sound, whilst covering a lot of ground, always seeks to maintain a soulful, deep and polished aesthetic with a firm focus on musicality and groove. Tokyo Prose tunes have found themselves into the crates of artists like Calibre, DJ Marky, Presha, London Elektricity, Lenzman, SpectraSoul, Logistics, and many more.
Additional 'Presence' track support so far includes:

'Ventura' which was premiered and played twice by Friction on his BBC Radio 1 show as well as 'Wont Let Me Go' (feat.Lenzman & Fox): http://www.bbc.co.uk/programmes/b046crfm

'Won't Let Me Go' (feat.Lenzman & Fox) was also played by Lenzman in his album launch promo mix for Fabric: