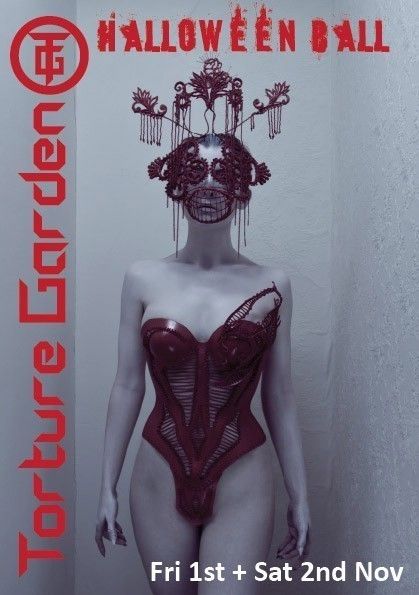 Torture Garden Halloween Ball
Fantasy Halloween Decor & Installations Throughout…
9 Themed Rooms on 3 Floors!
Haunted Theatre Stage:
DJs: Special Guest – D. Ramirez
+ Janette Slack, Jimmy Mofo, David TG
Electro House, Electro, Booty Breakz, Ghetto House, Dub Step, Drum & Bass
Voodoo Ballroom Stage:
DJs: David TG, The Roustabouts, The Secretary, Hitman Hearn
Halloween Exotica, Electro Swing, Glamour Trash to Electro Slut-core, Sleazy R n B Booty
Carnesky's Tarot Drome – Dungeon Arches
Starring Suri Sumatra, Sabrina Sweepstakes & Vicky Butterfly
SM Play Equipment
Atmospheric, Ritual, Dark Erotica Soundscapes
Horror Hospital Slaughterhouse
Medical Play Equipment & Fantasy Horror Hospital Decor
Its YOUR Funeral – Funeral Parlor
Coffin Installation Performances & Music of The Dead
Haunted Forest Installation
Horror Cinema Balcony
Erotic Horror & Dark Fantasy film cut-ups on the big screen…
Sex Magick Couples Playrooms
Satanic Burlesque Boudoir
Fri DJs: Hitman Hearn, Lydia Darling, Duncan DeMorgan, Dee Itsy
Burlesque, Kabaret, Swing and The Devils Music
Enforced Halloween Fantasy & Fetish Dress Code – FULL COSTUMES ONLY!!!
Dark Fairy Tales, Haunted Forest Animals, Pagan Horned Gods, Sex Magick, Hellfire Demons, Coop Devil Girls, Carnivale Freaks, Horror Circus, Satanic Burlesque, Voodoo, Day of the Dead, Victorian Asylum Lunatics, Hospital Horror, The Great Beast, Satyrs, Anton LaVey, Aleister Crowley, Silent Horror Film Characters, Sacrificial Virgins, Witches, Warlocks, Satanic Sluts, Zombies, Evil Clowns, Halloween Masks… etc
+ The Usual Fantasy * Fetish * Body Art * Drag * Burlesque * Uniform * Medical * Berlin Kabaret * Boudoir * Moulin Rouge * Venice Carnival * Circus Side Show * Top Hat & Tails * Steam Punk etc
Full Costumes Only / No Cheesy & Cheap Fancy Dress Copies / No Casual Street Wear / No Street Camouflage / No Jeans / No Cotton T -Shirts / Trilby Hat & Retro Mens Suit is not dressed up enough!