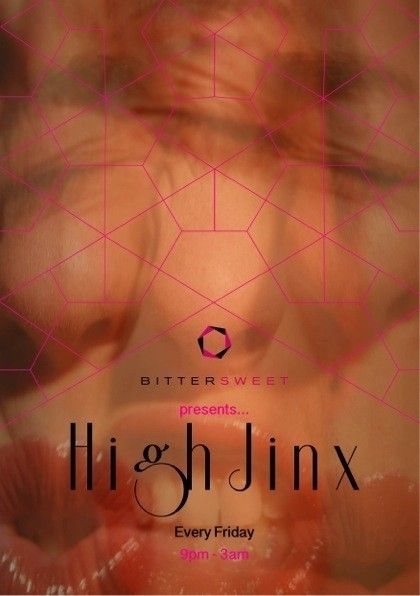 High Jinx
A brand new night for Soho fusing the intimate basement shenanigans of Friday nights at Bitter Sweet with a quality sound track provided by the finest DJs and of course cocktails to match! Plus on the very same night, Bitter Sweet will be celebrating their 1st birthday.
A night of only quality house, disco, soul, funk, bass, remixes, re-edits and more – NO REQUESTS REQUIRED!
This weeks DJ is Sophie Lloyd. A disco queen and a party starter. Blending well known anthems and underground classics for the most subtle situations as well as Europe's most fashionable floors.
Musical flexibility and the ability to read a crowd whatever the situation is her key, from clubs and festivals to warehouse parties, her taste is unparalleled. Don't expect anything except an exceptional journey.
For all who like a touch of class with their debauchery!
Entry and bookings on guest list only. Send requirements to – [email protected]
Plus, book a table for 10 people or more by email to receive a free bottle of Grey Goose to celebrate the birthday! Subject to availability and capacity. Not available without booking and confirmation.