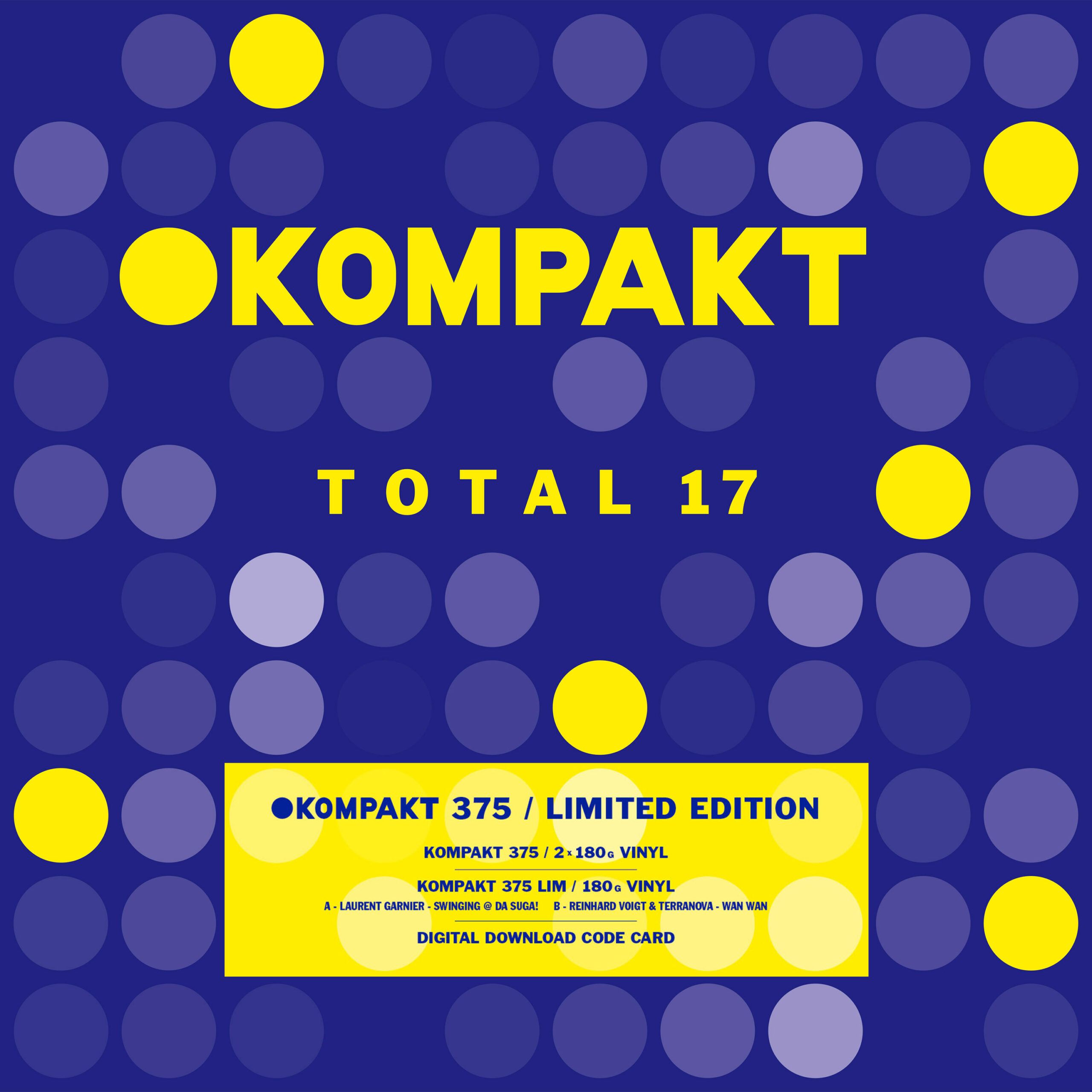 Various Artists - Total 17
Inaugurated in the summer of 1999, our Total compilation series happens to be only slightly older than the 21st century itself – which makes TOTAL 17 the last instalment before the series hits adulthood. And indeed, the Total class of 2017 exudes a playful abundance few other compilations can match after 15+ years: label veterans and newcomers such as SUPERPITCHER, WEVAL, TOBIAS THOMAS & MICHAEL MAYER, CHRIS KLOPFER, JUERGEN PAAPE, VOIGT & VOIGT, MAX SCHOLPP and NU U ORCHESTRA provide some of the catchiest material the series has seen to date.
Like other Total compilations before it, TOTAL 17 is first and foremost a perfect opportunity to delve into our recent back catalogue, with the action-packed 2xCD version showcasing acclaimed highlights and personal favorites from LAURENT GARNIER, THE ORB, KÖLSCH, VERMONT, T.RAUMSCHMIERE, PATRICE BÄUMEL, DANNY DAZE and many more. The pièce de résistance, however, is the Total-exclusive content featured on both 2xCD and 2xLP editions – eight brandnew cuts from core Kompakt artists and selected label debutants that will please the collecting connoisseur as well as the ambitious dance floor activist.
THOMAS/MAYER's 25 is a charming, bass-happy belter with a distinct Forever Sweet vibe, while SUPERPITCHER teams up with FANTASTIC TWINS for hazy dance floor ballad IN MY HEAD. Meanwhile, Kompakt's disco king of the hearts JÜRGEN PAAPE presents dreamy anthem ALWAYS DISKO, manipulating the space-time continuum with reversed vocals and plenty of ballroom glitz. Dutch duo WEVAL indulge in their expectedly brilliant beatmaking with the slow-burning, emotional METAZOA, grooving nicely alongside the heartwarming neo-folk house of CHRIS KLOPFER's ASHAMED (RAQUET & STETTER EDIT) and MAX SCHOLPP's hypnotic late-night electronica THE DREAM. Jörg Burger helms the NU U ORCHESTRA together with Julienne Dessagne of Saschienne and Fantastic Twins fame, resulting in the flamboyant, guitar-infused pop jam AMBROSIA. And VOIGT & VOIGT return to their personal brand of psychedelic trance techno minimalism on TRIBUTE TO A GREEK GOD – a fittingly idiosyncratic contribution to the merry band of stand-out tracks collected on TOTAL 17.
Tracklisting:
CD 1
01/B2. Weval – Metazoa
02/A2. Superpitcher feat. Fantastic Twins – In My Head
03/B1. Jürgen Paape – Always Disko
04/A1. Thomas/Mayer – 25
05/D2. Voigt & Voigt – Tribute To A Greek God
06. SEBASTOPOL – Flash Pool
07. T.Raumschmiere – Jaguar
08/D1. Nu U Orchestra – Ambrosia
09/C1. Chris Klopfer – Ashamed (Raquet & Stetter Edit)
10/C2. Max Scholpp – The Dream
11. Vermont – Ufer
CD 2
01. Sasha feat. Poliça – Out Of Time
02. Laurent Garnier – 1-4 Doctor C'est Chouette
03. Kölsch – PUSH
04. Clarian – Ankh
05. Demian – Milestars
06. Patrice Bäumel – Sorcery
07. Danny Daze & Shokh – Aire
08. Christian Nielsen – Hard Times
09. Locked Groove – Dawn
10. The Orb – 4am Exhale (Dave DK Accellerator Mix)