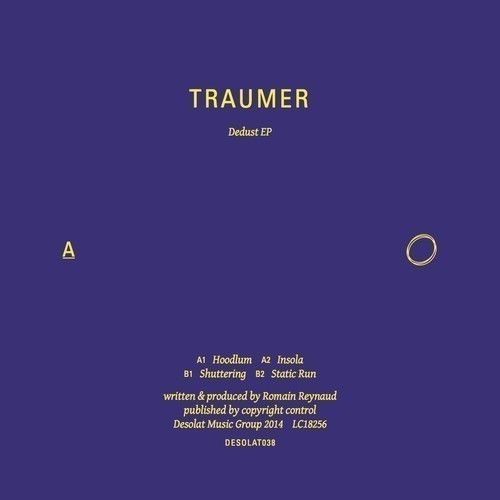 Traumer – Dedust EP
Traumer aka Romain Reynaud has been plugging away of late with a string of fresh material surfacing in 2014, much of which has seen the blossoming producer pick up support from the likes of Mr.G, Franck Roger, Doc Martin and Shadow Child to name but a few. Here we see Romain join the roster of Loco Dice and Martin Buttrich's infamous Desolat imprint, a driving force in underground electronic music having released material from Premiskeu, DJ QU, tINI, Davide Squillace and of course the label founders themselves.
Across the double pack we see Traumer skilfully explore a range of styles, opening cut 'Hoodlum' eases us in nicely with a bass-driven, funk-infused groove fuelled by jazzy melodies and gritty drum sounds. 'Insola', which delves into darker territories, follows this with distorted rhythms, swirling vocal licks and a Detroit tinged stab sequence. 'Shuttering' employs a similar aesthetic tipping the focus towards weighty percussive elements while the processed chord hits subtly drive the movement of the composition. B2 'Static Run' explores new territories as Traumer blends a hypnotic arpeggio with bubbling low-slung percussion and expansive atmospherics.
Entering the second 12'' we have 'Swish' which sees Romain opt for a more refined and minimalistic drum groove and classic dub tactics to create a blossoming seven-minute cut. 'Wasp' tips the vibe back to peak hours with a bumpy head-nodding rhythm construction, while a low-pitched vocal and evolving, resonant synth lines add a further mind-bending appeal to the record. The package is then rounded off with closing pieces 'Chord X' and 'Mobius', the first of which, as the name would suggest is led by insistent chord sequences and rumbling low-end hits, while the latter well and truly polishes off the package in style with meandering synth lines and a tripped out, unfolding feel.