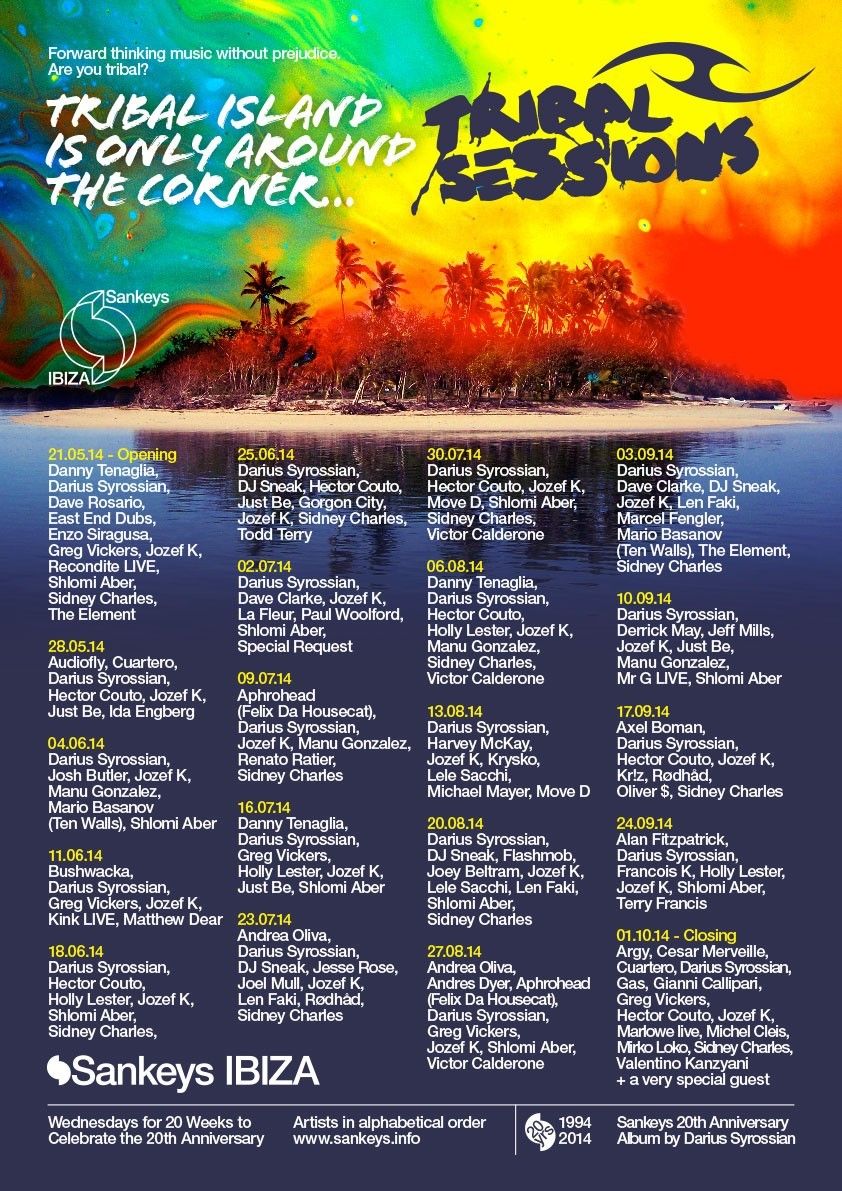 Tribal Island is only around the Corner
Excitement has been building ever since it was announced that one of the UK's most iconic and multi award winning nights, Tribal Sessions will finally be making a sensational debut on the White Island this year with a series of weekly 12 hour marathon parties. Every Wednesday from 6pm the weekly parties will kick off with a BBQ on the terrace hosted by Darius Syrossian and close DJ friends with the party continuing in full force until 6am at Sankeys Ibiza.
Tribal Sessions (Sankeys Soap's weekly legendary night and the offshoot club night of the Tribal Gathering Festival) is the only night ever to be recognised by a UK national museum for contributing culture to the City of Manchester and by the quality of the line ups announced, it's intent is to create a similar legacy on the island of Ibiza. (http://www.mosi.org.uk/collections/explore-the-collections/oral-histories-online/story.aspx?person=4560)
With Tribal Sessions having set one of the most eclectic musical formats other nights around the world can only follow, you can expect the Ibiza version to set equally high new party standards on the island. Focusing on the underground and keeping its 'forward thinking music without prejudice' mantra close in the mind, there will also be an extra fun element added to all Tribal Sessions Ibiza parties with its famed feathers and face paint format.
Headlining will be the most sought out and talked about names from the worlds of house, techno, disco, bass and more. There will be sets from huge legends such as New York's original Tribal don Danny Tenaglia, plus fellow city men Todd Terry, Victor Calderone and Francois K. There is also music from newer stars like Gorgon City and Axel Bowman. Elsewhere you can expect packed out parties with the likes of Chicago's DJ Sneak, Paul Woolford, deep house don Move D, techno royalty Len Faki, Derrick May, Jeff Mills, Ida Engberg deep techno man Mr G playing live and plenty more. Regular residents include Darius Syrossian, Hector Couto, Jozef K, Sidney Charles, Shlomi Aber and some select shows from original Tribal resident and bona fide legend Greg Vickers.
Over the course of the season, the parties will run for 20 nights to celebrate 20 years of the Sankeys movement. The opening kicks off on Wednesday the 21st of May and runs until Wednesday the 1st of October 2014. Tribal Sessions is already one of the most talked about nights on the whole of theWhite Isle this year so make sure you get your tickets sooner rather than later.
Tribal once said that all they wanted to do was save enough money to buy a party island and retire from society forever… now that Ibiza is their party island, this year maybe it should be renamed as The Tribal Island.
ARE YOU TRIBAL?
SANKEYS IBIZA
www.sankeys.info
f o r w a r d t h i n k i n g m u s i c w i t h o u t p r e j u d i c e