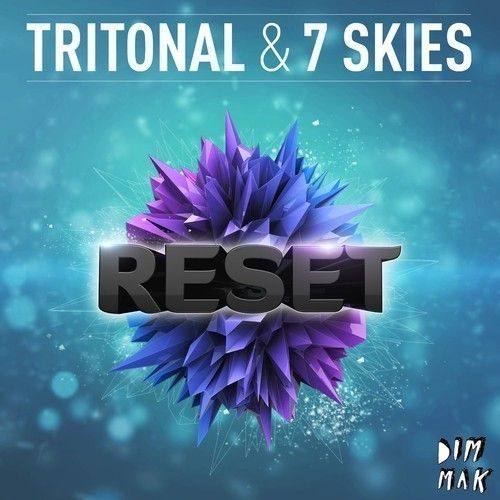 Tritonal & 7 Skies – Reset
For those who wish life came with a reset button, electronic production duo TRITONAL and producer 7 SKIES join forces to drop a mesmerizing track specifically made to revive all those favorite memories. "Reset" is the first collaboration between TRITONAL and 7 SKIES and their debut release on Dim Mak Records. Listen to a preview of TRITONAL & 7 SKIES – "Reset" here:
Longtime friends since their early production days, TRITONAL and 7 SKIES infused their melodious and experimental signature sounds into a hard-hitting banger that's been supported by everyone from Nicky Romero, Gareth Emery, Cazzette, Hardwell, W&W, and Ferry Corsten. The motto of their hometown of Austin and TRITONAL's daily goal in the studio, the duo definitely tried to "keep it weird" while co-producing "Reset" with the Italian 7 SKIES. Quirky synths and infectious drops keep the track's energy at full throttle the entire ride. Fans might be tempted to try and catch their breath before the frenzied buildup, but are quickly pulled back in by a dub-infused, wobbling breakdown.
After making a name for themselves as the up-and-comers to watch, TRITONAL, the American production/DJ duo composed of Chad Cisneros and Dave Reed, have firmly situated themselves as one of the most electrifying acts in the international EDM scene. Recently earning a spot on MTV Clubland's "10 Artists to Watch in 2013" list and landing at #65 on DJ Mag's Top 100 DJs of 2012, TRITONAL continue to launch track after track on to the Beatport charts and ignite dance floors around the world with their energetic and unforgettable sets. Their debut artist album Piercing the Quiet produced eight Top 20 Beatport singles, including five that held the #1 position on the trance chart for weeks at a time. In September 2012, they released the follow-up Piercing The Quiet Remixed, which landed in the Top 5 on the iTunes dance albums chart. Throughout 2013, TRITONAL is releasing a 3-part EP series entitled Metamorphic, the first of which was released in March. Metamorphic II will be out this summer. They commenced their new weekly radio show Tritonia in early 2013 and recently announced they will become co-owners of the record label Enhanced Music.
Originating from Italy, but reaching all corners of the world, 7 SKIES' productions have a universal appeal that are filled with emotion and energy combined. To this date, 7 SKIES has created an impressive discography with releases on influential labels such as Anjunabeats, Armada, Enhanced, and Euphonic. The industry had its first introduction to 7 SKIES with his remix of "Volume 1," which secured a placement on the Anjunabeats One Hundred compilation. Shortly after, his release of "Central Park" garnered support from established producers such as Armin van Buuren and Ferry Corsten.
In early 2010, Anjunabeats released the instant classic "Caffeine," which became the definitive 7 SKIES sound and quickly received support from Above & Beyond, who featured the song on their "Trance Around the World" podcast. The track was later featured on the Anjunabeats compilation Anjunabeats Worldwide 02. His follow-up track "Sushi" was used as part of the official Electric Daisy Carnival Experience, was featured on Anjunabeats Vol. 8, and peaked at #2 on the Beatport Trance chart. In addition to original releases, 7 SKIES has also been sought after by noteworthy artists such as Super8 & Tab, Oliver Smith, Dan Stone, and Daniel Kandi for remix work, as well as Above & Beyond, for whom he remixed the massive track "Sun & Moon," the group's first single off of their hugely popular album Group Therapy. All of 7 SKIES' releases continue to receive support from top DJs and well-known trance radio shows like Trance Around the World and A State of Trance.