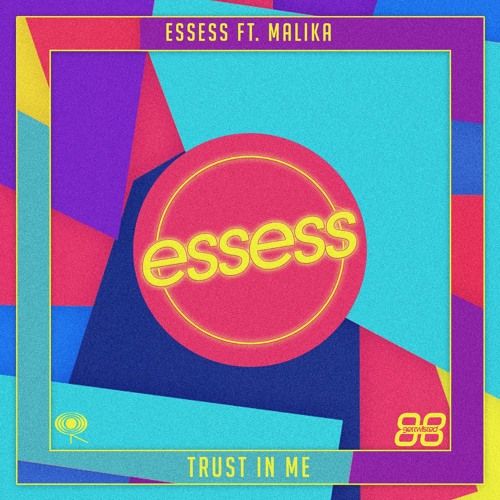 essess ft. MALIKA - Trust In Me
London based production duo, essess will release the uplifting house and garage cut 'Trust In Me' on Get Twisted Records on 29th July.
Featuring the sultry vocals of acclaimed songstress MALIKA, 'Trust In Me' instantly transports the listener to a balmy summers evening in Ibiza, thanks to the Spanish guitar sample from Craig David's 'Two Steps Back' – which received the seal of approval from the man himself!
Born out of a lengthy love affair of all things house and garage related, essess infuse a glorious mix of old and new, funky and fresh, deep and sexy goodness for the dance floor. Having joined forces in mid 2013, essess have released an array of singles and remixes for the likes of Ministry of Sound, Defected Records, Eton Messy, and HK Records.
essess have been billed as 'One to Watch', contributing a guest mix to Roska's Rinse FM show. Their 2015 release 'Just Friends' featuring Disclosure guest-vocalist Brendan Reilly has amassed nearly half a million combined streams. They have released several acclaimed remixes including for Oliver Dollar & Jimi Jules 'Pushing On', Made In Heights 'Murakami', Years & Years 'Desire', and DJ Fresh & High Contrast ft. Dizzee Rascal 'How Love Begins'.
essess's deep and sexy productions have won them many supporters including DJ Target, Blonde, Eton Messy, MistaJam, Danny Howard, Toyboy & Robin.
London-based R&B songstress MALIKA lent her vocals to Without A Clue 'Bless Her Soul' and Snakehips 'Falling'. Snakehips also co-produced her debut single, 'Put It On Me', released earlier this year.
Get Twisted has gone from strength to strength, having signed an imprint deal with Columbia Records in 2015. Owned by the acclaimed London-based duo Tough Love's Alex and Stef, Get Twisted's unique sound of bass infused house cuts mixed with R&B, 90s dance and garage has made the label a force to be reckoned with.
Get Twisted's growing roster of talent includes Roger Sanchez, Todd Terry, Sandy Riviera, Amine Edge & DANCE, Man Without A Clue, Full Crate, No Artificial Colours, and Hannah Wants alongside up and coming talent AS I AM, LiTek, Catchment, Newbie Nerdz, and Midnight City.
Social Media links
essess:
www.soundcloud.com/essessmusic
www.facebook.com/essessmusic
www.twitter.com/essessmusic
MALIKA:
www.soundcloud.com/hernameismalika
www.facebook.com/hernameismalika
www.twitter.com/hernameismalika
www.instagram.com/hernameismalika
Get Twisted:
www.gettwistedrecords.com
www.soundcloud.com/gettwistedrecords
www.facebook.com/gettwistedrecords
www.twitter.com/gettwistedrecs
www.youtube.com/gettwistedrecords