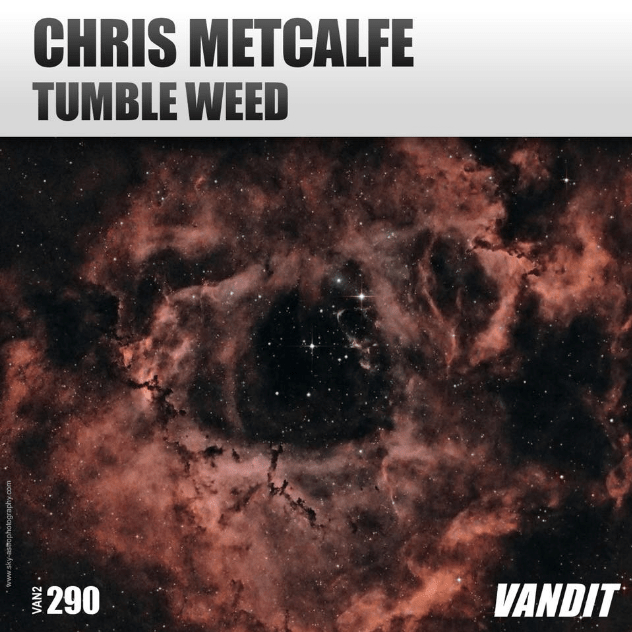 Chris Metcalfe - Tumbleweed
Here at VANDIT you're probably noticed, that we've been enjoying more than our fair share of 'Chris' recently. Last week it was 'You' from Chris Bekker servicing our Chris-like of needs, while into December it's a Chris of the Metcalfe variety that's satisfying those urges.
Could this be anything to do with Chris-tmas being round the corner!? We couldn't say for sure, but a Metcalfe x VANDIT outing has been waiting to happen for, well, too, too long. When 'Tumbleweed' blew into our inbox and out of the office speakers though, in a heartbeat we knew we'd found our debut.

Tapped, snapped and now unwrapped, 'Tumbleweed' engages clubfloors quicker than a toupee coming off in a hurricane. Robust percussion galvanizes its primetime tempo, while its coyly energising 303 is further charged by the marching power of its drums.
Chris is a past master in compelling sub-melodies and 'Tumbleweed's scene-setter is one of his finest. Emotion truly infused, he brews up a storm in the break, drawing its key parts together. Elements assembled, he opens the synth floodgates at the peak of the drop and rushes them all back in en-mass. An instantaneous adrenaline shot to any set or floor, you can grasp some 'Tumbleweed' here: https://www.beatport.com/release/tumbleweed-extended/2166004
Tracklist:
01: Chris Metcalfe – 'Tumbleweed' (Original Mix)
www.chris-metcalfe.com
www.soundcloud.com/chrismetcalfe
www.facebook.com/chrismetcalfeofficial
www.twitter.com/chrismetcalfe
www.instagram.com/chrismetcalfemusic
www.vandit.com
www.soundcloud.com/vanditrecords
www.adamblockphotos.com