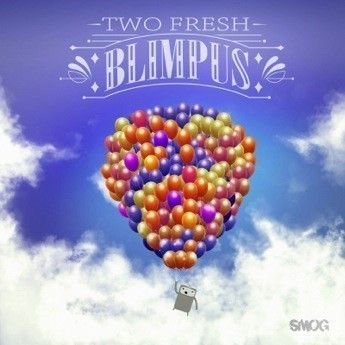 TWO FRESH – BLIMPUS EP
Composed of twin brothers Kendrick and Sherwyn Nicholls, Two Fresh stands at the forefront of boundary-pushing beat-makers, propelling hip hop-infused electronic bass music into the future. Their six-track 'Blimpus' EP is available now on SMOG Records with remixes from Starkey, Lil Texas, and Atlantic Connection.
"We like to describe 'Blimpus' as an introspective look on our childhood," Kendrick tells Billboard.com. "The track is a carefree ode to just pure enjoyment of music, without the outline of modern day music."
Built on a foundation of hip hop, Two Fresh's sound seamlessly incorporates elements of sampling, a booming low end and catchy synth lines. Kicking off the EP, "Shotta" begins on a future bass tip, welcoming a harmonious range of synths. The track then breaks down to a half time beat, layering a wash of melodic strings, tropical pianos and a hint of jungle-laced snares (listen on SoundCloud/THUMP). "Blimpus" follows, with rhythmic percussion and synth pads that fluctuate in both sonics and texture, but still keeping the release's warm, luscious aesthetic (listen on SoundCloud/Billboard.com). Leading with a bright, syncopated piano lick, the sounds of summer continue on with "To The Top." Based around an eight-measure melody, the track builds on the simple concept with a triumphant chorus of chords.
On the flip side, the remixes give this release an extra jolt of freshness. Starkey injects his signature grit and glitch to "Blimpus," giving it a darker, more sinister appeal with "crunchy bass throbs and the well-orchestrated interplay of crystal-clean percussive and vocal samples," according to Billboard.com. Lil Texas brings the lush, garage vibes with hints of house and trap throughout his remix of "Blimpus." And bringing the EP to a close is Atlantic Connection's tempo-pushing edit of "Shotta" and his tech funk snares along with '90s pianos that may have you thinking the track was made in jungle, then dipped in rave.
Two Fresh has amassed serious momentum between extensive touring with artists like Skrillex and 12th Planet, and performing at a slew of music festivals including Coachella, Electric Daisy Carnival, Moogfest, SXSW, Dew Tour, Bumbershoot, DEMF, Starscape, Wakarusa, and Camp Bisco.

Watch the official video for "Blimpus," directed by Strangeloop, on UKF's YouTube channel here.
'Blimpus' is out now on iTunes, Beatport and all major online music retailers.
Catch Two Fresh's record release party with Them Jeans, Penthouse Penthouse and Lil Texas at SOUND Nightclub in Hollywood on Thursday, July 31. Tickets are available at www.wantickets.com