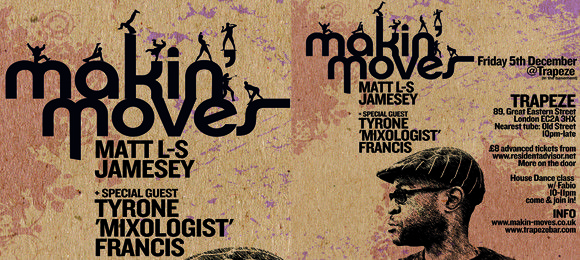 Tyrone "MIxologist" Francis
I don't like to say I have given my life to music. I prefer to say music has given me life. Tyrone "mixologist" Francis.
Makin' Moves are back for their final party of the year, they've been saving the best until last with Tyrone "Mixologist" Francis, who makes time in his busy schedule to play a special end of year gig for Makin' Moves. After an intimate affair with previous headliner "Ian Friday" from NYC who jacked the roof off new venue "Loves Company." The team return with a bigger party at the club basement of Trapeze (formerly East Village) in Shoreditch.
Tyrone Francis is a true veteran in the house music scene and one of NYC's finest DJs and can often be found spinning at elite parties in NYC including Shelter , Body & Soul, and Libation as well as hosting his own Blak n Yello events across the city. His phenomenal mixes and technical skills have rightfully earned him his moniker, "The mixologist".
Makin' Moves have been throwing a series of parties in and around East London throughout the year, as a thank you to their loyal fans for long standing support of their label, inviting everyone to help celebrate on the 5th December. Tyrone "Mixologist" Francis is the headliner and will be spinning a 3 hour set with support from head honchos "Matt L-S & Jamesey".
Headline Guest DJ: Tyrone 'Mixologist' Francis (NYC)
Resident Makin' Moves DJs: Matt L-S & Jamesey
Friday 5th December
Trapeze (Basement)
89, Great Eastern Street
London EC2A 3HX
10.00pm-4am
www.makin-moves.co.uk

www.blaknyello.com