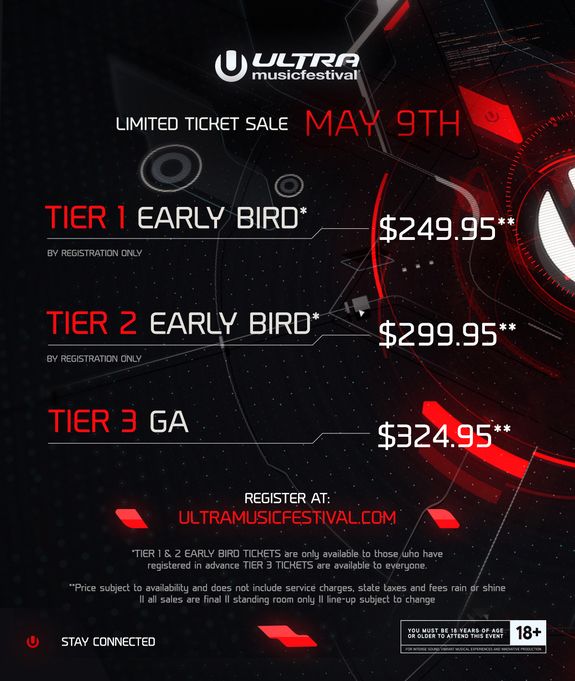 Ultra Music Festival Announces Exclusive Flash Sale!
Having recently been crowned 'The World's No. 1 Festival' by almost half a million DJ Mag voters, Ultra Music Festival is taking no time to rest on its laurels. After what was one of the most successful sold out events in its illustrious eighteen-year history, ULTRA now has its sights firmly set on 2017…

From 1PM EST on Monday, May 9, 2016, the first round of tickets for Ultra Music Festival 2017 will go on sale, in an exclusive limited-time 'flash sale'.

Available only to those who >>>> register in advance <<<< at ultramusicfestival.com, Tier 1 and Tier 2 Early Bird tickets start at the incredible price of $249.95 and $299.95 respectively. Throughout the flash sale, Tier 3 tickets will be available to the general public from $324.95, on a limited basis.

Registration closes at 11.59pm EST on Saturday, May 7.

After considerably reducing prices for its 2016 edition, Ultra Music Festival has continued to put the fans first and has frozen ticket prices for its 2017 flash sale. Looking after the fans has become a true staple of the ULTRA experience, and it's yet another reason fans continue to flock to Bayfront Park year upon year. Having been announced as DJ Mag's #1 Festival in the world last week, demand for tickets will be higher than ever for the 2017 edition.

Speaking on its #1 placement, Russell Fabisich, Co-Founder, CEO, President, Chairman and Executive Producer of Ultra Music Festival said, "It's an honour to have been voted No.1. It's a great opportunity to say a huge thank you to everyone who recognizes and appreciates our hard work and dedication to the festival space and beyond."

Following this flash sale, tickets for Ultra Music Festival 2017 will then be made available to the general public later in the year.

Tier 1 Early Bird Tickets – $249.95*
Tier 2 Early Bird Tickets – $299.95*
Tier 3 GA Tickets – $324.95*
VIP Tickets – $1249.95*

*Price Subject to Availability and does not include service charges,
state taxes and fees || Rain or Shine ||
All Sales Are Final || Standing Room Only || Lineup Subject to Change || Ages 18+ Only

Ultra Music Festival 2016 was one for the record books, uniting more than 165,000 dance music fans from around the globe; the event was deemed an irrefutable success. To commemorate this banner year, Charly Friedrichs AKA Final Kid has created a stunning 4K tribute to the festival, featuring scenes from the memorable weekend in Bayfront Park and a sensational soundtrack by way of Kidnap Kid's "Moments". Friedrichs said, "For me as a filmmaker it's all about capturing the "MOMENTS" in the most cinematic way and then pairing it with the right soundtrack to transcend the experience. That's what this clip is all about and it's a good visual taster of what is to come in the official aftermovie later this summer!" The short film places a virtual bookend on one of the most outstanding years in the brand's storied history, and beautifully outlines the unique and timeless draw of Ultra Music Festival.

Ultra Music Festival takes place on March 24, 25 and 26, 2016, during Miami Music Week and is an 18+ event.

For further details and ticket information, head to www.ultramusicfestival.com.