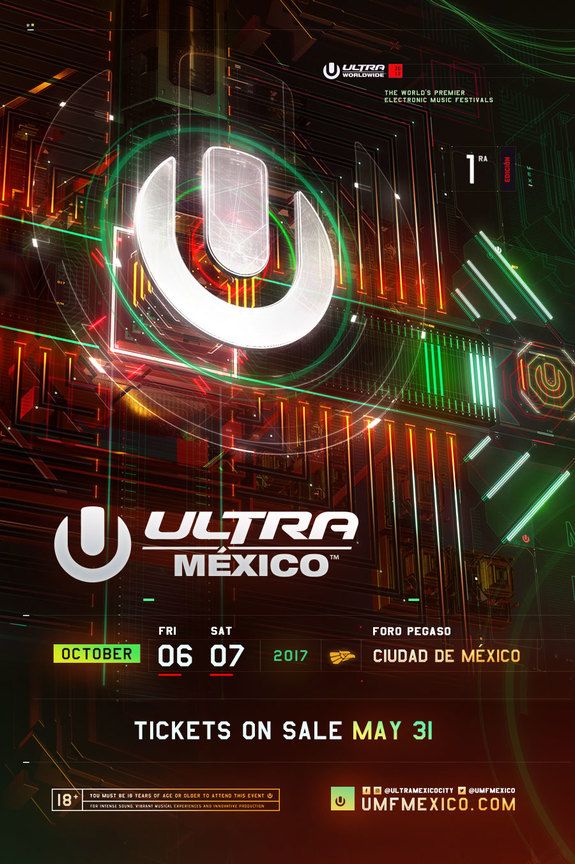 Ultra Worldwide Continues Global Expansion
ULTRA WORLDWIDE will produce its first event in México this October, as it presents the debut edition of ULTRA México.

A multi-day, multi-stage event including the global RESISTANCE concept, ULTRA México will take place from October 6-7, 2017, at Foro Pegaso – just outside the México City Center.

With over 40 hectares of beautiful open space, Foro Pegaso is México´s best venue for large-scale outdoor events, complete with multi-configurable spaces and enough capacity to simultaneously operate several multiple state-of-the-art stages.

Providing a safe, controlled and fun environment for festivalgoers, Foro Pegaso also boasts close access to more than 120 hotels, countless restaurants and bars, and various other commercial areas.

Tickets for ULTRA México will go on sale on May 31 exclusively at umfmexico.com.

For more information, including all lineup and ticket details, stay tuned to umfmexico.com.

About ULTRA Worldwide™

ULTRA WORLDWIDE™ IS THE GLOBAL EDITION OF THE WORLD'S PREMIER ELECTRONIC MUSIC EVENT, ULTRA MUSIC FESTIVAL®.

The ULTRA brand in relation to live events was founded in 1997 in Miami by Executive Producer, President & CEO, Russell Faibisch, who began by producing electronic music events which led to the inaugural Ultra Music Festival® in 1999 on the sands of Miami Beach.

The internationally renowned festival, which has taken place every March since its inception, celebrated its nineteenth anniversary on March 24-26, 2017 by bringing over 165,000 music enthusiasts to the sold out waterfront event in the heart of the City of Miami. Ultra Music Festival®, recently voted the world's #1 Festival by DJ Mag for the second consecutive year, returns to Bayfront Park for its twentieth annual edition on March 23-25, 2018.

Choosing to follow a unique and creative vision and a wholly organic growth focused on its true love for music, artists and fans alike, the ULTRA and ULTRA Worldwide™ brands represent not only the world's biggest and most successful remaining INDEPENDENT electronic music festival brand, but also the most international festival brand in the world. Event organizers continue to transport the unrivaled experience from the Miami flagship festival to an ever-growing number of destinations and Ultranauts all over the globe.

Over the past nineteen years, thousands of the world's most iconic DJs, producers and live acts have mesmerized audiences with awe-inspiring sets at ULTRA festivals in ARGENTINA, BALI, BRASIL, CHILE, CROATIA, IBIZA, JAPAN, KOREA, SINGAPORE, SOUTH AFRICA and of course MIAMI, as well as ROAD TO ULTRA® events in BOLIVIA, CHILE, COLOMBIA, HONG KONG, JAPAN, KOREA, MACAU, PARAGUAY, PERU, THE PHILIPPINES, PUERTO RICO, SINGAPORE, TAIWAN, THAILAND and the USA. Each new global edition has been founded on the same successful recipe that has been perfected over nineteen years in Miami, combining the most diverse electronic talent with the most technologically advanced, large-scale festival productions in the world.

The ULTRA brands have pioneered the live stream experience with 'ULTRA LIVE' (with over 650 million live stream and recorded set views from Ultra Music Festival Miami since 2013) and the audio broadcasting platform 'UMF RADIO' (syndicated to FM Radio in over 62 countries and reaching more than 22 million listeners weekly). Also UMF FILMS' collaboration with FINAL KID has seen some of the most visually breathtaking festival aftermovies in the music space, including a feature-length documentary exploring the explosion of dance music, entitled CAN U FEEL IT™, which was premiered on the red carpet at the Klipsch Amphitheater in Miami in 2012 and was exhibited in over 500 theaters across the Unites States.

2016 and 2017 have seen the ULTRA and ULTRA WORLDWIDE™ brands continue to push the boundaries even further, bringing an unparalleled combination of cutting edge productions and the world's best electronic acts back to previous strongholds and new frontiers across the globe. With the SOLD-OUT edition of ULTRA Brasil®, ULTRA Singapore™ having become a full scale two-day festival, RESISTANCE's debut standalone South America Tour, and the debut of ROAD TO ULTRA®'s Hong Kong, 2016 was the brand's most successful year to date. A RESISTANCE summer residency at Privilege Ibiza is confirmed for 2017, while ULTRA China will debut in Shanghai on September 9-10, 2017. Also in 2017, two ROAD TO ULTRA® events will take place in New Delhi and India. ULTRA® have revealed further expansion into Australia for 2018. The ULTRA brand will be present in at least TWENTY-THREE COUNTRIES across SIX CONTINENTS worldwide by the end of 2018.