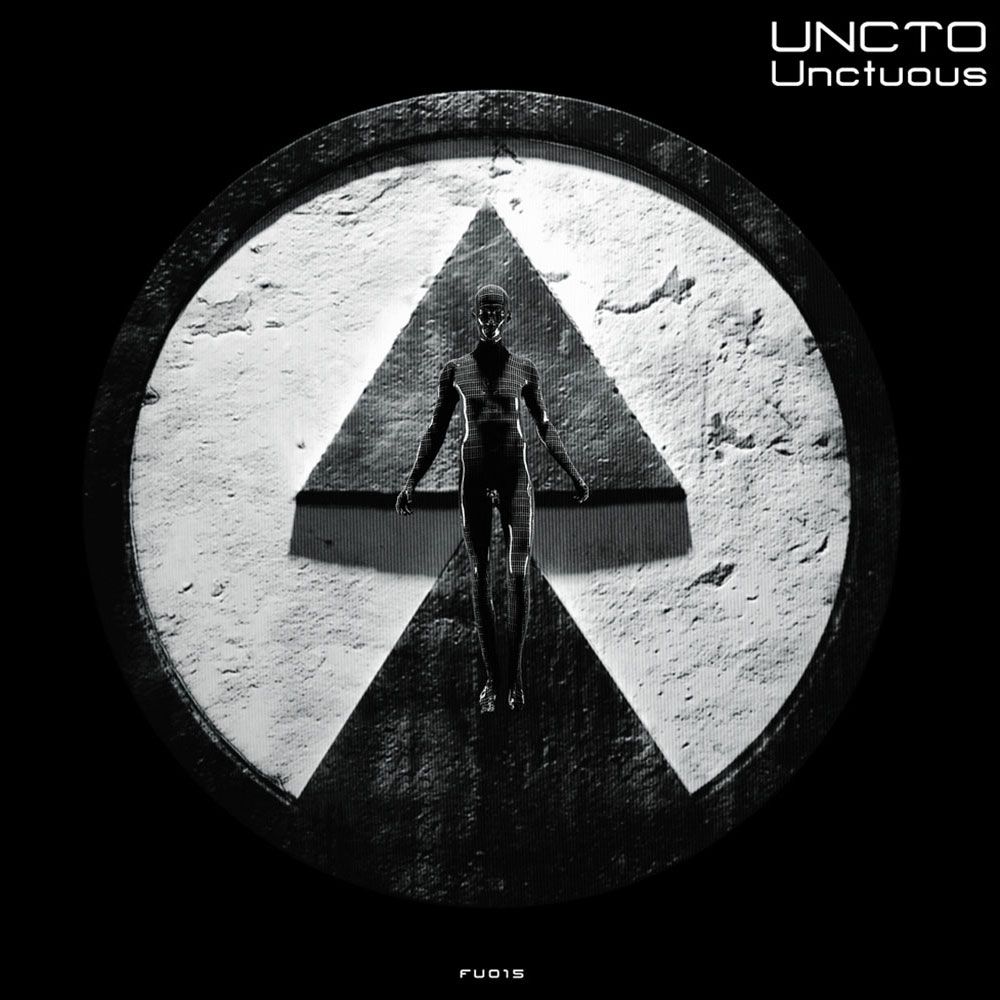 Uncto - Unctuous EP
Winter thaw marks the return to Furanum of Uncto, the Silesian dyad Domink Müllerand Rafal Fürst, with their first full release of collaborative material since 2013's seminal fu009. Like its predecessor, Unctuous offers four cuts of viscerally engineered and rhythmically exacting dystopias, each ably situated within a striking 'synthetic' narrative. It is this latter aspect of each arrangement that perhaps most noticeably demonstrates the pair's singular and evolving approach to composition, borne out in the calculated emphasis on hardware-based expressionism.
The opening title track stands as a testament to the above: while deceptively sparse at the outset, its ponderous advance, both heavyset and indomitable as it gathers pace, is framed in the midst of an unfolding panorama of stark analog wails. Further interspersed with resonant timbres more akin to the vocalizations of some hell-beast luring its prey, the eponymous behemoth ingratiates its listener, beckoning submission to its will with the promise of exhilaratory assimilation. Such a hive-mind state attained, exhilaration does follow, yet so does a concomitant loss of agency, leaving one thoroughly subjugated and enslaved to its cadence. Perhaps as a manifestation of dramatic resistance to such a fate, Trust No One daringly defies the impositions of its predecessor. Instead, it animates and emboldens the beholder through its rhythm, ineluctably driven by a sense of accelerating linear intensity. Thus arriving at a climactic percussive build whose isochronal blows shatter any remnants of doubt, angst transforms into raw conviction as one is propelled into a delirious realm of solipsistic certitude.
Situated amidst the foreboding sound of blade clashing with blade, Cold Knife, on the other hand, is driven by an entirely disparate off-beat progression. As its anticipatory rhythmic thrusts cut through an advancing fog of shivering drones with frigid precision, one seemingly undergoes a cyclical plunge into a state not unlike one marked by the visceral dopaminergic rush of contact with extreme cold. Finally,Metzgers Tochter ('Butcher's Daughter) closes the EP with a ruthless exploration of the contrast between the gruesome and the feminine. In a similar way to the opener, the track's meter is staggered and undulating, yet also steadily punctuated with breathing room between its crushing blasts. Such scenery thus serves as a canvas for the expression of the titular character's 'beauty and the beast': a paradoxical synthesis of attraction and aural brutality, held in tension by the unceasing throbbing of the composition's beats.
Unctous EP will be available as of June 29th on vinyl and digital.