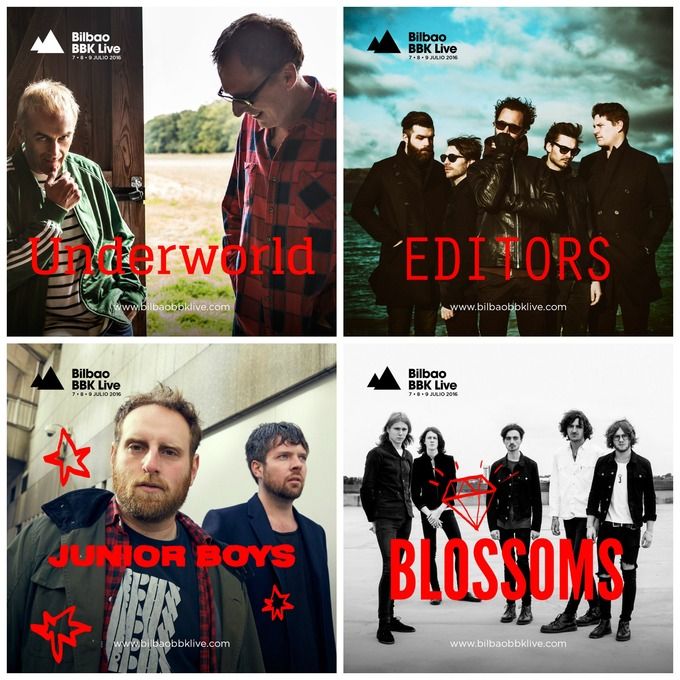 Underworld, Editors, Junior Boys, Blossoms and more join the lineup for Bilbao BBK Live 2016
Bilbao BBK Live is proud to expand on its already jam-packed lineup for 2016 with acts including British electronic group Underworld, rock five piece Editors, Junior Boys and Blossoms. The newly announced acts join Arcade Fire, Pixies, Foals, Tame Impala, M83, Chvrches, Grimes, New Order, Hot Chip, Years & Years, Father John Misty, Courtney Barnett, Wolf Alice and many more.
With a career spanning four decades at the top of their game, Underworld need no introduction. The duo of Karl Hyde and Rick Smith have, over nine studio albums, consistently pushed the boundaries of electronic music. With their eagerly anticipated forthcoming LP 'Barbara Barbara, We Face a Shining Future' about to drop later this month, it's about time Underworld made their Bilbao BBK Live debut!
Since their inception in 2002, Editors have remained one of the UK's most vital talents. Returning last year with their new LP 'In Dream', their dark and brooding, yet uplifting and anthemic, brand of post-punk has lost none of its charm. Their incredible live show is not to be missed.
Canadian electro-pop duo Junior Boys return with forthcoming new album 'Big Black Coat' is long overdue. Having formed in 1999, the band have received critical acclaim and remain one of the brightest lights in electronic music. With laidback and effortlessly cool tracks including 'Parallel Lines' and 'In The Morning' they are certain to captivate the crowd's attention.
Having started the year on the prestigious BBC Sound Of 2016 new music list, Stockport's Blossoms are a band undoubtedly on the rise. Their recently released EP 'At Most A Kiss' is a promising glimpse of what is to come for this multi-layered indie five piece.
Also joining the lineup are much-loved Spanish acts Belako, Nudorzurdo, Triángulo de Amor bizarro, Hidrogennese, Rural Zombies, C. Tangana, Green Class, Yellow Big Machine and Begiz Begi.
With some of the most exciting and highly regarded artists worldwide set to take to the stage for Bilbao BBK Live, 2016 is set to be its biggest and best year to date! Situated high upon the stunning Kobetamendi Hill and boasting breathtaking views across the city and beautiful, golden, sandy beaches Bilbao BBK Live offers the perfect holiday-festival fusion. Tickets, priced at £93.00 + bf are available now at www.bilbaobbklive.com.
LINE-UP
July 7
Arcade Fire / New Order / M83 / Chvrches / Hot Chip / Years & Years / Wolf Alice / Hola A Todo El Mundo / Hidrogennese / Rural Zombies / Begiz Begi
July 8
Pixies / Underworld / Grimes / Love of Lesbian / José González / Junior Boys / Slaves / Blossoms / Belako / Nudorzurdo / C. Tangana / Inheaven / Green Class
July 9
Foals / Tame Impala / Editors / Father John Misty / Courtney Barnett / Jagwar Ma / Triángulo de Amor bizarro / Was / Yellow Big Machine
+more acts TBA
TICKETS
General Admission 3-Day Ticket from £93.00 GBP +BF
General Admission 3-Day Ticket + Camping from £100.50 GBP +BF
Book now at www.bilbaobbklive.com/en-us/tickets
Connect
Website www.bilbaobbklive.com
Facebook www.facebook.com/bilbaobbklive
Twitter www.twitter.com/bilbaobbkliveen
Spotify www.spotify.com/user/bilbaobbklive
Instagram www.instagram.com/bilbaobbklive