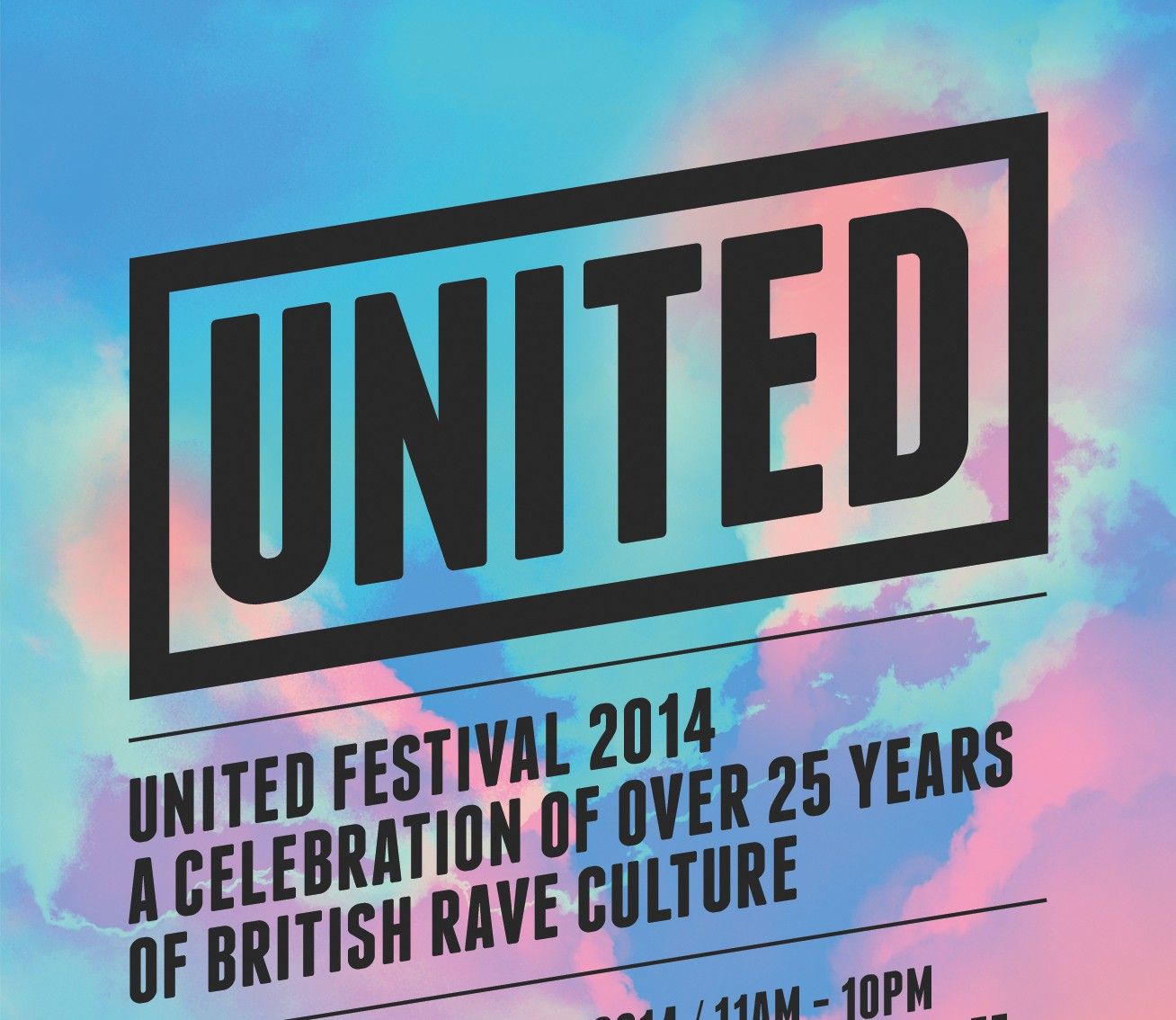 UNITED FESTIVAL 2014
The UKs leading, multi-award winning brands join forces to launch a brand new outdoor festival experience: UNITED – celebrating over 25 years of British Rave Culture.
Join us on Sunday 14th September 2014 for 10 hours of Drum & Bass, Old Skool, Jungle, House, UK Garage, Trance, Hard House, Acid Techno, Psy Trance, Old Skool Hardcore, Old Skool House and Club Classics.
We have carefully selected a stellar line up consisting of a variety of the pioneers of the British rave scene from 1987 – 2014 alongside some fresh new talent.
The location for United Festival is Finsbury Park; one of London's most exciting green sites with great views of the city and excellent transport links.
UNITED = Over 125 Acts, 7 Arenas, 5 Brands, 1 Field & U!
United Main Stage Arena
LIVE ACTS: Angie Brown / Baby D / Kele Le Roc / Doctor / Koven / Deckajam
DJs:
Danny Byrd
DJ Hype
Lisa Lashes
Ratpack
Drumsound & Bassline Smith
Fabio & Grooverider (25 Years Set)
MCs:
GQ, IC3, Biggie, Moose
One Nation Arena (Drum & Bass)
Hazard with Eksman
Shadow Demon Coalition Feat. Sly, Trigga, Bassman
Mampi Swift with Evil B
Randall with Moose
Brockie with Det
Phantasy & Nicky Blackmarket with Skibadee & Shabba D
Majistrate with Stormin
Sub Zero with Felon
DTA with Deefa
Whiley One & Terry M
Moondance Arena (Old Skool & Jungle)
DJ Rap with GQ
Peter Bouncer Live PA
Slipmatt with Charlie B
Billy Daniel Bunter with Whizzkid
Kenny Ken with Fearless
Uncle Dugs with Five Alive MC
Twista & Trix with 3Flow
Ashatack & Funky Flirt with Shockin B
Sense with Cutter
Genetic & Dan Rewind with Fusion
JC & MR X
Analog Arena (House)
Waifs & Strays / Josh Butler
Mark Jenkyns
Dale Howard
Tough Love
Cozzy D
Sam Supplier
Max Chapman & Lee Brinx
Cera Alba
Garage Nation Arena (UK Garage)
Matt Jam Lamont
Pied Piper
Mike Delinquent
MC Vapour Live PA "Move Your Body"
Jason Kaye
FOUNDATION (Sticky b2b Scott Garcia)
Martin Liberty Larner
DJ Cartier
Spin E B
Junior Buzz
Redlock
MCs: Creed, B Live, Viper, PSG, Kofi B, Dappa, Kie, Preshus, Vapour
Frantic Arena (Trance, Hard House, Acid Techno, Psy Trance)
The Thrillseekers
BK Featuring Cortina Live PA
Andy Whitby HARDL!VE
Mark EG (Acid Techno Set)
Andy Farley
Nick Sentience (Psy Trance Set)
Cally Gage & Lucy Fur
Wayne Smart & Jake Martin
Ashley Waters & Tony Kaos
PSR & Stewart T
VIP Arena (Old Skool House & Club Classics)
Huck Finn
Rob Blake
Squirrel
Skie
Matt Emulsion & Stuart J
Swifty Hablaa
Lee Freeland
Jason J & Vinyl Vera
Joey G
Liam D
KMH
TICKET INFO
STANDARD TICKETS FROM £25
VIP TICKETS £45
http://www.unitedfestival.co.uk
PUBLIC TRANSPORT
The park is conveniently located next to Finsbury Park Overground, Tube and Bus Stations.
Overground Trains
Trains run to here from Kings Cross and southbound from Welwyn Garden City and Hertford North.
Tube
Finsbury Park Tube Station is on both the Victoria and Piccadilly tube lines.
Buses: Finsbury Park bus station is a major hub for transport from central and North London.
Train Info: www.nationalrail.co.uk
Tube & Bus Info: www.tfl.gov.uk
Car
We strongly recommend using public transport to get to this event as parking in the area is extremely minimal and tightly regulated.
Entry Information
This is an Over 18′s event only: please bring valid photo ID with you such as a Passport, Driving Licence or PASS card to ensure entry.
There is no re-entry on the day: once you're in, you're in.
Please do not bring your own food or drink: the event will have plenty of bars and food stands plus cash machines.
United Festival Contact Info: http://www.unitedfestival.co.uk