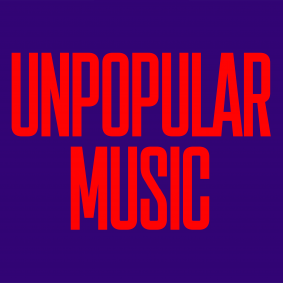 Various Artists - Unpopular Music (2nd Sampler)
Her Majesty's Ship continues with the next three singles from its Unpopular Music series featuring Mufti, Badknife and Monks.
Coming from a range of artists, the series takes in disco, electro pop and indie dance and is about breaking the rules. Says the label boss, "I chose this name because too often I hear 'yeah this is cool but it's not a single' and this doesn't really mean much." All the individual EPs will be released on one compilation at the end of the year, and this latest batch comes between September and November.
Up first, Mufti is the new moniker of Bernardo Barrera, a producer and DJ from Guadalajara, México, with influences from 80's music, tons of rock variants, and weird electronic sounds. He delivers a fantastically freaky kind of disco with rock elements, guitars, solid basslines and some spoken vocals that have a real vampire feel.
Badknife is a recently launched project from DJ Guillaume Ravenel who steps up now with his second single, after the superb 'Visions Appaer'. Here he cooks up a terrific techno voodoo track that sounds like an acid mantra with the mysterious voice of The Chauffeur adding intrigue as arpeggiated synths bring psychedelic colour.
Lastly, David Shaw and Mexican producer Bufi team up for twisted disco number 'Nice Ride.' Shaw is an English musician, producer and singer based in France and is co-founder of HMS Records. He's also collaborated with Jennifer Cardini and Vitalic. Bufi is the solo project of Mateo González Bufi, a producer hailing from Mexico City with a classical music background and an unconditional love for synthesizers and drum machines. Their excellent 'Nice Ride' is a punk-disco tune with filthy guitar riffs and rugged drums. It builds in energy as exquisite and cosmic synth patterns unfold to make sure of maximum impact on the floor.
These are three more off kilter, leftfield disco tracks for those who like to hear something different from the norm.
Tracklist:
1- Mufti – Fangs
2- Badknife – Ready For This
3- Monks (David Shaw & Bufi) – Nice Ride