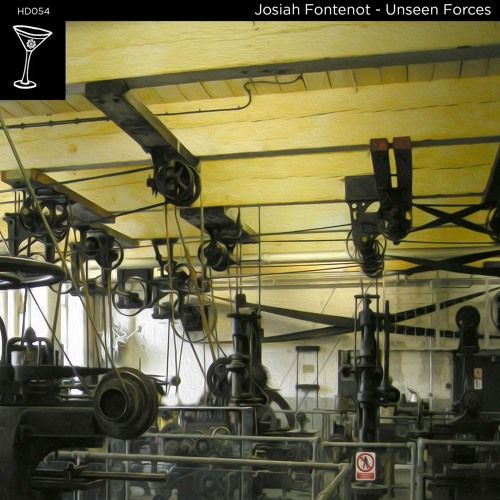 Josiah Fontenot - Unseen Forces
Harmonious Discord staple Josiah Fontenot (AKA El Natured, JB Fontenot) has a knack for creating wide reaching projects that display a precision for the foundational aspects of dance music with a propensity for boundary pushing. Recently Josiah has been busy with projects on imprints like Denied Music and Colour and Pitch. His productions have the city of Houston, TX, clamoring to find out more about this talented and mysterious artist. On remix duties are Signal Deluxe, who bring a seasoned tenure to the project, and multi-faceted Dallas, TX, artist Wanza Dover (Blixaboy, Black Dots, and Jack Dover). Wanz features his rough and rumble alias Jack Dover, giving listeners a comprehensive variety.
"Unseen Forces" starts with dulcet chimes and disorienting effects. Growing steadily, synthesizer elements begin to collide with dusty drum machine patterns. The track progresses into abject calamity, with distorted acid lines and circuit bent squeals. Signal Deluxe muddies the waters keeping subtlety at the forefront. Their remix widens the sonic landscape and plays tricks in the ears of the listener, instilling a bit of confused delight amid a playful mixture of elements.
"New Paranoia" rattles nerves with expertly executed musical framing. Wrought with tension and growing in complexity this tune introduces a fever to the dance floor that can only be followed with more well-tempered weirdness.
Picking up the pace, "Distant Ally" sits squarely between a techno banger and an electro spectacle. Synthesizer placement and construction are remnant of early electro recordings, but the drum progression is all techno. As with the rest of the project a hint of acid permeates, giving the desired fluidity that only a TB-303 can provide. For the remix, Jack Dover brings a Detroit discipline with big drums, looped-crescendos, and playful percussion.
This fall the Harmonious Discord camp is falling for the weirdness with upcoming features that continue to challenge ears and excite the senses.
Label and Artist Links:
www.hdrecordings.com
www.beatport.com/artist/josiah-fontenot/560705