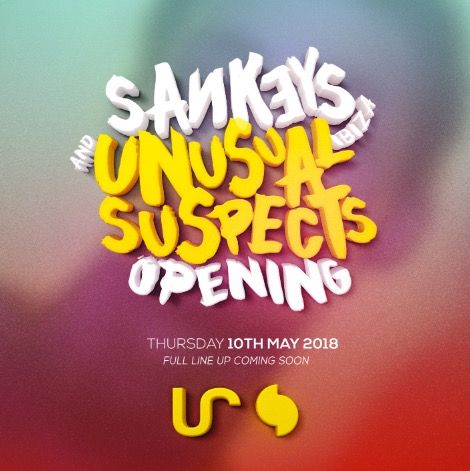 Unusual Suspects at Sankeys Ibiza
Every Thursday the whole summer from May 17th – Sep 27th, With a spectacular opening party on May 10th
Unusual Suspects has had a lot of success with their parties and they had their first summer residency on the Island back in 2016. US is one of the very true underground parties on the Island and they are back to create madness once again at Sankeys Ibiza. The brand was founded in 2015 so it ́s still relatively young, however the people behind the brand have more that 25 years of experience in the industry.
US has a concept that focuses on a different new fresh type of sound and they are constantly putting focus on the quality of the music they bring. They are always motivated to discover new talents to add to their already strong artistic line up of underground Djs with names such as Frank Storm, Frederico Grazzini and Marina Karamarko.
US was founded out of the need to create a musical benchmark to release their friends productions, all the talents that visit the 'Isla Blanca', as well as to open the door of the world of music to many other artists. The idea comes from the feeling of respect for the music as well as the energy it provides.
The music by US can be described as forward thinking techno from a consistent roster of international producers and guest DJs. With a strict music policy all about techno, tech-house and house and a synergy between the residents, the club and the crowd.
Unusual Suspects will host a total of 21 events this summer with some amazing artist and guests, all to be announced shortly.
FURTHER INFORMATION
UNUSUAL SUSPECTS @ SANKEYS Every Thursday May 17th – Sep 27th, 2018
SANKEYS CONTACT