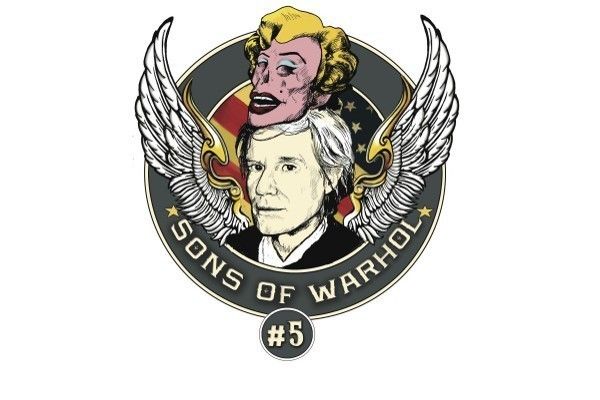 URBAN IN IBIZA 5 PRESENTS 'SONS OF WARHOL'
As Ibiza summer events go, it's safe to say that ever since it first exploded onto the calendar in 2009, URBAN IN IBIZA is definitely up there on the Best of the Best List. This year, and what with the team behind the art-music-fashion extravaganza getting ready to celebrate their 5th birthday already (baby's growin' up…), this latest edition is set for starry, starry heights with not only a number of dates and venues confirmed but also, a wealth of both exclusive art & international artists all confirmed to take part in this Urban in Ibiza's fifth celebration of their love of urban art, music and fashion.
The principal dates already set in stone for this edition are 1 Aug at Agroturismo Atzaró,23 August at Ocean Beach Club and 31 July when Urban in Ibiza pops up for a live paint at Ibiza Rocks Hotel. Add to that the 30 July being set aside for the Mini Markers- a kids street art workshop at Atzaro plus the fact that the Urban in Ibiza exhibition itself runs at Atzaró Gallery until 8 August before being shipped off to San Antonio's Ocean Beach Club, and it's a veritable month long urbantastic explosion.
The mahoosive news for the urbanistas this time round is the fact that event owner and director Paul Dizzi Saunders has confirmed the acquisition of a number of exclusive works at the events by a number of high profile American artists including the internationally recognisedShepard Fairey, man behind Obey Giant.
Fairey's name is a familiar one to any aficionado of contemporary urban/street art, his reputation having catapulted to a stellar level in 2008 when his 'Hope' portrait of Barack Obama became the iconic image of the presidential campaign and helped inspire an unprecedented political movement. The original image now hangs in the Smithsonian Institution's National Portrait Gallery in Washington D.C. At this year's Urban in Ibiza, Shepard Fairey unveils some original 2013 work, and this, make no mistake about it, is 'a HUGE deal' by any standards.
Representing Skate and Street, the work of Jackass' Bam Margera and world renowned skater Chad Muska both form part of the SK8 Art St exhibition within an exhibition at Urban in Ibiza this year with fellow artist and curator John Tracy the obvious choice for a personal appearance at the event. 'SK8 ART ST' is a skateboarding / street art concept which takes a long look at skate culture and the transformation of skate related objects and paraphernalia into functional and fine artworks.
Aside from the U.S contingent, expect a long list of art and artists including several old faithfuls and a number of young newbies. To date, this year's Urban in Ibiza will feature the works (and many of them exclusively) of Banksy, David Walker, Mau Mau, Fin Dac, Inkie, Snik, Schoony, Ben Allen, Dan Kitchener aka DANK, Jim Vision, Ben Slow, Henry Hate, Pure Evil, Rowan Newton, My Dog Sighs, Kristian Hornsleth, K Guy, Goldie, Nick Walker, Ryan Callanan aka RYCA, Milo, Copyright, Gemma Compton, Jim Starr, Elmo Hood, Lauren Baker, Chapter, Zeus, Nicolas Dixon, Sequin Kay, Adam Bricusse and if we know Dizzi Saunders, probably a few more squeezed in along the way…
Between them all, a celebration of street art, of skate, of urban culture and lifestyle. And that's not to mention the fashion, the music and the kids' workshop.

As per every year, Urban In Ibiza's organisers are planning to wow with a catwalk show par excellence, this year led by Belgian designer and winner of the 'Premium Young Designer Award 2013' at Berlin Fashion Week, urban fashion designer Tom Van der Borght. Showcasing his award-winning AW 13/14 collection 'Aponycalypse', Tom's wild creations are the missing pieces of the Urban In Ibiza puzzle for 2013, we kid you not. Get ready for a catwalk show that simply screams Urban.
Warming up the catwalk and the crowd, Urban in Ibiza are also delighted to bring White Ibiza on board. After the successful launch of a new online Ibiza fashion boutique earlier this year, the fashion and style experts from White Ibiza are teaming up with Urban in Ibiza to bring their online brands onto the catwalk!
Smelling salts at the ready, it's White Ibiza's selection of this summer's hottest swimwear styles, from hot US label L*Space and Brazilian brand ViX Swimwear among others that will have the crowd's attention. Think fabulous fringing, wild patterns, mismatched prints, tribal embellishments and edgy hardware – these bikinis are anything but tame, echoing Ibiza's eclectic yet chic style stakes. Attention grabbing stiff, just the way the Urbanistas like it…

Musically, it's never a dull affair at Urban in Ibiza and this 5th Anniversary promises to prove just that. Fans of past editions will know the name of Benji Boko rather well, and the English DJ/Producer is back again to get the party well and truly started with his kooky remixes and energetic hip hop mash up sessions. He's joined by MC Carpetface and DJs Samir, Yuniq, GianLuca de Tiberiis and Tony Montana plus special performances TBC. Extra good news on the music front, with Atzaró's extended licencing hours meaning that we can make sweet urban music until 4a.m for the first time in Urban's history at the gorgeous rural hotel hideaway.
As per every edition, Urban in Ibiza loves getting the kids involved. Lined up for their junior art experience this time around, Urban in Ibiza presents Mini Markers, a Street Art workshop with two of Europe's top Graffiti artists Tom 'Inkie' Bingle and Jim Vision. The workshop is devised for 6-14 year olds and takes place on 30t July from 12- 2.30pm again at Atzaró. With a set price per child of 25€, leave your budding Sons of Warhol to get their creative flow on, whilst you parents relax and enjoy lunch at Sant Joan's jewel in the crown, Agroturismo Atzaró. And with Junior's masterpiece coming home with him/her, best make a space on the mantelpiece. Booking is essential and can be done by mailing: [email protected]

So. To sum up. Art- Fashion- Music. Put it all together and what have you got except one great big, brilliant celebration of Urban Lifestyle.
Urban in Ibiza 5: Sons of Warhol…We hope Andy himself would be proud…

URBAN IN IBIZA presents SONS OF WARHOL
ART | FASHION | MUSIC
30th JULY: Mini Markers @ Atzaró
31st JULY: Live Paint @ Ibiza Rocks Hotel
1st August: URBAN IN IBIZA 5 @ Atzaró
1st- 8th August: URBAN IN IBIZA Exhibition continues @Atzaró Gallery
23rd August: URBAN IN IBIZA @ Ocean Beach Club