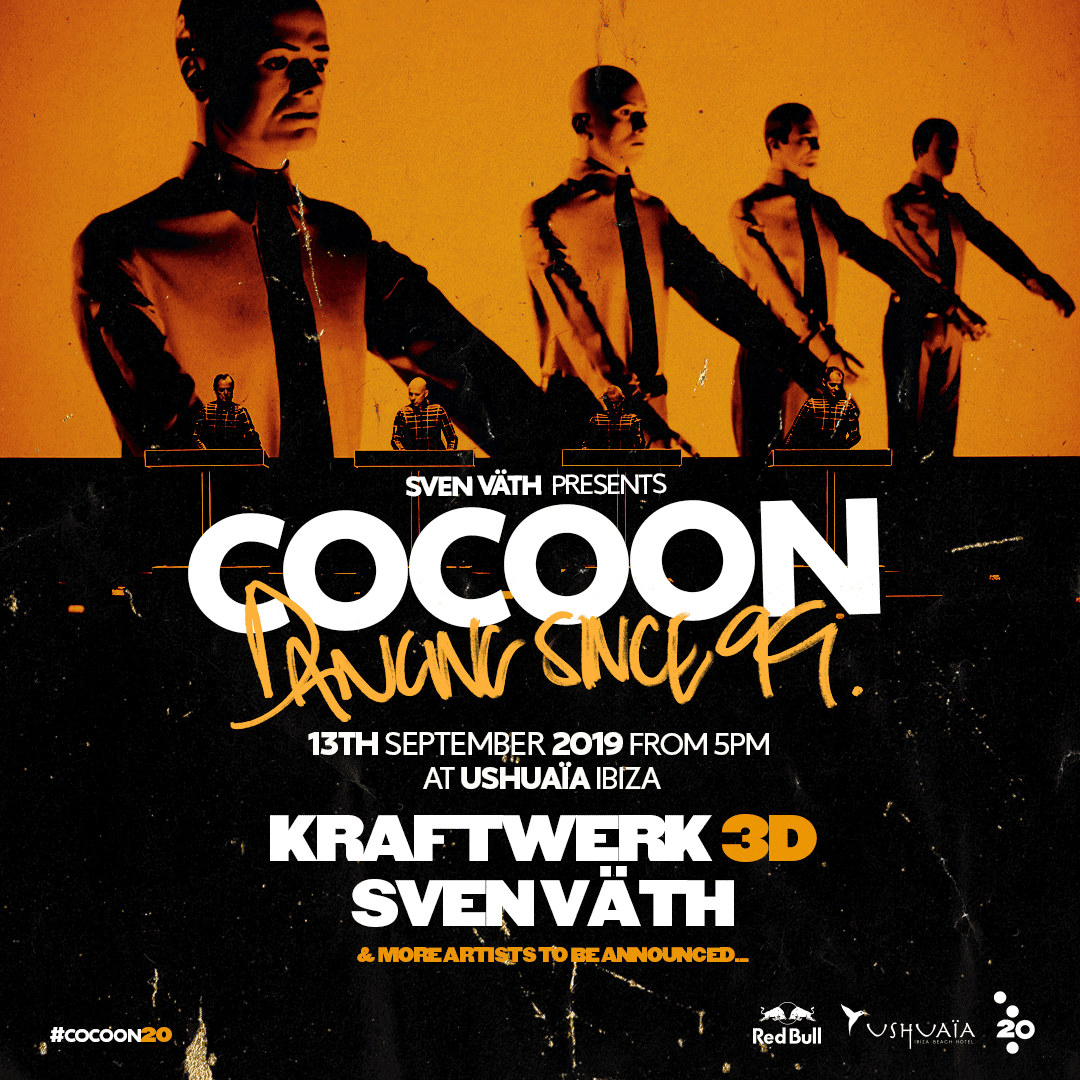 Ushuaïa Ibiza unveils Cocoon return with 3D multimedia Kraftwerk performance for their Ibiza debut
Sven Väth's COCOON present their most volcanic announcement to date, unveiling his favourite giants Kraftwerk will make their debut Ibiza performance at the island's iconic open-air venue, continuing to celebrate 20 years of COCOON.
More acts TBA
USHUAÏA IBIZA BEACH HOTEL
PLAYA D'EN BOSSA, IBIZA
FRIDAY SEPTEMBER 13
TICKETS ON SALE NOW
Ushuaïa Ibiza reveals Sven Väth's COCOON20 is set to take over the venue for a massive, unprecedented Ibiza occasion on September 13th. Väth presents his most volcanic announcement to date, unveiling his favourite giants Kraftwerk will make their debut Ibiza performance at the island's iconic open-air venue. Kraftwerk will bring their inimitable 3D performance to Ushuaïa Ibiza as they celebrate 20 years of COCOON.

The multi-media project Kraftwerk was started in 1970 by Ralf Hütter and Florian Schneider.  They set up their electronic Kling Klang Studio in Düsseldorf, Germany, where they conceived and produced all Kraftwerk albums.

By the mid 1970's Kraftwerk had achieved international recognition for their revolutionary electronic' sound scapes' and their musical experimentation with robotics and other technical innovations. With their visions of the future, Kraftwerk created the soundtrack for the digital age of the 21st century.

Their compositions, using innovative techniques, synthetic voices and computerised rhythms, have had a major international influence across an entire range of music genres: from Electro to Hip Hop, from Techno to SynthPop.

In their live performances, Kraftwerk – Ralf Hütter, Henning Schmitz, Fritz Hilpert,  Falk Grieffenhagen – illustrate their belief in the respective contributions of both man and machine.

The Night League, the team behind Ushuaïa Ibiza, and Sven Väth, the founder of COCOON,  are humbled to host Kraftwerk's first ever Ibiza performance. COCOON played an integral role in the rise of house and techno on the island while Ushuaïa has revolutionised entertainment on the island with extravagant open-air daytime parties that showcase top musical talent from across the world. The rich history and incredible influence of all parties involved makes for a fascinating partnership that will undoubtedly lead to a momentous occasion on September 13th at Ushuaïa Ibiza. For tickets and more information, please visit http://bit.ly/cocoon20.
The jewel in Ibiza's party crown, Ushuaïa's dedication to bringing the most-sought afternames to their world-famous stage ensures they remain one step ahead of the game every time. Based on the experiences gathered over the years, Ushuaïa Ibiza is dedicated to providing the best outdoor entertainment possible. The legendary poolside parties have been drawing in the crowds ever since the very beginning. The team behind the #1 Open Air Club raises the bar ever higher, with an impeccable lineup of superstar residents from across the electronic music spectrum playing from daytime to midnight. Not just content with packing their nights full of world class artists, Ushuaïa Ibiza constantly outdoes itself when it comes to phenomenal productions, with a different theme each night of the week. With incredible pyrotechnics, mind-blowing lighting, visuals and a state of the art soundsystem, not to mention the beautifully designed gogo costumes, as well as an abundance of confetti, streamers and CO2, it's no surprise people flock from around the world for the inimitable Ushuaïa experience.