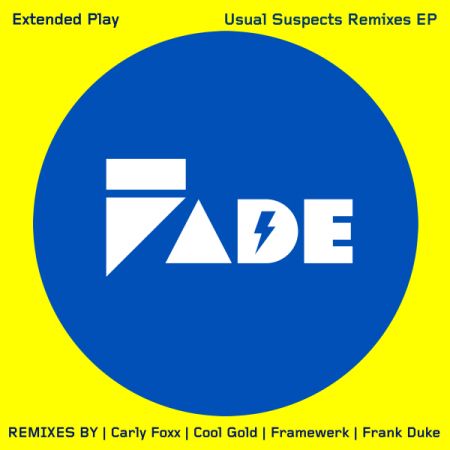 Extended Play - Usual Suspects Remixes EP
Chris Fortier's FADE Records returns with the first of a series of super-stylish Fall 2017 releases, with the 'Usual Suspects Remixes EP', consisting of six interpretations of two tracks from Extended Play's 'VHS EP' (FD141). Josh Dupont & Dan Snow (aka Extended Play) have also featured on labels such as Bedrock, Crosstown Rebels, Mindwarp and Prisoner of Love, and have been steadily building a global reputation as highly regarded DJ/Producers out their native Houston.
Cool Gold is a new production partnership blending the unrivalled artistic experience of Chris Fortier with that of Florida's uniquely talented Stephen Wilson (aka Rudiment). Their three exceptional remix interpretations of 'Jacob's Ladder' mark them out as a creative force to be reckoned with for the future. The opening 'Cool Gold Remix' is a masterclass in subtle genius, as they create a remarkable voyage with a distinct emotive edge. Deft creative skills blend subtlety with energy, steering the track's dancefloor-driven attitude ever upwards, as it builds and soars effortlessly on a powerful groove, embellished with pulsing melodic flourishes and heart-melting string arrangements. In perfect contrast, their 'Cool Gold To The Edge Dub' fires with razor-sharp percussion, as they introduce a deeper shade of darkness into the proceedings – an addictive methodology that is sure to turn heads everywhere. For those who delight in having arrangements stripped back even further, the 'Cool Gold Simple Dub' dives into even deeper, spacious waters, to complete an exceptionally creative collection.
The reworks of 'Usual Suspects' come in three delightfully distinct varieties. London-based Australian DJ/Producer Carly Foxx has been making her mark recently with her new Love Story imprint, and here her remix delivers a deeply hypnotic groove, showcasing a penchant for subtle melodies and poignant vocal snippets (and its already featured on John Digweed's 'Transitions' radio show). Framewerk is one of the many guises of UK DJ/Producers Darren James and Alec Milliner to experiment with their own blend of deep, tech vibes. Their layering of a delicious, hip-swinging percussive groove with big synth swells that builds tension and anticipation throughout is a perfect combination here. Finally, Atlanta's Frank Duke, a classically trained percussionist, vocalist and composer, who is rapidly making his mark in electronic music as a successful producer, delivers another of his trademark melody-rich, supremely textured adventures, to complete the remix package perfectly.
Artist Info:
https://soundcloud.com/extendedplay-music
https://soundcloud.com/chris-fortier
https://soundcloud.com/rudimentmusic
https://soundcloud.com/carlyfoxx
https://soundcloud.com/framewerk
https://soundcloud.com/frankduke
FADE Info:
https://www.beatport.com/label/fade-records/179
https://www.facebook.com/faderecords/
https://soundcloud.com/faderecords
https://twitter.com/faderecords
Chris Fortier Info: