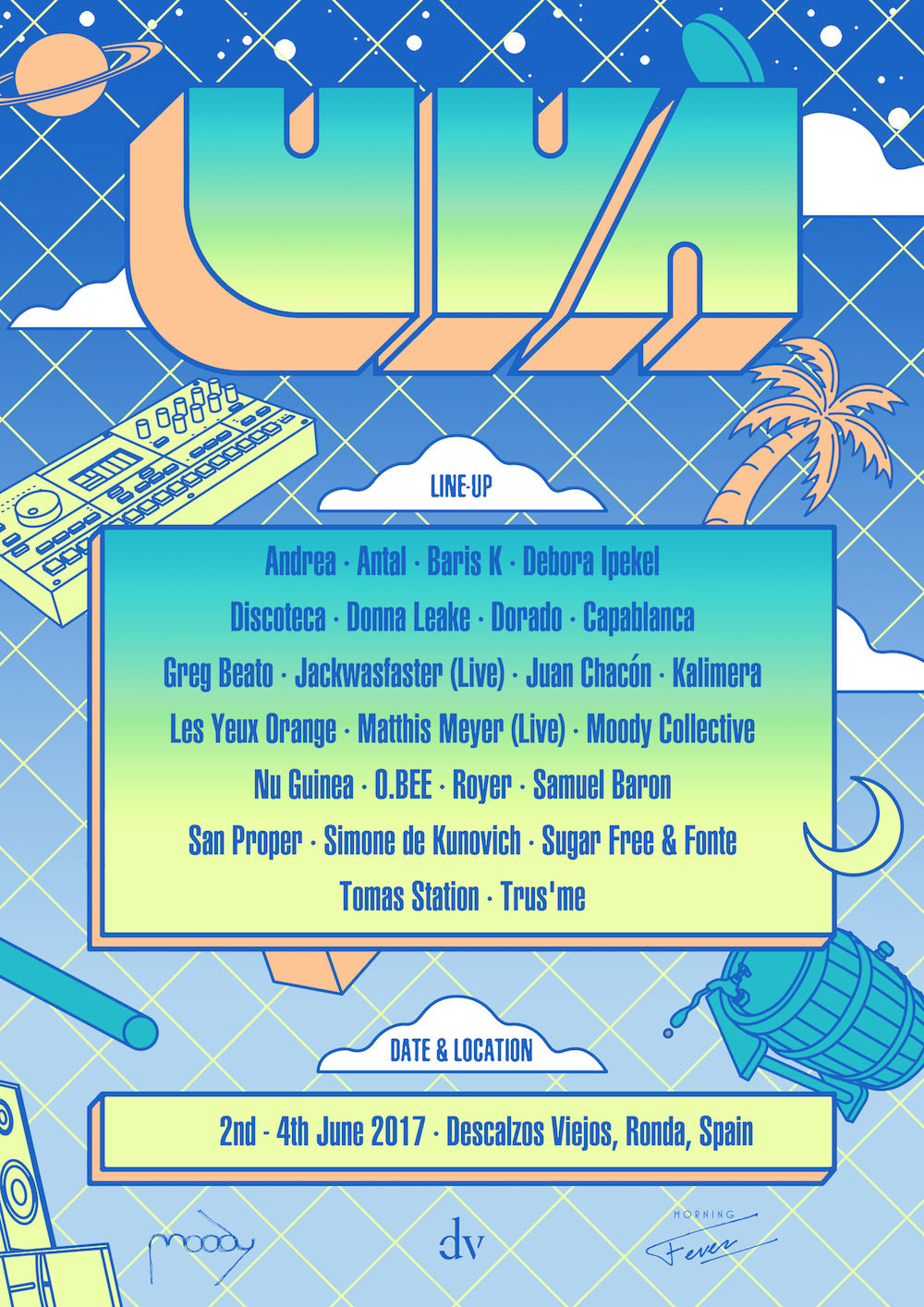 UVA FESTIVAL announces lineup…
UVA festival announces debut edition in 12th century Spanish monastery with Antal, San Proper and more
Moody Collective and Morning Fever present UVA Festival
2 – 4 June, 2017
Ronda, Anadalucia, Spain
Spain's first true boutique festival – curated for friends by friends.
UVA festival is a celebration of music and visual art that will blossom near Ronda (Andalucia) on the first weekend of June, 2017. The concept is to use an extraordinary location, with awe inspiring natural habitat, and convert it into a playground for eclectic music and visual art.
The venue dates back to the 12th century and was originally used as a monastery. Since then 'descalzos viejos' has been converted into a vineyard sunken into luscious vegetation and facing Ronda's iconic cliffs. This plot of land is a maze of flora, fauna, ancient walls, nooks of greenery and secret areas – a perfect environment to get lost in.
UVA's music has been carefully selected to represent the breadth of styles and sounds worthy of the term eclectic. A wide range of selectors, producers and DJs will bring guests on a journey from early jazz, via afro-beat, bossa nova, funk, hip-hop, electronica, disco and house, all the way to techno. Master selectors such as Antal and San Proper will lead the way in showing that a DJ set is not bound to genres. As long as the groove keeps going, genre is arbitrary. Food will be provided by local chefs, creating Andalusian delicacies that show just why this region of Spain is renowned for its gastronomy.
Event – https://www.facebook.com/events/748460665311156/
Tickets – https://www.eventbrite.com/e/uva-festival-tickets-32203132436
Lineup
Andrea (Ilian Tape)
Antal (Rush Hour)
Baris K (Nublu Records)
Capablanca (Discos Capablanca)
Debora Ipekel (Worldwide FM)
Donna Leake (Brilliant Corners)
Dorado (Downpitch Recordings)
Fer & Crocket (Discoteca)
Greg Beato (L.I.E.S. Records, Apron Rec.)
Jackwasfaster – live (Rotten City Records)
Juan Chacón (Ménage à Soul)
Les Yeux Orange (Les Yeux Orange)
Kalimera (Bossa FM)
Matthis Meyer – live
Moody Collective
Nu Guinea – live
O.BEE (Resolute, NYC)
Royer (Lobster Theremin, Closer Records)
Samuel Baron
San Proper (Rush Hour, Perlon)
Simone de Kunovich (Klasse Recordings)
Sugar Free & Fonte ( Coma)
Tomas Station (Downpitch Recordings)
Trus'me (Prime Numbers)