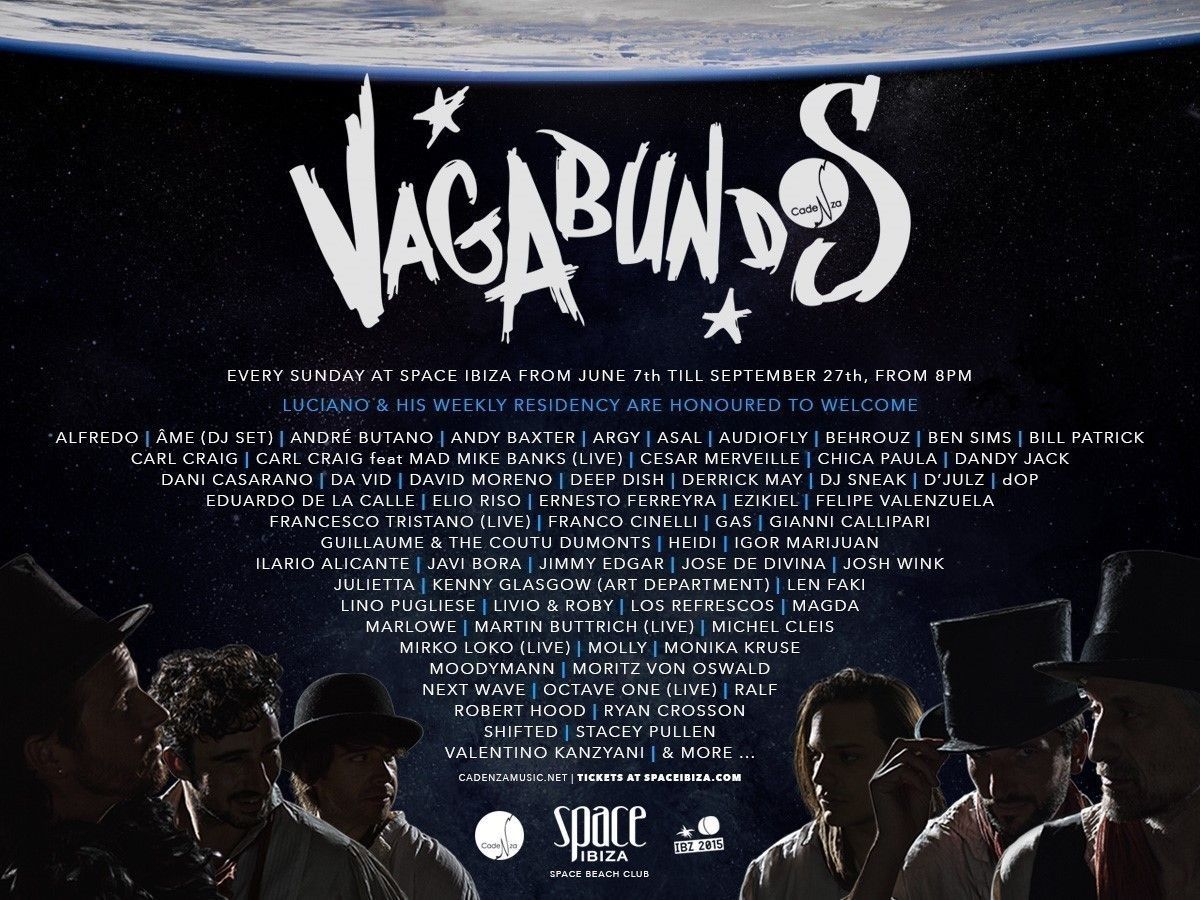 Vagabundos at Space Ibiza
Luciano presents the official line-up for the first season of Vagabundos at Space Ibiza. More than 60 artists will provide personality to the most awaited event of Ibiza from Sunday 7th June to 27th September.
Cadenza leader will welcome many international DJs in the Terrace of the Playa d'en Bossa club. The German duo Âme (DJSet), Audiofly, the powerful Ben Sims, French dOP (Live), veteran Josh Wink, Kenny Glasgow (Art Department), Berghain resident Len Faki, tribal rhythms by Livio & Roby, Berlin sound by Martin Buttrich, DJ Sneak and American master Stacey Pullen, are just a few examples of the top-artistic quality of Vagabundos.
Luciano will play along many great talents of his label and agency Aether Artists such as Argy, Cesar Merveille, Dandy Jack, Eduardo De La Calle, Ernesto Ferreyra, Ezikiel, Felipe Valenzuela, Franco Cinelli, Gianni Callipari, Julietta, Michel Cleis and Valentino Kanzyani.
The Main Room will be controlled by Detroit Love, Carl Craig's primary music concept, on 14th June, 12nd July, 9th August and 6th September. The visionary and eminence of Techno will rub shoulders with the defenders of his sound. Mad Mike Banks (Live), Derrick May, Magda, Heidi, Jimmy Edgar, Moodymann, Octave One (Live) and Robert Hood, among others, will showcase their love for the iconic and historic scene of Detroit.
Additionally, Deep Dish (Dubfire and Sharam) will seize the Main Room on 23rd August and 13th September for what's going to be their only 2 Ibiza appearances. These House legends will not be the only ones hosting the Main Room of Space Ibiza throughout the season, the Californian label Next Wave and the best club in Italy Cocoricò will join the ranks of Vagabundos army too.
Other DJs such as Space Ibiza resident Javi Bora, Alfredo, Andy Baxter, Behrouz, Ilario Alicante, Monica Kruse, and more artists to be confirmed, will complete this incredible line-up.
Alfredo | Âme (Dj set) | André Butano | Andy Baxter | Argy | Asal | Audiofly Behrouz | Ben Sims | Bill Patrick | Carl Craig | Carl Craig feat Mad Mike Banks (Live) | Cesar Merveille | Chica Paula | D'Julz | Da Vid | Dandy Jack Dani Casarano | David Moreno | Deep Dish | Derrick May | Dj Sneak
dOP (Live) | Eduardo de la Calle | Elio Riso | Ernesto Ferreyra | Ezikiel
Felipe Valenzuela | Francesco Tristano (Live) | Franco Cinelli | Gas
Gianni Callipari | Guillaume & The Coutu Dumonts | Heidi | Igor Marijuan Ilario Alicante | Javi Bora | Jimmy Edgar | Jose de Divina | Josh Wink | Julietta Kenny Glasgow (Art Department) | Len Faki | Lino Pugliese
Livio & Roby | Los Refrescos | Magda | Marlowe | Martin Buttrich (Live) Michel Cleis | Mirko Loko (Live) | Molly | Monika Kruse | Moodymann
Moritz Von Oswald | Octave One (Live) | Ralf | Robert Hood | Ryan Crosson Stacey Pullen | Valentino Kanzyani | & more…