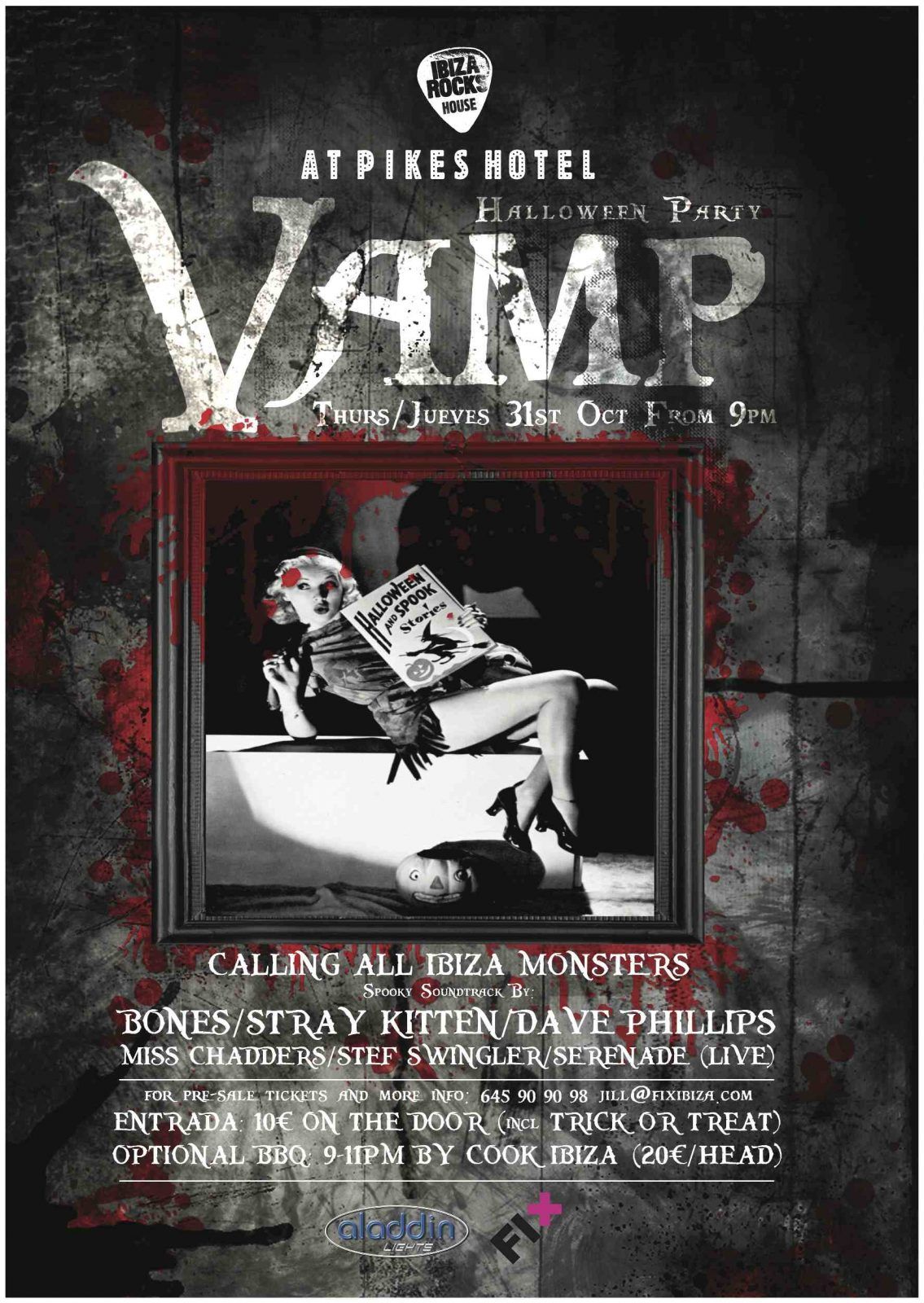 VAMP ROCKS THIS HALLOWEEN
After last year's scarily successful party of the same time, Halloween 'wildcard', VAMP is back in black this Thursday 31st October for a night of toe-tingling, blood-curdling madness up at Ibiza's favourite haunted house on the hill, the 400 year old finca that is Ibiza Rocks House at Pikes Hotel.
As per last year, organisers of the Halloween extravaganza Jillian Canney (FIX Ibiza) and Leanne Chilton (Ibiza Rocks) are pulling out the stops, diving head first into their cast iron cauldron of morbid mischief and saucy spells, their ultimate goal to trick and treat Ibiza's naughtiest nocturnal creatures to a Halloween they may never forget.
Providing the spooky soundtrack throughout the night, DJs BONES, STRAY KITTEN, DAVID PHILLIPS, MISS CHADDERS and STEF SWINGLER are the demons in charge of the dancefloor. Local duo SERENADE will also be creeping out of the shadows for a live (as opposed to undead) performance very much based on the event's central theme of Halloween. All of the above combined and plenty of opportunity to bust one's monster moves on the dancefloor.
Amongst other scary surprises being concocted for the party, beware of the Bloody Bathtub, where guests are invited to scream, shriek and even sing the night away in the SCAREOKE competition. Prize for the best crooner…

Talking of prizes, Head Vamps Jill and Leanne will also be dishing out a few of those along the course of the evening for the best Halloween costumes, fancy dress pretty much obligatory for this particular party. Think vampires, werewolves, witches, faeries, demons, devils, spirits, shapeshifters, ghouls, ghosts, zombies, monsters, mummies, and mynaeds but don't be scared, any other variety of spooky/inventive/topical/comedy fancy dress get up is welcome to join in the manky mix.

Keeping up the Halloween spirit, literally, local spiritualist and medium Lisa Chadderton (Garden of Light) will be conducting a series of one-on-one psychic readings throughout the evening. A limited number of time slots are available for booking and reservations are recommended.

In charge of lighting and special effects in and around the hotel and its grounds, island experts, Aladdin Lights are back on board to help turn this Halloween into a veritable Nightmare on Pike St. Man behind that particular operation, Simon Hall promises an assortment of tricks and treats to make you turn in your grave.

As far as fodder goes, organisers have another bonus lined up for their gory guests with local catering company, Cook Ibiza stepping up to provide a Halloween BBQ with a difference at an additional cost of 20€ per head. With a menu very much in keeping with the theme, the Cook Ibiza team will be serving up a feast fit for the most bloodthirsty of critters from 9pm-11pm, with a selection of the finest cuts of meat, all sourced from local suppliers and accompanied by a selection of salads and other yummy Halloween treats. Advance booking is recommended. http://www.grubclub.com/Cook-Ibiza
As a final point to note, and due to public demand, last year's Star of the Halloween Show, The Gnarly Witch will also make a return visit to Pikes for Halloween, bringing with her a new addition to the proceedings, her brand new HellBaby, offspring of the Gnarly one and spawned by Satan himself. Devilled Eggs, if you will…
All that, plus a whole lot more blood, guts and gore, a monster mash from 9pm till the last banshee wails.
Tickets are now on sale at 10€ and prior purchase is recommended for guaranteed entry. Price includes a trick or treat, a witch's sup and a bloody good night out.
BYO Garlic/Stake/Magic Wand