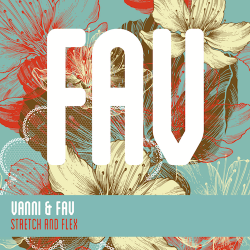 Vanni & Fav – Stretch And Flex
Favouritizm's quirky 80's analogue loving Disco pop kids, Vanni & Fav give the studio a workout and deliver their first fruits for 2015, 'Stretch And Flex'. Leotards and sweatbands at the ready!..
Italian producer Alex Vanni is deeply inspired by the Chicago/Detroit electronic music of the late 80's and early 90's. In 2005 Alex as Mono, together with DJ Tony Barbato released 'Flowers', with supporters including John Digweed, Alex Neri, and Steve Lawler. Alex has remixed everyone from Adamski, Pastaboys and Roger Sanchez.
Alex met Fav' label boss / DJ Sarah Favouritizm 2013 when she moved Italy. Sarah's production projects include Rise 'The Way We Get Down' with Timmy Vegas and remixes for Bah Samba. Both sharing a love for vintage analogue sounds and sexy electronica, 2014 saw Alex & Sarah team up under the guise Vanni & Fav on some new productions and remix projects, releasing their first single Irena 'Stuck In Love' on Favouritizm. Coming soon, the pair unleash their colourful 1980's keep-fit workout inspired Nu Disco fest, 'Stretch And Flex'!