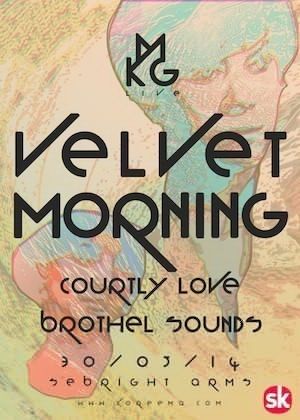 VELVET MORNING + COURTLY LOVE + BROTHEL SOUNDS
Sebright Arms, 31-35 Coate St, London E2 9AG
Friday May 30th 2014. 8pm-Late. £6.00
Velvet Morning are a newly formed band whose art describes personality, truth, beauty, inspiration and euphoria in the form of guitar based psychedelics. They will surely paint a perpetual picture of glistening motion in your mind.
Predominantly siphoning psych stalwarts including The Brian Jonestown Massacre, The Jesus & Mary Chain, Psychedelic Furs and Spacemen 3, the bands' creative output also inadvertently adheres to a golden age of new cosmic idols – Moon Duo, Night Beats, White Fence, Hookworms and Psychic Ills to name a few. Yet in no way do these guys fail to present an original approach to their sound and to their song writing. Velvet Morning very much display a uniquely avant-garde expression of the modern pop structure. https://soundcloud.com/velvetmornineverymornin
'Smoky atmospherics and caressing vocals' – NME
Gentle, pastoral psych-infused indie' – Clash
'his music immediately pegs him as part of the lysergic class of 2014' – The Fly
'Velvet Morning's heavy-lidded musical offerings wouldn't have sounded out of place in Andy Warhol's Factory.' – Noisey
'a song supreme with confidence, finitely aware of just how freaking cool it is.' – DIY
'Pretty phenomenal for such a new band.' – Artrocker
Courtly Love: It has always been about a man and a woman; so different, yet so complimentary they end up being One: a harmonious coexistence of the opposite breathing life into stories of creative passion. The band in question couldn't be any exception: a man and a woman; so different yet so complimentary they end up being One…Courtly Love! Interestingly enough, not in love with each other but with…a tremolo; that distinct surf rock sound that oozes California sun. https://soundcloud.com/courtlylove
"Mirage has got us soaked in its bluesy tones and psychedelic hazes." – Line of Best Fit
'Effortlessly Cool' Alphabet Bands
Brothel Sounds: Step into the world of the Brothel Sounds. A spectrum of Sound born in the mind's of small town misfits with an agenda. With their songs created in the seedy reminisce of the old brothel, they bring to stage a concoction of underground psychedelica and blues with beer swilling chorus that awakens a curious sense of nostalgia. Bring back the feeling. Listen, let loose and live. https://soundcloud.com/brothelsounds
Website: www.koreema.com
Tickets: https://tickets.songkick.com/events/19713569
Soundcloud: https://soundcloud.com/koreema/sets/kmg-live-presents-velvet
For more info contact and guest list requests: [email protected]
Facebook event: https://www.facebook.com/events/451340561662281/