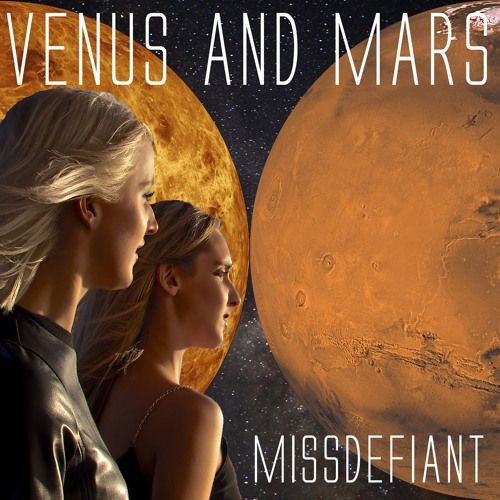 MissDefiant - Venus and Mars
In a World dominated by meaningless communication, MissDefiant long for a man from Mars who can "hit me like a falling star". Emily Rose Adams and Jordan Cather have teamed up with Mike Tournier of Fluke and Syntax to bring the band's latest single Venus and Mars, filled with swaying disco beats, 80s synths and strong vocal performances. The girls influences of Lady Gaga, Madonna and Die Antwoord have been skilfully shaped by Mike's experience into a fun track that draws from musical history.
Since launching in April of 2015 MissDefiant have created an online storm around their catchy music, fun content and engaging social media posts. MissDefiant have already performed at prestigious music venues such as The O2 Academy in Islington and the Brixton Jamm. They have also recently received a social media sponsorship from MAC Cosmetics due to their growing popularity on Twitter and Instagram.
Born in Battle, East Sussex, Emily Rose Adams has had a passion for music from an early age. Trained as a classical soprano, she moved to London at the age of 16 where she met Jordan Cather. Emily has toured the UK and Europe in musical theatre and opera shows such as Carmen, Sopranos vs tenors and Aladdin. She has also had acting roles in popular TV programmes like Broadchurch, Holby City and Grantchester.
Jordan, originally from Plymouth, has danced with artists including Charli XCX and Years & Years, inspiring her to pursue a career in singing and songwriting. Jordan is currently studying music production at BIMM London, and together with Emily started to write music to release as MissDefiant. Jordan has also modelled for London Fashion Week, danced with comedians such as John Bishop and Paddy McGuinness and taught commercial dance classes at Pineapple Studios.
Mike Tournier, brings musical experience to the girls raw and electric sound, having previously helmed bands Fluke and Syntax. Fluke's first release was in 1989, with their music being featured on soundtracks to Tomb Raider and Sin City 1 and 2. When signed to Virgin, Fluke released 6 albums, performed at Glastonbury and toured with David Bowie and Prodigy. He then went on to start Syntax in 2000, signing to Sony in 2002 which made music that featured on soundtracks to The OC, Nip Tuck, Bones, Conviction, Driver 3 and the In Time trailer. His highlights of Syntax were appearing on Top of the Pops and touring with the Scissor Sisters. Mike enjoys working with Emily and Jordan who hope to emulate the success of bands that Mike has remixed in the past like the Rolling Stones, Bjork, Smashing pumpkins, New Order, Talk Talk, Frankie goes to Hollywood, Yellow and Simple Minds.
Venus and Mars brings together the vivid experiences of Emily, Jordan and Mike and shapes it into a fun single that implores the listener to "say something".
www.twitter.com/MissDefiant
www.Soundcloud.com/MissDefiant
www.Facebook.com/MissDefiant
www.Instagram.com/MissDefiantOfficial
www.MissDefiant.com