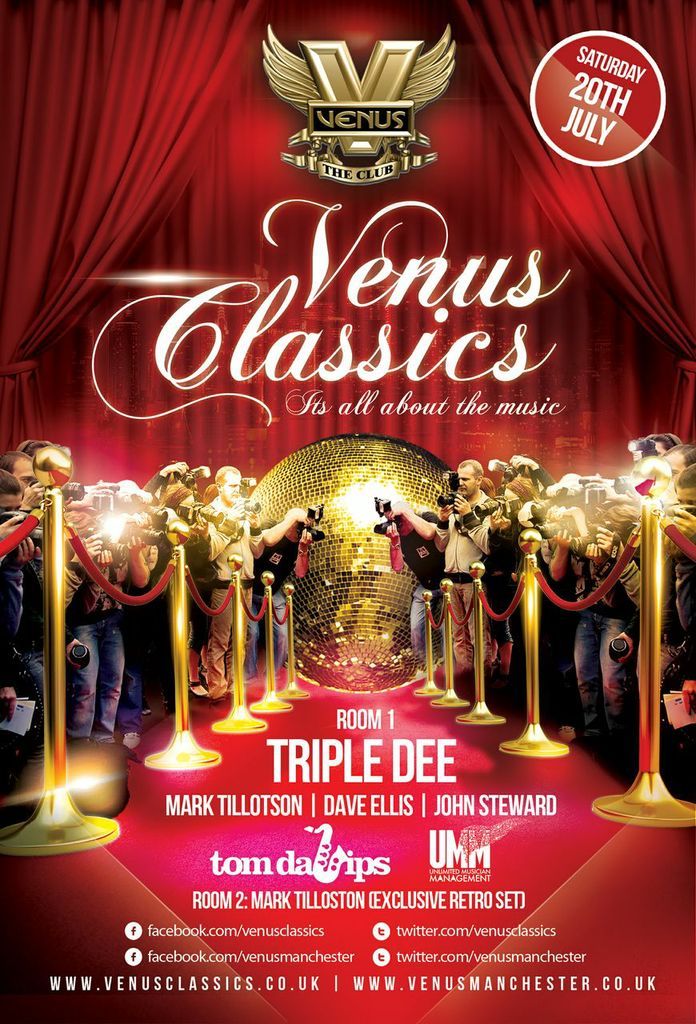 Venus Classics with Triple Dee
Venus has always been famed for its vocal house music and talented DJs! Since we have established in 1999 we have truly captured this market. We know exactly what DJs to put in front of you, exactly what time to get them playing and which tunes you want to hear! From the smooth vocal warm up in the bar, to the full on vocal funky sets in the main room, to the funk vocal after hours set from 4am! Love vocal uplifting funky vocal house? Love Venus Classics!
This month we welcome house legends Triple Dee. The Triple Dee known formally as David Dunne and Andy Daniels have certainly earned their place within the worldwide clubbing scene. The boys have worked together over many years and both have played at Venus many times before. David Dunne is usually seen holding the fort in Room 2 at Venus Classics…..this week he is ready to show us what he's made of!
PODCAST
Check out our latest Venus Classics Podcast the week before the event here
https://original.jpgsoundcloud.com/venus-classics
MUSIC
Funky Classic/Commercial Vocal House/Uplifting House/Funky House/Vocal House
DJs
ROOM 1
TRIPLE DEE
John Steward (Venus)
Dave Ellis (Venus)
TOM DA LIPS on Sax
ROOM 2
Mark Tillotson (Retro Set)
OPENING TIMES
11pm till 6am
££££
£5 Earlybird Tickets
£10 Venus members
£12 11pm till 3am
£5 after 3am
GUESTLIST
[email protected]
STUDENTS
£5 NUS all night
BOOTH BOOKINGS
If it's your birthday we have 4 booths to reserve in the club. The is a free service and is available for groups over 8. With every reservation you will receive a free bottle of champagne to make the birthday that little bit more special courtesy of Venus the Club.
Also with your reserved area you can purchase the following drink packages from behind the bar:
Bottle of Eristoff Vodka plus 6 cans of Red Bull – £75
Bottle of House Champagne – £30
Bottle of Moet/Veurve Yellow Label – £45