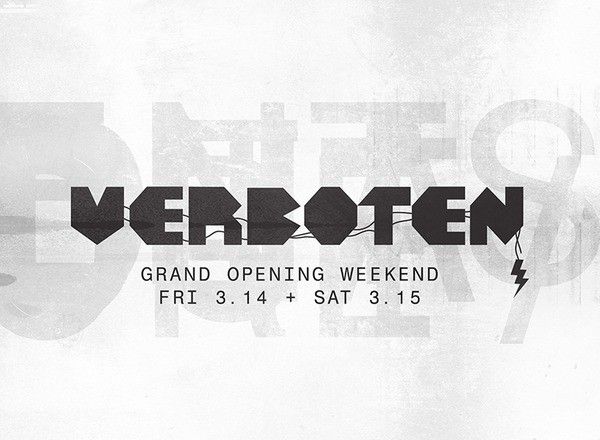 Verboten Heralds Brooklyn Renaissance With New Nightclub
Brooklyn-based nightlife entrepreneurs Verboten [German for "forbidden"] have been shaping the NYC clubbing landscape and beyond for over 12 years and are now set to open the doors at their purpose-built venue for nightlife, music and arts in the heart of Williamsburg.

After years of meticulous planning, co-founders Jen Schiffer & John Perez, along with a team of industry veterans and illustrious partners, will further ignite the ongoing Brooklyn renaissance happening in recent years. Verboten parties have already encapsulated the explosive global, underground dance music scene and will continue to host DJ residencies and top-notch musical programming featuring both established and burgeoning talent. The diverse array of upcoming music and arts programming is set to mirror the spirit of Brooklyn and will include live music, art shows, yoga & fitness classes, burlesque performances, and tap into the creative consciousness of NYC.

"We're excited to build a home for ourselves and our team; a multi-functional event space in Brooklyn designed for musicians & artists to fulfill their creative visions. We look forward to celebrating the unique wealth of talent that NYC has to offer for everyone who comes through our doors."
–Jen Schiffer & John Perez, Verboten Co-Founders

The 750-person capacity venue is a 10,000 square foot former metal manufacturing warehouse, designed by Verboten's John Perez and architecture firm Latent to be a true home for performers and music fans alike. The design aesthetic spotlights industrial steel and concrete accents that bring Verboten's dystopian aesthetic to life. Verboten features a one-of-a-kind Martin Audio sound system custom-designed by ITI Audio, innovative ROBE intelligent lighting showcase, panoramic HD video wall, along with video projections and 3D mapping by multimedia designers Waking Dream.

The main Control Room is a large, open event space, centered around a 1,400 square foot sprung wood dance floor [reclaimed from a Thomas Edison factory used to make phonographs], multiple staging areas for live music or DJ performances, and raised modular seating. The adjoining Cabaret Bar is a more intimate, futuristic take on a Weimar-era cabaret, with plush leather banquettes, multiple skylights, steel chandeliers and a small stage with a DJ booth that allows it to be used independently as an intimate event space or in conjunction with the Control Room.

Verboten's motto, "Nothing is Forbidden," is seen in its whimsical food & beverage program. A specialty cocktail menu created by Counting Room alums highlights absinthe, locally made syrups and artisanal sodas, with names taken from dystopian sci-fi novels. These will be paired with a small plates menu in summer 2014, focusing on "forbidden foods" like bacon and foie gras.
Verboten March 2014
March 14 Rebel Rave: Damian Lazarus, Francesca Lombardo, Fur Coat, Ida Engberg, Pattern Drama
March 15 Wasabassco Burlesque Show
March 21 Gui Boratto
March 22 Magda, Bill Patrick | Matt Tolfrey, Ryan Crosson, Shaun Reeves, jozif
March 23 Cut Copy [DJ Set]March 28 Zeitgeist: Jamie xx, John Talabot
March 29 Susanne Bartsch presents Kunst

Upcoming in 2014: Bespoke Music, Carl Craig, Catz n' Dogz, Davide Squillace, Josh Wink, Justin Martin, Lee Burridge, Matthew Dear, Push The Night, Speedy J, Totally Enormous Extinct Dinosaurs, Tiga, Trouble & Bass, and more to be announced!

Verboten
54 North 11th Street
Brooklyn, NY 11211
www.VerbotenNewYork.com