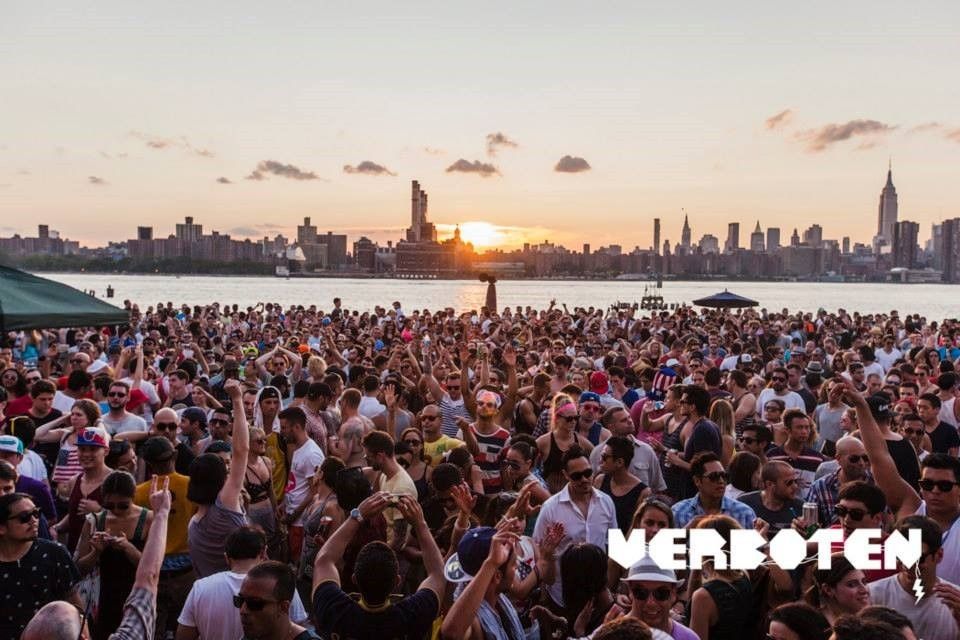 Verboten StageONE with Sasha, Scuba, Guti, Agoria, Joris Voorn
Verboten kicks off New York's outdoor summer party season with the first StageONE of 2015 featuring Sasha, Scuba, Guti (live), Agoria, Kate Simko, Brad Miller and special guest Joris Voorn this Friday, July 3 at 50 Kent Avenue. In addition to bringing world class underground electronic music talent to the beautiful Williamsburg waterfront, StageONE also features a plethora of top quality food, art, sound and lighting to make for one memorable Fourth of July weekend.
Indulge in a special twist on the classic American BBQ menu prepared by Verboten's executive chef Chris McLaughlin, featuring Verboten burgers topped with a special "forbidden sauce," New York hot dogs, maple bourbon BBQ steak tip sandwiches, grilled Cajun shrimp kabobs or veggie burgers. Cool off with frozen treats from local ice cream company OddFellows, who bring their delicious homemade ice cream using locally sourced, hormone-free and additive-free dairy. Meanwhile, get lost in a special art installation by Dizmology, and performances by artist Muffinhead, with his troupe of interactive costumed performers bringing his hyper-surreal and otherworldly visions to StageONE. StageONE's sound system is provided by D3 Audio, providing the clearest, cleanest, quality sound, while the stage and lighting is by Music First Productions.
After StageONE, dance the night away at the official afterparty taking place just up the street at the Verboten club with Sasha, Scuba, Agoria and Ashwin Khosa.
The series is produced with the support of New York City Department of Parks & Recreation and Open Space Alliance for North Brooklyn (OSA). Proceeds from the concert series will be used to help maintain, activate, and further develop the Park.
Verboten: StageONE
July 3 Last Day On Earth: Sasha / Scuba / Guti [live] / Agoria / Kate Simko / Brad Miller / special guest Joris Voorn
50 Kent Avenue
Brooklyn, NY 11211
12 p.m. – 10 p.m.
Tickets on sale now at VerbotenNewYork.com while supplies last