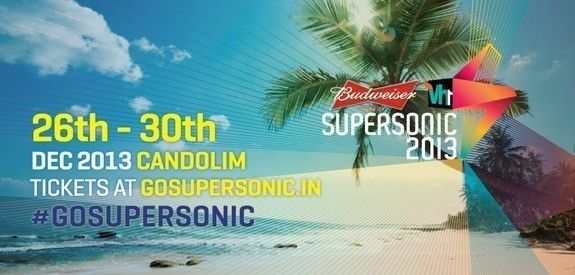 Vh1 SUPERSONIC' FESTIVAL
Vh1 Supersonic Festival has today announced a truly unique and groundbreaking initiative, offering FREE 5-DAY PASSES for its inaugural event in Candolim, Goa, from December 26-30, to ANYBODY with an Official Passport from Malaysia!

Each year this truly unique enterprise – coined 'HOST A COUNTRY' – will offer free tickets to ALL citizens of a particular chosen country, in what is one the most benevolent international gestures made by any festival to date.

To celebrate this incredible project, Vh1 Supersonic has brought in local Malaysian powerhouse duo Goldfish & Blink to christen the first day of the event with an energetic opening performance. Bringing their unique style of infectiously explosive electro music to the shores of Candolim. This will be the first time Goldfish & Blink have every set foot on Indian soil, so expect big things! For full information on how to claim your free passes, head to the official Facebook page here.

Following this, Vh1 Supersonic have also unveiled the final wave of talent set to grace their highly anticipated debut event!

Landing on the shores of Goa between Christmas and New Year, and joining already confirmed international stars such as Above & Beyond, Albin Myers, Benny Benassi, Booka Shade, BT, Edu Imbernon, Felix Cartal, Ferry Corsten (3 hour 'Spotlight Set'), Julian Jordan, Norman Doray, and Yousef will be the likes of Hard Rock Sofa, Funkagenda, Sander Kleinenberg, Tristan and many more! Curating their own stages will be Prash from Engine-Earz Experiment (Bass Stage) and Vachan Chinnappa's 'Alternative Stage' set to showcase the very best home grown talent India has to offer. For a full list of all performing artists, see below.

Last, but by no means least, Vh1 Supersonic have now unveiled early images of two of its biggest stages, designed by renowned artist Sameer Kulavoor (Bombay Duck Designs). First up, this year's main stage will be a larger than life submarine, set to a backdrop of underwater marine life! Combining acid pop art with sheer creativity, expect to be blown for six come December 26.

The second stage, named 'The Supersonic Laboratory' will feature UV-ready graffiti and graphic art designs from local Indian talent, set against the beautiful Goan backdrop of coconut palm-studded beaches.

Enlisting the inimitable knowledge, expertise and overall vision of India's much loved DJ, VJ, dance music promoter and now Festival Curator, Nikhil Chinapa, Vh1 SUPERSONIC will offer dance music aficionados from India and around the world an unparalleled immersive experience, coupled with the very best music across a whole spectrum of electronic genres. A fully interactive and captivating music festival looking to restoring the magic and essence of Goa from the 1950s and 60s, Vh1 SUPERSONIC will no doubt be the highlight of this year's Indian festival calendar.

Connecting serious music enthusiasts directly with the artists they love Vh1 SUPERSONIC is no doubt set to become a sanctuary for forward-thinking music fans looking for life-affirming experiences to share with the great friends old and new. Maintaining a healthy balance between popular and underground music, this will be a festival for the true dance music fan, for whom music is a way of life.

Besides Vh1 SUPERSONIC's dedication to showcasing only the very best electronic music coupled with the numerous immersive experiences it promises to offer (including art installations, hippy markets, beach sports, professional graffiti artists, shaded chill zones and the very finest cuisine Goa has to offer), the festival will also have a strong local focus, creating a platform to nurture and promote some of India's best DJs on the same stages as the international artists, and will, more importantly than anything else, place absolute importance on the safety of all of it's festival-goers.
CANDOLIM BEACH, GOA 26th-30th DECEMBER 2013

#superLINEUP:

Above & Beyond
Airwave
Ajit Pai
Albin Myers
Alvaro
Ash Roy
Beltek
Benny Benassi
Benny Page
Bjorn Akesson
Booka Shade
BT
Dance Ganesh
Edu Imbernon
Feenixpawl
Felix Cartal
Ferry Corsten
Funkagenda
Goldfish & Blink
Hard Rock Sofa
Henrik B
Jerome Isma'ae
John '00' Fleming
Julian Jordan
Ma Faiza
Max Graham + Protoculture
Midival Punditz
Nawed Khan
Nikhil Chinapa + Rohit Barker
Norman Doray
Orifice Vulgatron (Foreign Beggars) & Engine-Earz Experiment
Pearl
Praveen Achary
Sander Kleinenberg
Sanjay Dutta
SE-SA
Shaa'ir + Func
Tristan
Tuhin Mehta
Vachan Chinnappa
Yousef

Aditya Wanwari + Jay Punjabi
Akshay
Audiogramme
Audio Units
Ayesha Pramanik
Bare Noize
Beat2
BLaNK
Jay aka Brainwash
Fuzz Culture
Helium Project
Joel
KillSonik
Lasker
Loop Baba
Manny + Skip
Mash
Mescalito + Victoria
Moniker
Murthovic
Navin
Pramod Sippy
Priyanjana
Progressive Brothers
PULSE
Raghav Holla
Ray G
Sahil
Sash and Chaz
Su.Edits + Faizal
TwoKid Wickid
Willy
Vijay Chawla
Vishal Shetty
Zanzibar presents Goa All-Stars

AFTER PARTY
WA
Ajmal
Tuhin Mehta
Progressive Brothers
Vachan Chinnappa
DJ Chubby
Akshit Shetty
DJ Garry
DJ Rohit
DJ Wish

Visuals: VJ KayCee, BEEVEE, Alive, Nishant, Dan Booth
Hosted By: Rohit Barker, Ramona Arena, Nisha Harale, Mackenzie Pereira