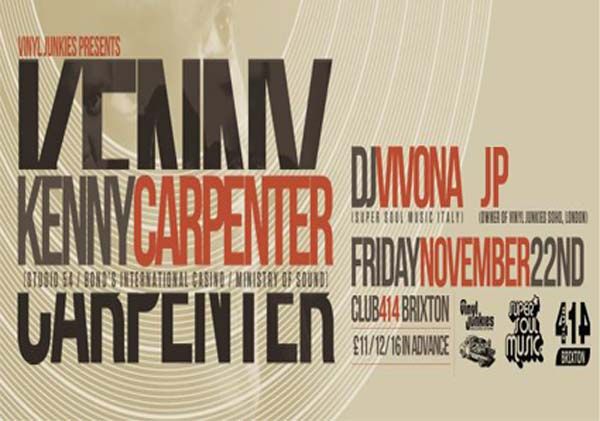 Vinyl Junkies Presents Kenny Carpenter
Vinyl Junkies Presents Kenny Carpenter
Kenny Carpenter (Studio 54 / Bond's International Casino / Ministry of Sound)
DJ Vivona (Super Soul Music Italy)
JP (Owner of Vinyl Junkies Soho, London)
11pm – 8am
Club 414, Brixton. Friday November 22
£11/12/15 in advance
+ + + + + + + + + + + + + + + + + + + + + + + + +
Join us for a very special evening getting down with living legend Kenny Carpenter!
Kenny's played a significant role in the Disco and US House music movement through the 80′s and 90′s,
holding residencies at the world famous 'Studio 54′ club, NYC's 5000 capacity 'Bond's International Casino'
and London's then underground 'Ministry of Sound'.
Kenny's contemporaries and close friends include Frankie Knuckles, Francois Kevorkian and David Morales
to name but a few. His ongoing dedication and service to House music is prolific, so be sure to catch Kenny
in serious party mode for what will be an evening to remember!
Supporting Kenny is Italy's DJ Vivona, who's been flying the House Music flag high both in Italy and around Europe.
Vinyl Junkie's very own JP will be also adding to the party vibe of what will be a very special evening.
This is a rare opportunity to see a living House legend , so advanced ticket purchases are advised!
Love, peace & happiness!
http://www.djhistory.com/interviews/kenny-carpenter
Club 414
414 Coldharbour lane
Brixton sw9 8lf.
www.club414.org
HOW TO GET THERE ::
Tube = Brixton (Victoria Line)
Rail = Brixton mainline station
Daytime buses = 2,3,35,37,45,59,109,118,133,159,196,250,322,333,345,355,415,432,P4,P5
Night buses = N2,N3,N35,37,N133,N159,250,689,690
Directions:
Come out of Brixton tube station and turn left. Walk100 yards till you see Kentucky Fried Chicken on your left. Turn left and walk 100 yards. You have reached your destination.