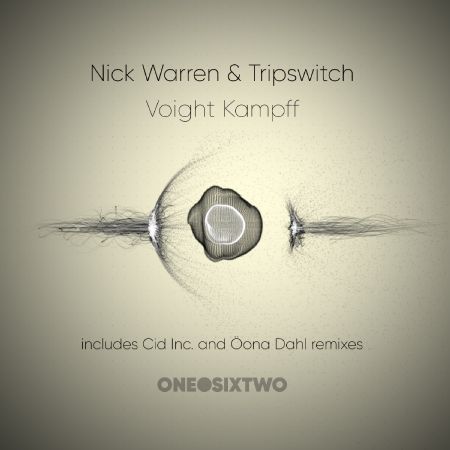 Nick Warren & Tripswitch - Voight Kampff
Nick Brennan's Tripswitch journey through electronic music reconvenes in 2018 with his recently launched onedotsixtwo label's next unique artistic step forward. The platform's third, highly anticipated release – 'Voight Kampff' – is, perhaps, the finest track so far from the occasional, intensely creative collaborative project joining Nick Warren and Tripswitch. This outstanding package is further bolstered with an exceptional set of remix interpretations courtesy of Cid Inc. and Öona Dahl.
The two Nicks first connected back in 2006, when Warren licensed two Tripswitch tracks for his (now classic) Global Underground 'GU30 Paris' compilation. Over time they became good friends, with Warren becoming something of a mentor to Brennan, and with their musical tastes so aligned going right back to the 1980's, it was inevitable that a studio partnership would develop when the time was right. Having first remixed Joey Fehrenbach 'Wolves' (The Soundgarden), their powerful studio chemistry then saw their debut original track 'Savannah' appear on Hernan Cattaneo's 'Balance presents Sudbeat' comp, before being released as a single on the Sudbeat label and going on to become one of the hottest progressive releases of 2017.
With Brennan's new onedotsixtwo label focused on creating a first class platform for the highest quality progressive house, there came the perfect excuse for another series of sessions in the studio, and the masterful 'Voight Kampff' is the dazzling result. From its dreamlike opening, the track resonates with gorgeous, heart-melting emotional wonderment. Quite simply, this is a sophisticated, uplifting, melody-rich masterpiece that re-affirms one's faith in precisely why truly progressive house music is such a joy to behold. With another collaborative track already in production and a fifth in the pipeline for later in the year, Nick Warren and Tripswitch is an alchemic production partnership par excellence.
Cid Inc.'s music is already embedded deep in the hearts of many electronic music fans. Recent releases on Sudbeat, Lost & Found, Perspectives Digital, the wonderfully esoteric Armadillo label, as well as his own Replug Records, are some of the latest examples of his exceptional craftsmanship. Cid Inc. always looks to compose something that is not only profoundly memorable but also deeply moving, and as such, is a perfect artist to reinterpret 'Voight Kampff'. The Swedish DJ/Producer with an uncompromising passion to create a contemporary, cutting edge sound, exhibits his inimitable blend of hypnotic house and techno to perfection here. A subtly powerful, intricate percussive groove provides a rock-solid backbone for his ever-evolving layers of electronic wizardry, as the track steadily soars towards an otherworldly state of heavenly bliss.
With an open mind and a vast range of music knowledge, Öona Dahl is an artist who knows how to connect on another level and, is yet another perfect creator to be let loose and provide not one, but two alternative takes on 'Voight Kampff'. As her glorious releases for the likes of All Day I Dream and Hallucienda have shown, her penchant for experimentation, guided by an innate understanding of what makes music work on a plethora of levels (both conscious and unconscious), Öona's exceptional originality burns bright throughout her first remix of 'Voight Kampff'. She takes the track in an even more cosmic, deeply melodic direction – a voyage of discovery at every subtle twist and turn, her remix skips lightly and merrily on a hypnotic groove, as a beautiful, reverential, smile-inducing treatment is unveiled.
Öona's closing 'Live Forever Mix' explores a beautiful, chilled, downtempo and equally enchanting environment – this is, quite simply, perfection personified. The past few years have seen Öona Dahl steadily build a devoted, ever-growing following of eclectic, underground music lovers. As her remixes here demonstrate, it is her depth and breadth of skill in the studio (and also her talent behind the decks) that makes Öona such a unique and utterly enthralling artist.
Nick Brennan's onedotsixtwo label venture launched in June 2017 with his first mix comp – 'In At The Deep End' (ODST0001) – a stylish summer affair featuring no less than 23 exclusive tracks that joined the dots perfectly between past, present and future. Now, the renowned DJ/Producer and musical chameleon is in the process of revealing a series of stunning single releases from a new family of friends and collaborators – also check the previous C-Jay, Yoram & Namatjira 'Mokuyobi' (ODST0002) release. There is an abundance of excellent music to come in 2018 and Nick is carefully selecting artists that he respects and knows will bring something unique to the onedotsixtwo party. You are advised to keep your ears to the underground…
Artist Info:
www.djnickwarren.com
www.facebook.com/NickWarrenDJ
www.facebook.com/Cidinc
www.soundcloud.com/cid-inc
www.soundcloud.com/oonadahl
www.facebook.com/oonadahlmusic
Tripswitch Info:
https://twitter.com/nicktripswitch
https://soundcloud.com/tripswitch
https://www.facebook.com/nicktripswitch
https://www.instagram.com/nicktripswitch
https://www.friskyradio.com/show/harmonics
onedotsixtwo Info:
http://onedotsixtwo.com
https://twitter.com/onedotsixtwo
https://soundcloud.com/onedotsixtwo
https://www.facebook.com/onedotsixtwo
https://www.beatport.com/label/onedotsixtwo/62965