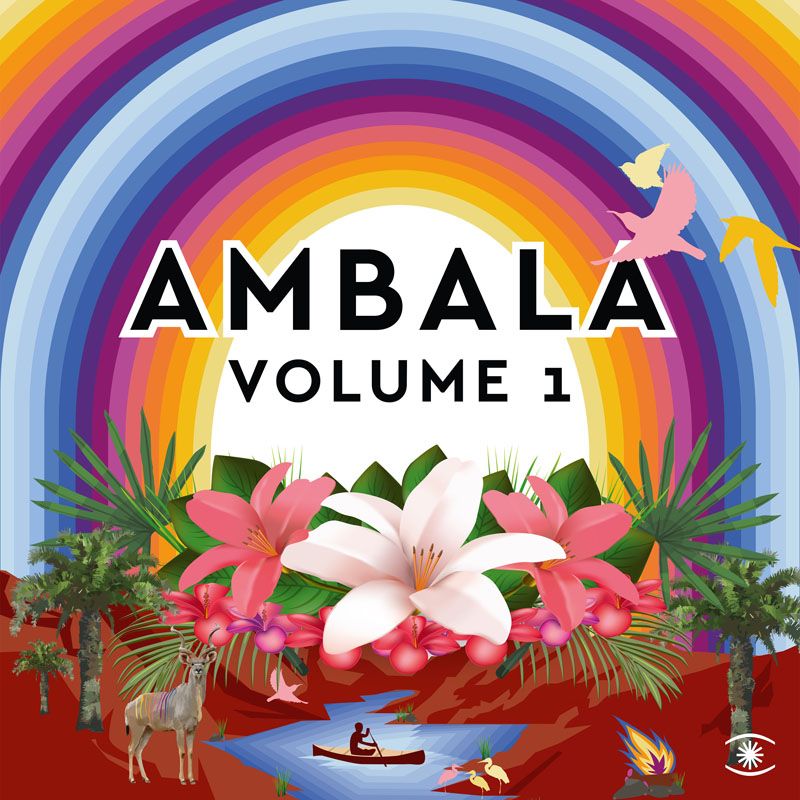 Ambala - Volume 1
Music For Dreams has announced the digital and limited edition vinyl release of 'Volume 1' by Ambala, on Friday 22nd July 2016. The debut artist album project by original Café Del Mar DJ and record collector extraordinaire, Phil Mison aka Cantoma, showcases the other side of maestro Mison, with Phil's club and house music productions in the spotlight.
Continuing a fruitful, fifteen-year plus relationship with the Music For Dreams label as Cantoma and Frontera, Phil Mison is back with a brand new collaborative project called Ambala, recorded with Danish musician and engineer Volmer across a series of weekend sojourns in the scenic streets of Copenhagen. The first single release from the album this year was the magical, summery house track 'Calypso Beach', which demonstartes Phil's creativity in mixing classic house with Caribbean vibes – a hooky steel drum, live bass, dreamy pads and an irresistible melody, making for a winning combo.
The 11-track album also features 'High Line', an Italo-house style funky organ-driven groove wrought out of old school drum machines and soulful keys, 'Bambari', a slow African chugger complete with chanting voices, eighties Italo-disco inspired 'Alla Vita', quirky old school house track 'Sergio's Dance', vintage sunset ambient 'Last Swimmer', danish Legends Laid Back featured 'Walk With The Dreamers', eighties soul infused house groove 'Union', 'Sol Serra' featuring classical Spanish flamenco guitarist Jacob Gurevitsch, Cantoma-style chilled Balearic track 'Zarago' and deeper chilled track 'Distant Island'.
Phil Mison honed his craft as a resident DJ at the Milk Bar in London before relocating to Ibiza and taking up his legendary residency at the Cafe Del Mar with friend and mentor Jose Padilla in the nineties. After his tracks were successfully featured on the Cafe Del Mar albums, label React Music invited Phil to help put together and compile the Real Ibiza compilation series, which became the benchmark for new chill out music, garnering a worldwide following.
Left, right and center Phil has been one of the key players in today's chill out scene. He is in more demand than ever playing festivals all over Europe as well as smaller intimate clubs including his star set at DJ Harvey's birthday bash at Pikes in Ibiza and alongside NYC legend Justin Strauss.
Phil Mison says:
"Ever since I first met Kenneth Bager at Roskilde Festival in 1992, where I recognized him because of photos in ID Magazine where his outlandish dress sense was very obvious, we have been friends. It was the start of a long musical relationship, where we eventually started working together.
My first Cantoma album was recorded for Music For Dreams in the early 2006. The Frontera project with Pete Herbert was realized a couple of years later.
Last year we decided it was time for something new, which led to recording Ambala over the past year in Copenhagen together with Thomas Volmer Schulz."
AMBALA -"Volume Vol 1" – is an album for dancing, relaxing and doing everything else in between, just enjoy !
Album tracklist:
1. Alla Vita
2. Bambari
3. Sergio's Dance
4. High Line
5. Last Swimmer
6. Walk With The Dreamers (Feat. Laid Back)
7. Union
8. Calypso Beach
9. Sol Serra (Feat. Jacob Gurevitsch )
10. Zarago
11. Distant Island
Ambala 'Volume 1' is released by Music For Dreams on vinyl, digital and stream on Friday 22nd July 2016.