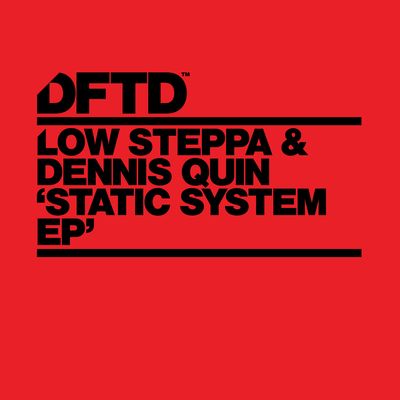 Low Steppa & Dennis Quin - Static System EP
Two lords of the underground flex their bass-driven production skills, uniting for this two-track floor-filling EP. Low Steppa enjoyed an explosive entry onto the dance music scene in 2013 with a bootleg remix of Route 94's 'My Love'. The heavyweight bass house re-work received a huge amount of hype, slotting perfectly into the landscape of re-emerging bassline popularity that was happening at the time. Since then he's been expertly working the underground scene and developing his own innovative imprint. Dutch DJ/producer Dennis Quin has been gaining the seal of approval from some of the freshest dance labels, most notably Todd Terry's InHouse Records and also Low Steppa's Simma Black.

The two artists share a similarly deep, industrial style, letting the rhythmic percussion do most of the talking. The result of their collaboration is 'Static System' and 'Turn Back', two high-intensity bass-led house tracks that don't stop for breath. Lead track 'Static System' demonstrates both Low Steppa and Dennis Quin's intimate understanding of how to work a club crowd; it's one of those records that will get right into your head and sound best at peak time on your favourite underground dancefloor. 'Turn Back' matches this momentum, working a similar late night basement feel which builds in relentless bass-driven waves.