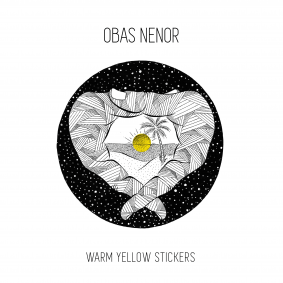 Obas Nenor - Warm Yellow Stickers
Obas Nenor prepares his Nenorion imprint's third release this July with 'Warm Yellow Stickers'.
Tel-Aviv's own Obas Nenor has been DJing and producing for over two decades with prolific releases on iconic labels such as Moodymann's Mahogani Music, Defected, Strictly Rhythm and Heist Recordings to name a few.
For this new release, the talented producer returns to his own Nenorion imprint with a 4-track EP packed with his signature, wild dancefloor goods.
Utilizing a variety of vintage synths, Fender Rhodes, percussion, guitar and bass – while bouncing samples back and forth to his trusted MPC3000 – 'Warm Yellow Stickers' is as heady as it is club friendly.
The title track 'Warm Yellow Stickers (Part I & II)' kicks things off with enigmatic vocals chops, otherworldly synths and a swinging bass groove all shuffled into a cosmic disco saga that takes on many twists and turns. Next is 'Everybody' which is warm as a summer breeze with its guitar strums, delayed chord stabs and naughty synth gestures.
Love gets real on the flip side with 'Wrapped in Plastic' which features Jenny Penkin on vocals (who collaborated on his recent Defected release, 'My Intuition') and bended keys backed by escalating pads. Last but not least, 'Movin'' wraps things up with a head nodding groove and funky vocoder vocals that will get stuck in your head long after you're done listening.
Obas Nenor 'Warm Yellow Stickers' drops on Nenorion on 29th July.
https://www.facebook.com/obas.nenor/
https://www.twitter.com/obasnenor
https://soundcloud.com/obas-nenor
Tracklist:
A1: Warm Yellow Sticker (Part I & II)
A2: Everybody
B1: Wrapped in Plastic
B2: Movin'