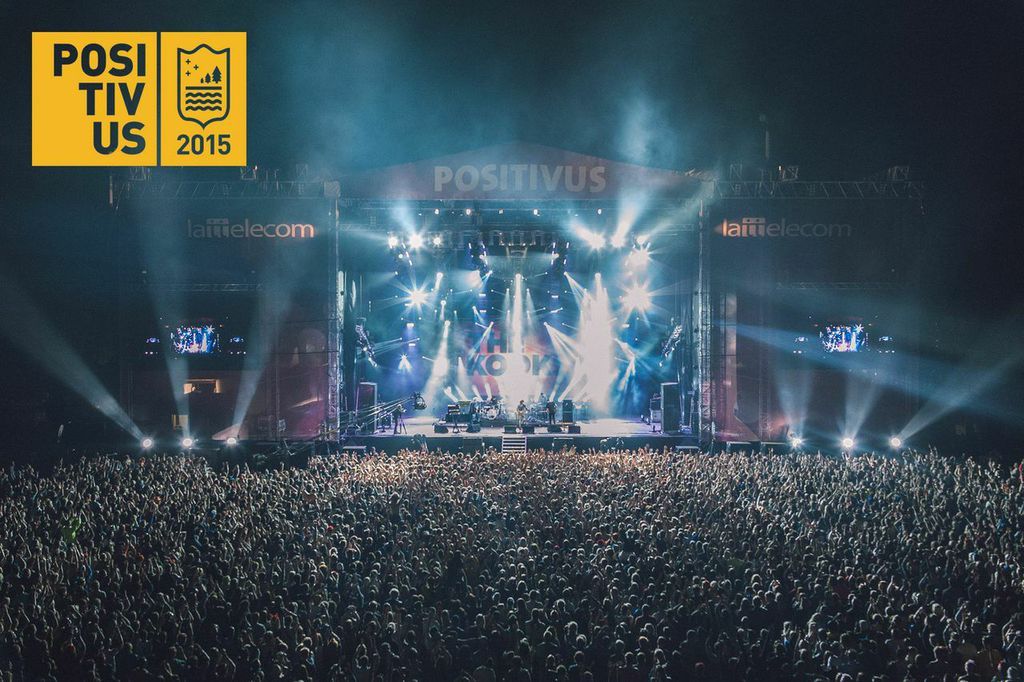 WARPAINT AND GHOSTPOET ADDED TO POSITIVUS FESTIVAL
Each year, Positivus Festival invites its visitors to discover some of the most acclaimed and innovative artists of their genres. The sombre American indie rockers Warpaint are set to conquer the Lattelecom stage, with California's heavy-blues rock band Rival Sons and London's urban sound artist Ghostpoet set to ignite the Nordea stage.
L.A.'s prominent all-female quartet Warpaint are known for their distinct, almost trademark blend of indie rock meets the 90's, with elements of trip-hop, ambient, post-punk and R&B. Reservedly, almost too carefully, Warpaint deliver their captivating compositions in their trademark style of melodic whispers and sensually hypnotic rhythms. Their instrumental ingenuity and techniques are always an aspect of live-show fascination, with jam sessions frequently being a key part of their performance. Warpaint's band's talents have not gone unnoticed by the industry's professionals; their debut album was mixed and mastered by Red Hot Chili Pepper's ex-bass player John Frusciante and their newest album features creative input from the producers of Radiohead and U2.
Classic rock sorcerers Rival Sons deliver powerful, authentic rock music rooted in blues. The Long Beach band recreate the perfect 70's party ambience with whimpering guitars, edgy rhythms and fantastic, almost stand-alone vocals. With pure power, undiluted energy and unwavering passion, Rival Sons proudly carry rock and roll with them wherever they play.
No one does urban melancholy quite like Ghostpoet, aka British vocalist Obaro Ejimiwe. In his music, Ghostpoet combines alternative hip-hop with alternative rock, adding elements of jazz and soul, 90's post-punk rhythms and post-hardcore elements with a light dash trip-hop. The 2011 Mercury Prize nominee is still one of the most remarkable modern British music scene experimentalists, with his latest record Shedding Skin (2015) receiving widespread and well-deserved critical acclaim. With hints of psychedelia, electronica and rock, Ghostpoet's music builds up eloquent suspense and maintains it from the first tune until the curtain call.
The ninth Positivus Festival will take place in Salacgrīva, Latvia from July 17th – 19th and will once again be an event of epic proportions for all quality music and wild party enthusiasts. Along with the newest line-up additions Positivus Festival will also host previously announced acts – Robert Plant and the Sensational Space Shifters, Placebo, Kasabian, St.Vincent, Basement Jaxx, Tom Odell, Jungle, Charli XCX, Lamb, Everything Everything, Fenech-Soler, Jack Garratt, Ewert and the Two Dragons, The Sound Poets, Kate Boy, King Gizzard & The Lizard Wizard, Triana Park, Max Jury and Soak. More artists to be announced.
The festival's main partner is Lattelecom, with support from Nordea and Tuborg. All the Festival news can be heard on radio SWH – the official Positivus Festival radio.
Line Up:
PLACEBO, ROBERT PLANT And Sensational Space Shifters, KASABIAN, BASEMENT JAXX, ST. VINCENT, EVERYTHING EVERYTHING, TOM ODELL, JUNGLE, CHARLI XCX, LAMB, EWERT AND THE DRAGONS, JACK GARRATT, THE SOUND POETS, FENECH-SOLER, KING GIZZARD & THE LIZARD WIZARD, TRIANA PARK, KATE BOY, MAX JURY, SOAK, PEACE, EAST INDIA YOUTH, INDANA, TROPICS, VOK, JENNIE ABRAHAMSON, RANGLEKLODS, PUBLIC ACCESS T.V, MOMEND, GALAVANIC ELEPHANTS, SUPER BESSE, INDOKENTIJS MARPLS, LAIKA SUNS, ZEBRA ISLAND, THE BONGO CLUB, WARPAINT, RIVAL SONS, GHOSTPOET
Tickets:
3 day ticket without camping costs EUR 65,00
3 day ticket with camping costs EUR 71,00
VIP ticket costs EUR 200
One day ticket price EUR 35
A separate camping site pass costs EUR 8.
Tickets are available at www.positivusfestival.com, www.seetickets.com (UK), www.tikketi.fi (Scandinavia), www.ticketmaster.de (DE).
How to get there:
There is nothing easier than getting to Positivus Festival, even if you've never been to Latvia before and have no idea where Salacgrīva is located. You can travel by plane, taxi or the Positivus Express.
The easiest way of getting to Riga is by flying with airBaltic, an airline that offers flights to and from 53 global destinations. You can find your nearest direct or connecting flight at airbaltic.com.
Once in Riga, the next step is to get from Riga to Salacgrīva and Positivus Festival is offering two ways to do it – with BalticTaxi and Positivus Express. BalticTaxi offers the festival visitors a comfortable and advantageous taxi service, delivering them from any location in the Latvian capital of Riga, directly to the festival location in Salacgrīva. BalticTaxi cabs are regularly stationed at the "Rīga" RIX airport, so you can catch a green coloured cab and head straight to the festival straight after landing. This year's BalticTaxi travel voucher costs EUR 76 one way. One voucher permits up to four people to travel in the same cab for the same price. For visitor convenience during the festival, the BalticTaxi cabs will be permanently stationed in an accessible and visible spot at the second festival entrance, sparing worries about calling cabs in advance or waiting for them to arrive.
The fast and comfortable Positivus Express, which will depart from the "Olimpia" shopping mall, located at Āzenes str. 5 in Riga, Latvia, is a great and affordable way to reach the festival site. The Express will drop the passengers off directly at the festival entrance. The Express fare is currently EUR 6.50 one way. We advise you to get your tickets now, due to the limited number of seats available. You can get more information about the BalticTaxi voucher and the Positivus Express ticket rules, as well as purchase both here: www.positivusfestival.com/en/store/eticket/
If you've chosen to take the car, then don't forget that you will require a car parking pass, which will be purchasable at the festival site.
Camping Site:
In order to enter and stay at the camping site, each camping site visitor needs to acquire their own camping site ticket, which costs EUR 8. The camping site will offer access to a shower for a separate fee.
For the third year in a row, Positivus Festival, in partnership with the tourism and active leisure equipment store "Gandrs", are fostering lighter travels by offering two or four person pre-ordered tents in the heart of the camping site, at the "Gandrs village". Considering visitor comfort "Gandrs" is offering special deals on camping and tent related items. More info on the campsite and rent a tent here: www.positivusfestival.com/en/for-visitors/merrild-camping-site/
Taxi / Shuttle Service:
For comfortable travelling, the Positivus Festival shuttle and BalticTaxi travel vouchers to or from Salacgrīva are also currently available on the site. Taxi drive from any spot in Riga to festival site is just EUR 76,00 (max four persons), The Positivus Express fare is currently EUR 6.50 one way. Tickets for the official Positivus Express, BalticTaxi vouchers, camper parking spaces are only available at www.positivusfestival.com.