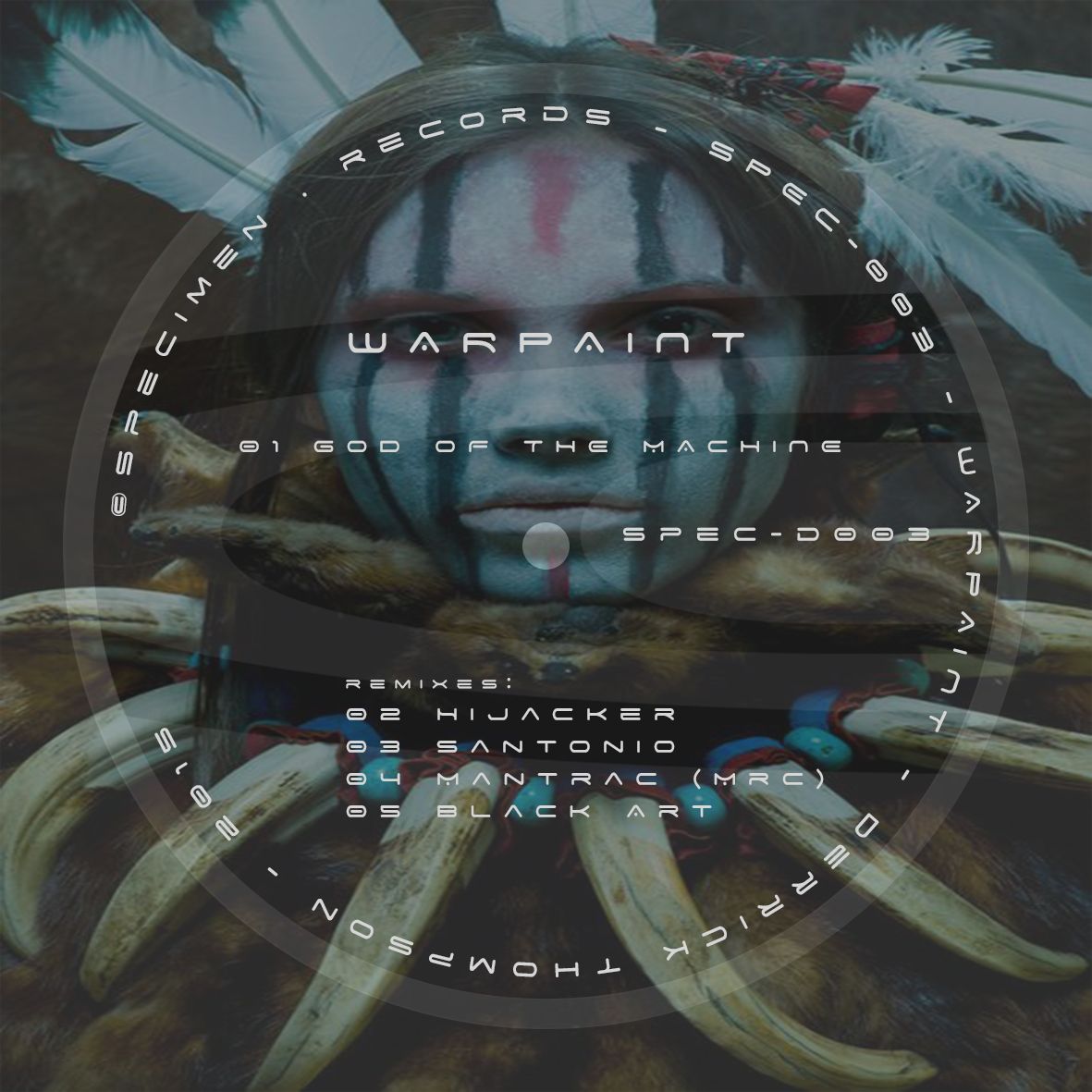 God of the Machine - Warpaint
The next release on Paul Rip's Specimen Records is by God of the Machine, the brainchild of deep house and techno maestro, Derrick Thompson a.k.a. Drivetrain.
Paul Rip who was responsible for the legendary Clink Street parties in London Bridge in 1988, which spawned acid house culture as we know it today, was also partner with Mr.C at Plink Plonk Records, keeping real techno alive in the early to mid 90s. Rip is now about to release the third release on his no compromise new techno imprint Specimen.
Derrick Thompson has to be one of the most underrated Detroit exports as his unapologetic attitude towards underground dance music means his multitude of amazing releases as Drivetrain on his own Soiree Records International slip tantalizingly under the radar. Having released on labels such as Basic Energy, End Recordings, Authentic Music, Moods & Grooves, Three to Five, Little Angel, Yore, Evolution and Katoku, Derrick has certainly been around the block.
As God of the Machine, Derrick released his first two EPs with Rip and Mr.C on Plink Plonk in '96 and '97, with a further two releases under the moniker on his own Xplor label in 2009 and Psycho Thrill in 2011. 'Warpaint' is his first release under this name in four years and calls upon Hijacker of Megalon fame, first wave Detroit producer Santonio Echols, Mr.C under his Plink Plonk Mantrac guise and Rip himself under his Black Art pseudonym.
Derrick Thompson is partially of Native American descent, his ancestors originating from Crow Creek Fort Thompson South Dakota. 'Warpaint' is produced in honour and respect for one of his great ancestors, Chief Quazi-Train, son of Crazy Horse and nephew of Chief Touch the Clouds of the Sioux Indian tribe. He was a great warrior, leader and pioneer, decorated with warpaint, which covered his body displaying his many victories and accomplishments.
The EP kicks of with the original, a powerful slice of jackin' tribal techno, its bleeps, tones and chants sitting atop a tight percussive groove that's infectious from the first beat to the last drop. Next up comes Hijacker's electro workout. Its beats are old school yet the attitude is set firmly in the future with its square wave bass line, trippy noises and swooping sci-fi pads. Santonio Echols takes it back to Detroit with a simple yet driving tech house rendition containing sublime melodic chords, eerie pads and a hypnotic pad stab that sends tingles up your spine. Next comes Mr.C with one of his typically infectious acid workouts, where he adds a cheeky bassline, haunting pads and cowbell pings to make it sound oh so Superfreq.
For the digital version, label boss Paul Rip shows us why Black Art is going to be the minimal techno sensation of the future. Using many original elements, Rip delivers a great acid hook that sticks in your head like glue, with dope dubby chord stabs that sound like Basic Channel on acid.
This diverse 'Warpaint' EP is an essential for any DJ who likes it cutting edge and next level.
https://soundcloud.com/specimenreords/warpaint-mixes