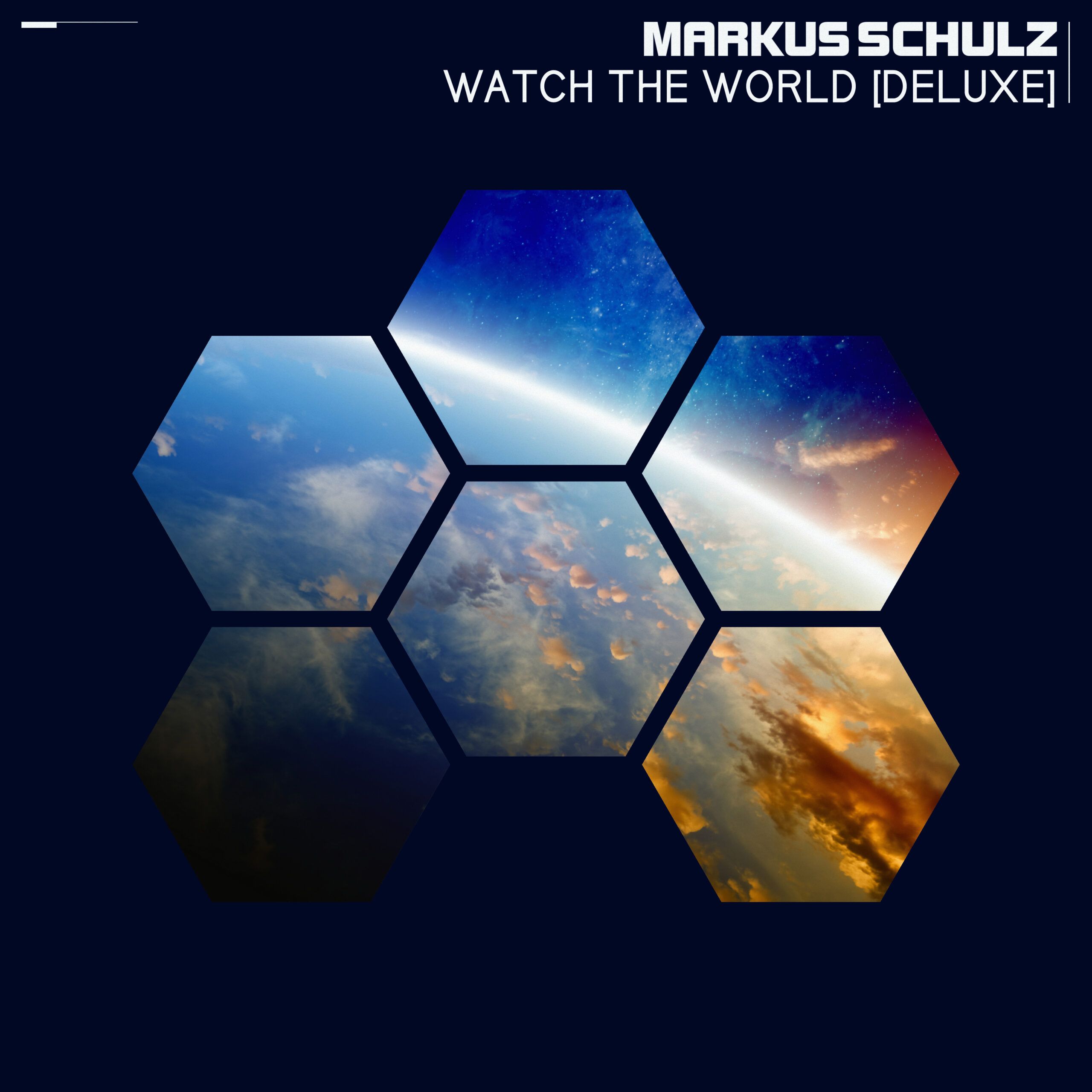 Markus Schulz - Watch The World [Deluxe]
Whilst 'Watch The World' was electrifying airwaves & delighting fans last spring, it was also having another, altogether subtler side effect. Intentionally or otherwise, it was bringing about a shift in the understanding of who Markus Schulz, the musician, is.
Working in stylistic areas new, penning & co-penning many of the tracks' lyrics and delivering an entire disc's worth of acoustic versions were just some of the ways in which 'WTW' challenged the Schulz perception chamber. Bringing that development to its natural conclusion this October, Markus signs off on his most transformative long-player to date with its criterion edition.
Never one to do things by halves, Markus commenced the Deluxe Edition by returning each of 'WTW's 15 tracks to the studio and fleshing them out into extended versions. Having brought new detail, nuance & life to each, he also adds two new anthem contenders to 'Watch The World's tracklist. Alongside 'You And I', the album now sports 'New York City [Take Me Away]', a second track captivatingly sung by Adina Butar. Also included is the epic-in-every-sense 'Luce Prima' (literally translated: 'first light'). Conceived to bookend his Tomorrowland 2017's main-stage daybreak set, here its two parts are reconciled into an ever-building, ever evolving 14-minute-long trance goliath.
Whilst putting together the Deluxe edition, Markus observed that when making 'Watch The World' "my frame of mind was very much in the song-oriented and radio-based zone. As a DJ though you never really lose connection with the club potential of music – no matter what its tone. With hindsight, I realise I was already making plans, subconsciously, for extensions and remixes to 'Watch The World's music, before it was even finished. That's a considerable part of what this Deluxe edition is all about and I'm delighted I've finally been able to scratch that mental itch!"
Developing the reach of its music farther still, Markus sketched out a remix blueprint that would allow the tracks to work both individually and as an album-whole. Ranging from the deep to the uplifting, there are reinterpretations from a broad cross-section of the Coldharbour Recordings crew. Among them are Dave Neven, Nifra, Solid Stone and Fisherman & Hawkins, who have each respectively remixed up a storm on 'In The Night', 'Love Me Like You Never Did', 'Destiny' & 'Favourite Nightmare'.
There are also rebuilds from legendary trance greats such as Solarstone and 4 Strings, as well as more recent additions to its establishment like Standerwick, Gai Barone and Amir Hussain. Given Markus' well-known eye & ear for talent spotting, many emerging names are likewise represented. The likes of Dream Sequence, Claus Backslash, Daxson, Artisan & Dawn all weigh in with spectrum-trance remixes, while elsewhere there's an electro-pop spin of 'I Hear You Calling' from We Rabbitz and 'Summer Dream's trop-house take-on, courtesy of JackLNDN.
Markus Schulz 'Watch The World' [Deluxe Edition] is available to pre-order now here: https://markusschulz.choons.at/wtwdeluxe
Disc 1. Extended Mixes
01. In The Night (featuring Brooke Tomlinson) (Extended Mix) (5:41)
02. Love Me Like You Never Did (featuring Ethan Thompson) (Extended Mix) (5:17)
03. Destiny (featuring Delacey) (Original Mix) (10:10)
04. A Better You (6:56)
05. I Hear You Calling (featuring CAYO) (Extended Mix) (5:23)
06. Leaving LA (featuring Nikki Flores) (Extended Mix) (6:21)
07. Fears (with Kyau & Albert) (Extended Mix) (7:35)
08. Facedown (featuring Soundland) (Markus Schulz Arena Mix) (7:54)
09. Waiting (Extended Mix) (7:20)
10. You And I (featuring Adina Butar) (Extended Mix) (6:40)
11. Watch The World (featuring Lady V) (Extended Mix) (7:37)
12. Summer Dream (featuring Mia Koo) (Extended Mix) (5:07)
13. Favorite Nightmare (featuring Delacey) (Extended Mix) (7:50)
14. Soldier (featuring Naguale) (Extended Mix) (6:23)
15. Rewind (4:36)
16. New York City [Take Me Away] (featuring Adina Butar) (Extended Mix) (7:45)
17. Luce Prima (14:00)
Disc 2. Remixes.
01. In The Night (featuring Brooke Tomlinson) (4 Strings Remix) (5:23)
02. Love Me Like You Never Did (featuring Ethan Thompson) (Standerwick Remix) (5:26)
03. Destiny (featuring Delacey) (Dream Sequence Remix) (8:24)
04. A Better You (Daxson Remix) (6:32)
05. I Hear You Calling (featuring CAYO) (JackLNDN Remix) (3:58)
06. Let It Rain (featuring Helen) (Artisan Remix) (6:24)
07. Facedown (featuring Soundland) (Solarstone Pure Mix) (8:13)
08. Waiting (Gai Barone Remix) (8:24)
09. You And I (featuring Adina Butar) (Dawn Remix) (9:06)
10. Watch The World (featuring Lady V) (Claus Backslash Remix) (7:37)
11. Summer Dream (featuring Mia Koo) (We Rabbitz Remix) (3:47)
12. Favorite Nightmare (featuring Delacey) (Fisherman & Hawkins Remix) (6:11)
13. In The Night (featuring Brooke Tomlinson) (Dave Neven Remix) (7:58)
14. Love Me Like You Never Did (featuring Ethan Thompson) (Amir Hussain Remix) (7:15)
15. Love Me Like You Never Did (featuring Ethan Thompson) (Nifra Remix) (6:13)
16. Destiny (featuring Delacey) (Solid Stone Remix) (7:19)
17. Destiny (featuring Delacey) (Kyau & Albert Remix) (6:09)
markusschulz.com
facebook.com/markusschulz
twitter.com/markusschulz
instagram.com/markusschulz
blackholerecordings.com
soundcloud.com/blackholerecordings
facebook.com/blackholerecordings
twitter.com/BlackHoleRec