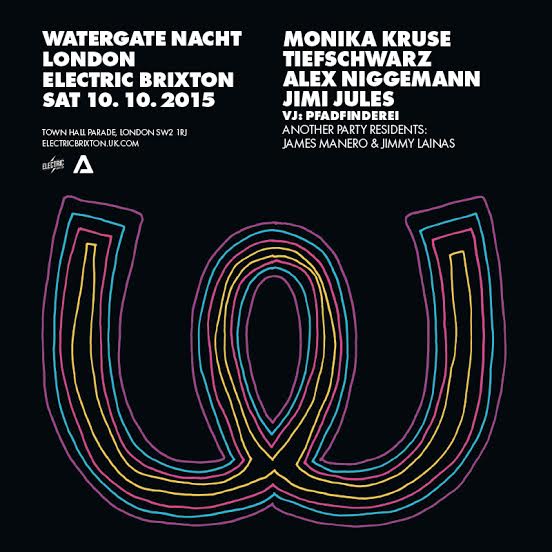 Watergate Nacht
Another Party return with a bang as they bring Berlin based friends Watergate Nacht to Electric Brixton, plus continue their stunning development as they launch and celebrate brand new imprint AP Recordings and the labels first release.
Known for bringing the worlds best artists, DJs, house and techno labels and clubs to feature at their events in London and beyond, Another Party bring Berlin's Watergate Nacht to Electric Brixton with a line up of epic proportions.
One of the scenes biggest DJs Monika Kruse headlines alongside Tiefschwarz who play for Another Party for the third time in five years. Brilliant and avid producer Alex Niggemann is also in attendance plus Watergate resident Jimi Jules all make the journey from Germany. Another Party residents James Manero and Jimmy Lainas complete was is a formidable cast for what this very special occasion and a rare opportunity witness such an event in our capital.
Watergate club was voted number 3 in Resident Advisors top clubs in the world and this titan of techno comes with a worldwide reputation for quality programming, slick production and seriously good times, three qualities that fit perfectly with Another Party's ethos of how to throw down a good party.
As if the night wasn't important enough, the Another Party camp take what is a natural step in their development and will be celebrating the launch of their new imprint, AP Recordings. Following a similar ethos to the party, the label will serve as a platform to release work from both new and established artists. The first release is due out in October 2015 and is delivered by EKKOHAUS, long time friend of the Another Party crew.
Line Up:
MONIKA KRUSE
TIEFSCHWARZ
ALEX NIGGEMANN
JIMI JULES
JAMES MANERO
JIMMY LIANAS