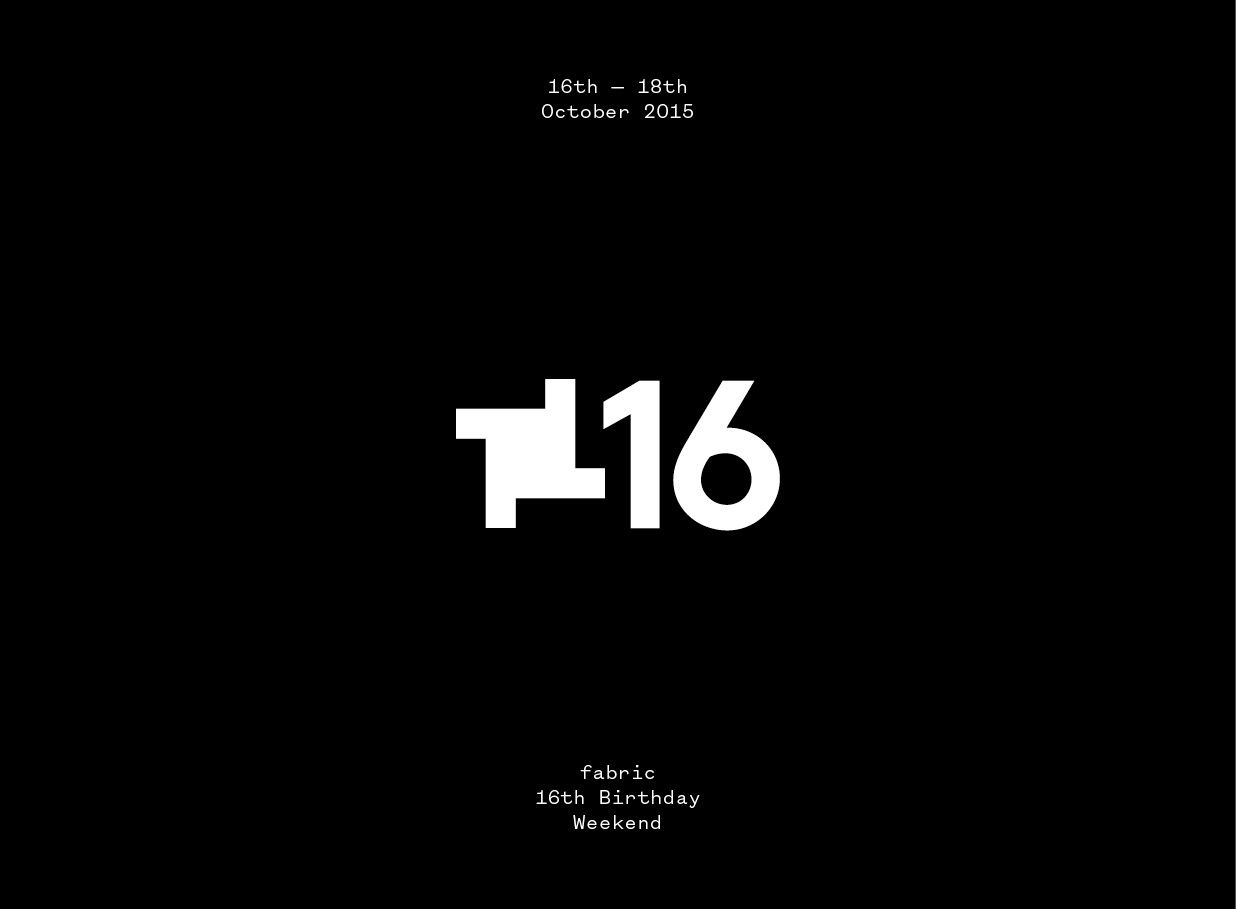 fabric's 16th Birthday Weekend
The 'sweet' sixteen traditionally marks a coming of age. It's a birthday that properly commemorates the unstoppable surge of hormones that rips through every vein of the adolescent body around this time. It's a milestone deemed one of the most significant in the western world, although, if you watch a lot of MTV, it's also an excuse to blow out and pay Lil Jon to pour [non-alcoholic] crunk juice over an abundance of shirt and shoe wearing 15 year olds from a very great height.
Unfortunately though, our budget won't stretch that far AND besides, we're proud that we don't enforce that kind of strict dress code, so alas, you won't find LL Cool J, leaning up against an LED illuminated ice sculpture of some nameless rippling Norse God in fabric this October. You will however find another prodigious weekend of nightclub programming where we pay homage to the music we love, the strength of our relationships and the deeper understanding of the collective existence that the last sixteen years has afforded us.
As per usual, the full lineup for the second part of our 16th Birthday celebration must stay under wraps – for now – but we're overjoyed to announce the full lineup for the FABRICLIVE leg of the weekend. On Friday 16th October west London's legendary Kurupt FM crew make their debut here in Farringdon to present their Champagne Steamrooms dance in Room One which will feature the incredibly able Rinse FM associate, Oneman alongside a back to back set from Barely Legal and Chimpo and turns from Mystry & Flowdan and blossoming Manchester selector, Madam X. Room Two will beat to a slightly faster, more frenetic drum with Spor, Logistics, Loadstar, Uncle Dugs and Macpherson stepping up to maintain the energy till the 7am alongside Ed Rush & Optical who have confirmed that their long awaited new album is finally 'on the way'.
Then, after that, there's the small matter of another 31 hour marathon session from Saturday night through till Monday morning where we'll play host to sets from our residents Craig Richards and Terry Francis alongside a selection of very special guests (which we'll be announcing over the coming weeks) – many of whom have been a vital influence in our maturing process.
FULL LISTINGS:
FABRIC 16TH BIRTHDAY WEEKEND…
FRIDAY 16 OCTOBER
FABRICLIVE.
tickets: fabriclondon.com
doors: 11pm-7am
price: £14 advance, £20 door, £14 student, £10 fabricfirst, £10 after 3am
ROOM ONE…
KURUPT FM PRESENT CHAMPAGNE STEAMROOMS…
Oneman, Kurupt FM, Barely Legal B2B Chimpo, Mystry & Flowdan, Madam X
ROOM TWO:
Spor, Ed Rush & Optical, Logistics, Loadstar, Uncle Dugs, Macpherson
MCs: 2Shy, SP:MC
SATURDAY 17 OCTOBER – MONDAY 19 OCTOBER
fabric.
tickets: fabriclondon.com
doors: Saturday 11pm – Monday 5am
pricing: WEEKEND TICKET: £30 advance, £32 door, £23 student, £23 fabricfirst
FROM SUNDAY 10AM – MONDAY 5AM: £20 advance, £22 door, £15 student, £15 fabricfirst
FABRIC 16TH BIRTHDAY WEEKEND…
ROOMS TBA:
Craig Richards, Terry Francis, More Artists TBA